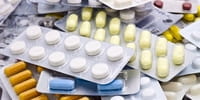 The opioid epidemic claimed more than 40,000 lives in the U.S. in 2016 alone.
And the problem is growing particularly acute in Appalachia. In Tennessee, for example, 80 percent of crimes are drug related.
On Friday and Saturday (May 18-19) a conference was held to address opioid addiction and brought clinicians, clergy and educators to the tip of southern Appalachia to begin a yearlong conversation on ways churches can help heal and support those caught in the epidemic's grip.
Among its organizers is Dr. Raymond Barfield, a pediatric oncologist at Duke University who has a joint appointment at its divinity school. For five years he directed a program called "Theology, Medicine and Culture." He now teaches courses on Christian philosophy and mentors students in the Medical Humanities Study Program.
This interview was edited for length and clarity.
Photo courtesy: ©Thinkstockphotos.com