Michael Foust
| ChristianHeadlines.com Contributor
| Thursday, October 24, 2019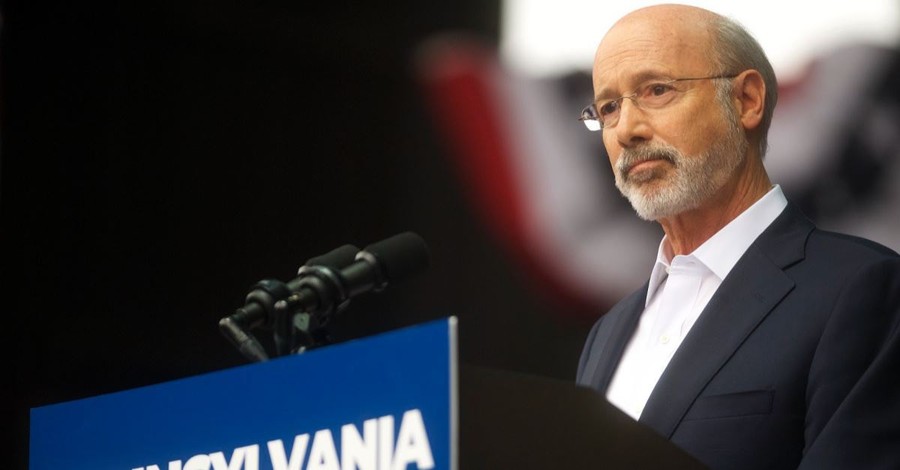 Pennsylvania Democratic Gov. Tom Wolf promised this week to veto any bill that prohibits abortion after an unborn baby's heartbeat can be detected, saying it runs counter to science and might harm the economy.
His pledge came the same week that state Sen. Doug Mastriano and state Rep. Stephanie Borowicz – both Republicans – introduced a bill that would prohibit abortions if a fetal heartbeat is present. Republicans control both chambers. 
"Let me be clear: I will veto any abortion ban that is put on my desk," Wolf said in a statement according to the Hill. "The latest bill, a six-week abortion ban, defies all practical understanding of modern women's health care. These policies run counter to the notion of individual freedom and lack a sound scientific basis. 
"Further," he said, "as we have seen in other states, these policies are detrimental to efforts to attract and retain businesses, entrepreneurs and workers."
The bill says the state has an "interest in protection of the unborn child." It also asserts that a "fetal heartbeat has become a key medical predictor that an unborn individual will reach live birth."
Borowicz, a freshman state representative and a mother of three sons, said she was proud to sponsor the legislation.
"If a person is pronounced dead when their heart stops why are they not considered alive when their heartbeat begins?" she asked. "Psalms 139:13-14 makes it simple: 'For you created my inmost being; you knit me together in my mother's womb.' At the most fundamental level, this heartbeat bill would effectively guarantee that future Pennsylvania children have the right to be born."
More than 90 percent of all pregnancies "are viable when the heartbeat is detected," a press release from her office said.
"To all of my fellow pro-life supporters inside and outside the state Capitol," she said, "I humbly ask you to stand with me and let your voices be heard that in this Commonwealth we collectively and unapologetically stand for protecting the sanctity of all human life."
Related:
So Far, 296 Unborn Babies Have Been Saved During 40 Days for Life Campaign
Ex-Planned Parenthood Head Blasted for Saying Abortion Should Be 'Rare'
UK Judge Orders Woman with Mental Disability to Abort Her Child against Her Will
Biden, Warren Pledge to 'Codify' Roe v. Wade into Federal Law
Abortion Rate Decreased under New Tennessee Pro-Life Law, Study Says
San Francisco Blacklists 22 Pro-Life States – Banning Travel and Business
U.S. Tells United Nations: 'There Is No International Right to an Abortion' 
U.S. Abortion Rates Hit All-Time Low
Michael Foust is a freelance writer. Visit his blog, MichaelFoust.com.
Photo courtesy: Getty Images/Mark Makela/Stringer
---
---