Michael Foust
| ChristianHeadlines.com Contributor
| Thursday, November 14, 2019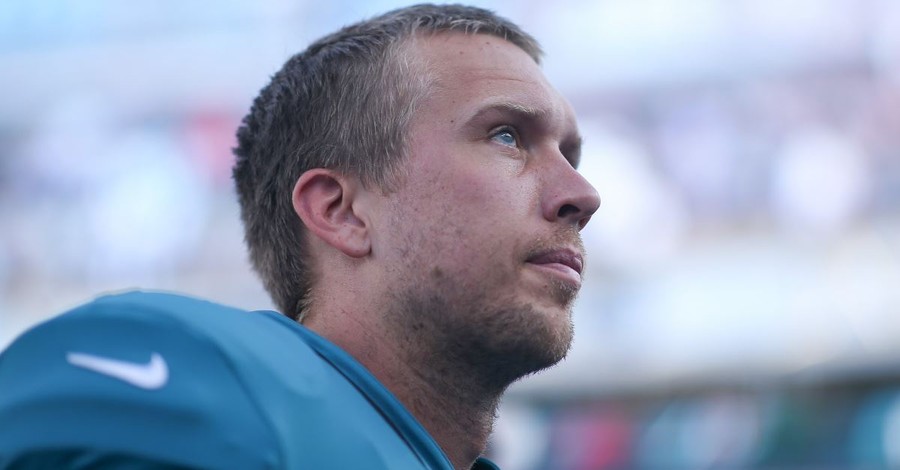 A well-known NFL quarterback says he learned to have joy during an injury this season and that it made him a better person and helped him grow in his faith. 
Jacksonville quarterback Nick Foles is scheduled to start Sunday against the Indianapolis Colts, his first time in the lineup since he injured his shoulder the opening week of the season.
Foles won a Super Bowl with the Philadelphia Eagles and signed a four-year contract with the Jaguars in May, although he was quickly sidelined when he was hurt. Backup Gardner Minshew started in his place.    
"When I felt this thing break [opening week] and I was going into the locker room, I just realized, you know, 'God this wasn't exactly what I was thinking when I came to Jacksonville.' Obviously, you come here and you want to create a culture and impact people but at the end of the day [I said,] 'God, if this is the journey you want me to go on, I'm going to glorify you in every action, good or bad,'" Foles told reporters this week. "I still could have joy in an injury. People hear that and say that's crazy, but … when you believe in Jesus and you go out there and you play … that changes your heart."
Foles, who is known within the league as an outspoken Christian, referenced his Super Bowl win.
"When I hoisted the Lombardi Trophy – the reason I'm smiling was [because] my faith was in Christ. In that moment I realized I didn't need that trophy to define who I was because it was already in Christ," he said.
QB @NickFoles shares about overcoming challenges and trials in football and life. pic.twitter.com/b9FzZZ5NKP

— #DUUUVAL (@Jaguars) November 13, 2019
Foles had the same outlook when he was injured, he said. Although he couldn't play, he said he had a "ministry" in the locker room.
"We tend to make this so much about us as human beings. We tend to make it about us as athletes. It is not about us," Foles said. "It really isn't, and if you make it about yourself, you're probably going to go home at night, lay your head on your pillow and be very alone and very sad. And then hopefully someday you can find that purpose in your life. Because our purpose isn't football; it is impacting people."
The injury, he said, helped him grow stronger as a person, including in his faith. 
"But from a spiritual perspective – from my heart – I've been able to grow as a human being to where I feel like I'm in a better situation here as a person than I was before, because of the trial I just went under. And I know that's a sermon in itself, but that's how I go through life. And the good Lord's been there," Foles said. "… It's not always about prosperity. I don't believe in the prosperity gospel. I believe if you read the Word of God and you understand it, there's trials along the way but they equip your heart to be who you are."
Related:
'I Need Jesus,' Too -- Orlando Magic's Jonathan Isaac on Why He Attends Church
'All Things Come from the Lord,' Says Bo Nix, QB for No. 7 Auburn
Coach of No. 1 Clemson: My Purpose Is 'to Glorify God'
Tim Tebow Says Loving and Serving Others is 'Bigger Than Football'
Michael Foust is a freelance writer. Visit his blog, MichaelFoust.com.
Photo courtesy: Getty Images/James Gilbert/Stringer
---
---