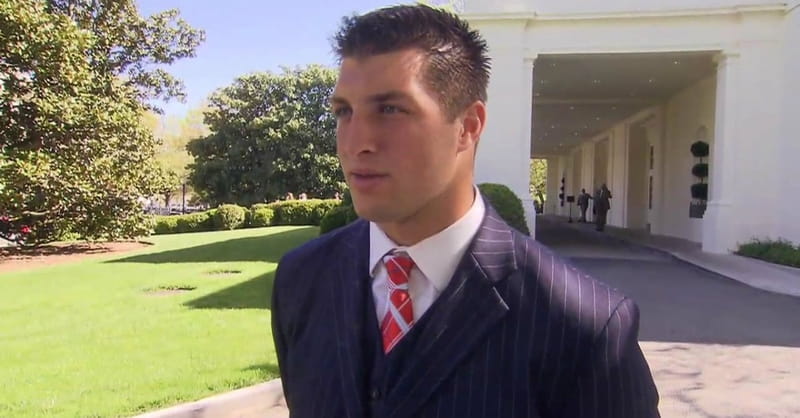 ---
Former football star and current SEC analyst Tim Tebow says he wants to be known for his faith and service as well as his football career.
Christian Today reports that though Tebow is most well-known for his football career, he has since been involved in a number of humanitarian and charitable organizations and events.
Tebow recently hosted the sixth annual Celebrity Golf Classic which raised more than $5.5 million for the medical expenses of children were are ill or have special needs.
"Tonight is about these kids," Tebow said during the event. "It's not about football. It's about what we're doing, through faith, hope and love and the people we serve all over the world. That's going to be bigger than football every single day of my life."
"I look forward to this every year," he added. "This is a special time. It's loving people with special needs, caring for people with special needs, about who is being loved and who is being served."
Tebow has also started the Tebow Cure Hospital in the Philippines which specializes in children's orthopedics.
Money from the Celebrity Golf Classic will go toward the Cure Hospital, Timmy's Playrooms, the Night to Shine Prom, which gives children with special needs a special Valentine's Day celebration, and W15H, which grants the wishes of children with life-threatening illnesses.
Fellow Gator Heisman Trophy winner Danny Wuerffel spoke of Tebow's football career and his commitment to helping others: "Football is obviously the most known and recognized thing to a lot of people, but when you look at the platform he has, his greatest years are yet to come, whether he plays in a Super Bowl or never plays again."
Photo courtesy: Wikimedia Commons
Publication date: March 17, 2016
Veronica Neffinger wrote her first poem at age seven and went on to study English in college, focusing on 18th century literature. When she is not listening to baseball games, enjoying the outdoors, or reading, she can be found mostly in Richmond, VA writing primarily about nature, nostalgia, faith, family, and Jane Austen.