Michael Foust
| ChristianHeadlines.com Contributor
| Tuesday, October 15, 2019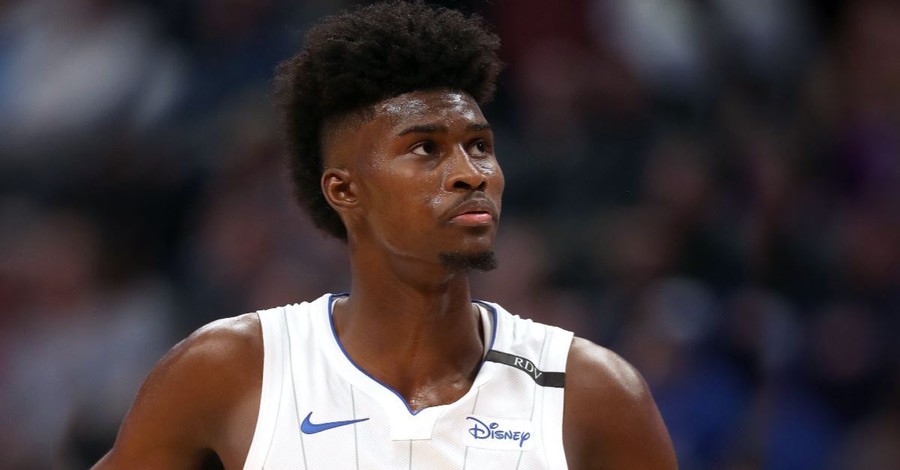 Orlando Magic forward Jonathan Isaac didn't enjoy missing most of his rookie season two years ago with an ankle injury, but in hindsight – he says – it was for the best.
Isaac worked out during that time and put on much-needed muscle on his 6-foot-10 frame to improve his defense. He became a better all-around player. 
But he also grew spiritually.  
"I take that injury as God sitting me down, and getting my attention to set me up for the life and the career that He has for me," Isaac, who is 22, told the Sports Spectrum Podcast this month. 
Isaac was the sixth pick in the NBA draft in 2017 but played only 27 games his rookie season while averaging 5.4 points and 3.7 rebounds per game. Last season, his second year, he played 75 games and increased his averages to 9.6 points and 5.5 rebounds while helping lead the Magic to the NBA playoffs. 
He is expected to play a big role this year, his third season.
Off the court, he is known as one of the league's most outspoken Christians. He talked about his faith to the crowd during the Magic's Faith and Family Night. He frequently writes about his faith on Twitter and Instagram, too.
"You have people say, 'You shouldn't post that or you shouldn't say that,'" he told Sports Spectrum, referencing his faith-based social media posts. "... People say you don't want to, you know, push your faith on people. … [But] I can only be me. I can only live with my experiences and what I know for myself."
"Jesus Christ is my Lord and Savior," he said. "So, me being my authentic self – that's who I am. And that's the way I speak."
Isaac wants his social media fans to know how Christ has changed his life.
"The Bible helps me live. It helps me be a better man," he said. "... And I see that as a direct effect that Jesus Christ had on my life, and if I'm going to speak about myself, I'm gonna have to speak about [faith]."
His faith, he said, has grown "leaps and bounds" the past two years as he's sought to grow "into the man of God that I know that God wants me to be."
Isaac also has found a home church in Orlando, although at 6-foot-10, he's not inconspicuous when he attends. At first, church members were shocked to see an NBA player sitting with them in church.
"[But] the more I got to know the people [and] the more they got to know me – it just turned into me just being another person," he said. "I need Jesus just as much as they do and you come to that realization really, really quick."
Related:
'All Things Come from the Lord,' Says Bo Nix, QB for No. 7 Auburn
Coach of No. 1 Clemson: My Purpose Is 'to Glorify God'
Tim Tebow Says Loving and Serving Others is 'Bigger Than Football'
Michael Foust is a freelance writer. Visit his blog, MichaelFoust.com.
Photo courtesy: Getty Images/Matthew Stockman/Staff
---
---