Michael Foust
| ChristianHeadlines.com Contributor
| Tuesday, May 21, 2019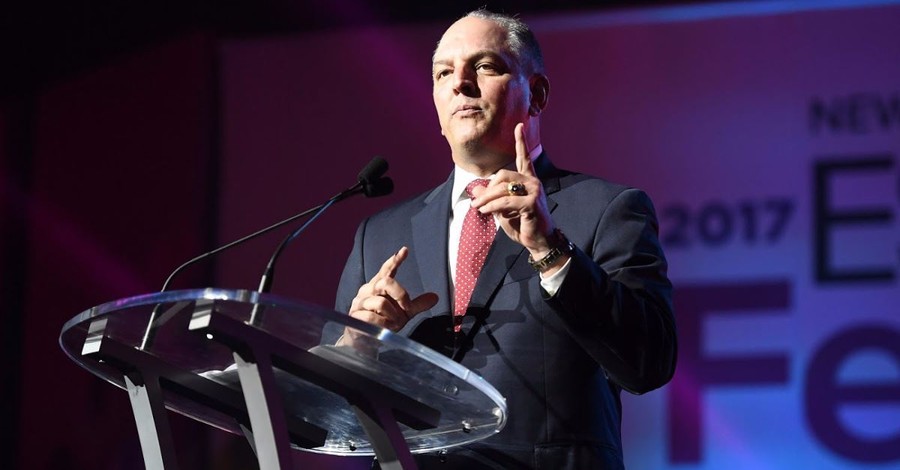 The conventional wisdom that says pro-life laws are a Republican-only issue may be challenged soon in Louisiana, where a Democratic governor has signaled support for a heartbeat bill banning abortion as early as six weeks of pregnancy.
It wouldn't be the first time Democratic Gov. John Bel Edwards has bucked his party's platform. Last year he signed a bill prohibiting abortion after 15 weeks. In 2016, he signed a bill requiring a 72-hour waiting period before obtaining an abortion. Both are being challenged in court. 
The nation has 23 Democratic governors. Edwards is the only one who is pro-life, according to The Times-Picayune. 
"My position hasn't changed. In eight years in the legislature, I was a pro-life legislator," Edwards told media members last week, according to CNN. "When I ran for governor, I said that I was pro-life. And so that's something that's consistent."
He added: "The people of Louisiana are overwhelmingly pro-life."
Ben Clapper, executive director of Louisiana Right to Life, said Edwards "has a good record with us." 
Louisiana's heartbeat bill, SB 184, makes it unlawful to "knowingly perform an abortion with the specific intent of causing or abetting the termination of the life of an unborn human being when a fetal heartbeat has been detected." It makes exceptions for the life or the mother and to "prevent a serious risk of the substantial and irreversible impairment of a major bodily function." 
It would take effect only if a similar Mississippi law, which is being challenged in the U.S. Fifth Circuit Court of Appeals, is upheld. 
The bill passed the state Senate, 31-5, this month, and is expected to pass the House. A Democrat, state Sen. John Milkovich, is the sponsor. 
Related: 
Trump Wants Exceptions in Abortion Bans, Urges Pro-Lifers to 'Stay United'
Abortion Restrictions Are 'Against Christian Faith,' Democratic Presidential Candidate Kirsten Gillibrand Says
Missouri Senate Advances Bill Banning Abortion after 8 Weeks
Georgia Gov. Defies Hollywood Threats, Signs Pro-Life Heartbeat Bill
Alabama's Near-Total Abortion Ban Signed into Law
Abortion Supporters Are 'Anti-Science,' Ken Ham Says
Star Wars Director Pledges Money to Fight Georgia's Pro-Life Heartbeat Law
Michael Foust is a freelance writer. Visit his blog, MichaelFoust.com.
Photo courtesy: Getty Images/Paras Griffin/Stringer
---
---