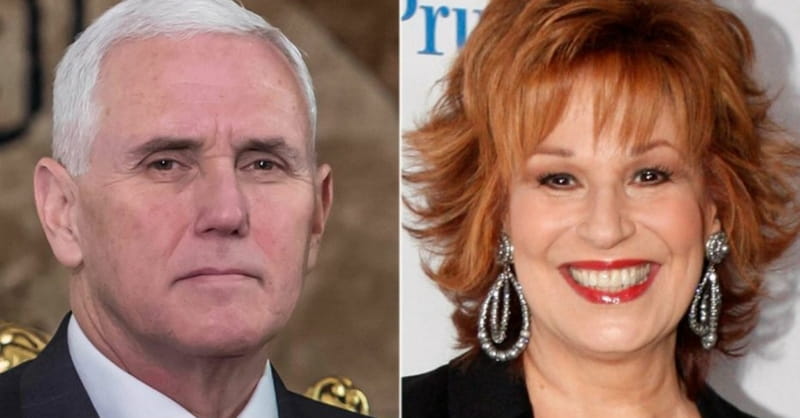 ---
A comment made by Comedian Joy Behar about the Christian faith of Vice President Mike Pence on ABC's "The View" continues to fuel controversy, despite her efforts to backpedal.
Last week, after co-host Sunny Hostin expressed concern about Pence's religious fervor and said she doesn't want her vice president "speaking in tongues," Behar said of Pence: "It's one thing to talk to Jesus. It's another thing when Jesus talks to you," and then added, "that's called mental illness, if I'm not correct."
Later in the broadcast, Behar clarified her opinion by saying, "Say what you will about Mike Pence and his religiosity and everything else. I don't think that he's mentally ill even though he says he is hearing voices."
After tremendous backlash, Behar responded on a subsequent broadcast to Whoopi Goldberg's question: "do you think Christians are mentally ill?"
"Well, I mean that would make me mentally ill since I'm a Christian myself," Behar said before adding, "of course not." She continued, "I'm a Christian. I gave money to the church. I actually help Christians with my pocketbook."
Perhaps you've seen how Behar's "mental illness" comment sparked outrage.  I can identify with the outrage because my first reaction came from the injustice I felt. While there are times we must speak out, there are also times to view the conversation from the perspective of an unbeliever. Today, I invite you to consider a response that invites those who are far from faith to take a closer look.
Now is the time to remember just how extraordinary our Christian beliefs are.
As I've said before, we Christians hold some incredible views, starting with the virgin birth of Jesus. To ears that have never heard the gospel, beliefs such as the resurrection of Christ sound far-fetched. The gift of eternal life sounds too good to be true.
Yet, that's the beauty of our faith journey.
Author Ryan Sanders, in his book Unbelievable: Examining the Unlikely Beauty of the Christian Story, says we often settle for proving we're right instead of laying down our power.
Sanders says, "Sometimes it seems like we Christians want our neighbors to believe that our message is the most normal, natural, expected thing in the world. But it's not. In fact, it is precisely because the gospel is unexpected, supernatural and unlikely that it is most attractive."
In the case of Joy Behar, the idea that God speaks to his servants may be one of the weirdest ideas of all.
But, it's true.
God speaks to us through the Bible, our circumstances, the wise counsel of other believers, and yes, through Jesus:
Hebrews 1:1-2 NLT says, "Long ago God spoke many times and in many ways to our ancestors through the prophets. And now in these final days, he has spoken to us through his Son …"
Sanders is right: "In a culture that is unfamiliar with the radical and unlikely story of the Bible, our job is less about standing our ground and more about standing in the gap."
Let's remember:
-Until Jesus spoke to the apostles after His resurrection, the notion that He was alive sounded like complete "nonsense" (Luke 24:10-11 NASB).
-Also, Jesus said, "God blesses you when people mock you and persecute you and lie about you and say all sorts of evil things against you because you are my followers" (Matthew 5:11 NLT).
Let's swallow our pride, realize our critics are souls who need the Savior, remember how extraordinary our Christian beliefs are, and invite a conversation – even if people think we're crazy.
Laura Lacey Johnson is a cutting-edge faith and culture writer who focuses on everyday headlines. In addition to speaking, she is a columnist for Christian Headlines.com. To read Laura's latest work on the headlines, visit www.lauralaceyjohnson.com, or to download your FREE copy of Why Jerusalem is Important to 3 World Religions, subscribe to her blog here.
Publication date: February 21, 2018