Scott Slayton
| ChristianHeadlines.com Contributor
| Monday, July 31, 2023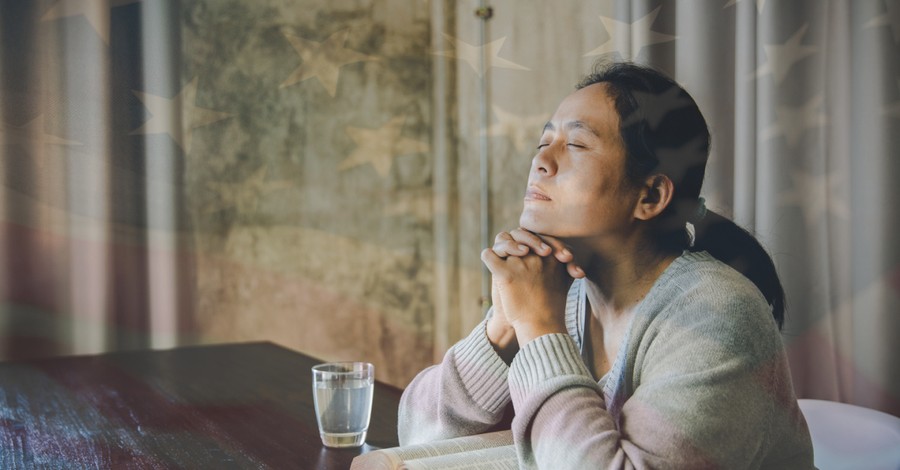 It takes no work to get people to lament the state of America. Gather a group of liberals, and they will wring their hands over the impending theocratic patriarchy that will create a dystopia that rivals The Handmaid's Tale. Conservatives remain convinced that a cabal of elites is conspiring to destroy America as we know it with high taxes, mass immigration, liberal indoctrination and sexual deviancy.
Too often, we complain infinitely more than we pray. Think about this, though, if the state of our country causes us anxiety, shouldn't prayer be our first recourse? Paul instructed the Philippian church to "Be anxious for nothing, but in everything, by prayer and supplication, let your requests be made known to God. And the peace of God, which surpasses all understanding, will guard your hearts and minds in Christ Jesus." Think about this for a moment – we work ourselves into alternating fits of depression and anger over the state of our nation, but if we stopped to pray for our nation, we would experience God's peace while casting our cares on the only one who is able to change our nation.
Here are four prayers we should be praying for America right now.
1. Pray for the church to flourish.
We fall into the trap of thinking that most change in America happens in the halls of Congress. The greatest change takes place in our churches. It's our churches who carry the life-changing Gospel of Jesus Christ. The church helps followers of Jesus grow in loving their neighbors, serving their communities, and developing moral character.
When the church flourishes, communities flourish, towns flourish, and nations flourish. Pray for the church to reach unbelievers with the Gospel and to develop faithful, mature followers of Jesus.
2. Pray for our leaders to act wisely.
In 1 Timothy 2:1-2, Paul instructs the church to pray for their leaders. He wants them to do this so that their leaders might allow them to live quiet, peaceful, and godly lives. Paul's concern is that leaders make wise decisions so that the church might have the room and freedom to flourish. Therefore, we ought to pray for our leaders to make wise decisions.
One other area of prayer is for our leaders to know they need wisdom that comes from outside of themselves. Many of our leaders think themselves wise already. We should pray for them to be humble and know they need to seek God's wisdom in their leadership.
3. Pray for a rebirth of civic engagement.
I grew up in a small town in the 80s and 90s. The men and women in that community worked in a variety of organizations that served every area of the town's life. They volunteered in Kiwanis, Civitan, and the Lion's Club. They coached Little League baseball, even when their kids weren't playing, and raised money for booster clubs when their kids were in school. They taught Sunday School, sang in the choir, and chaperoned youth group trips. It seems as if our culture of volunteerism is fading. Service organizations languish as we play on our phones and watch cable news.
America needs strong volunteer organizations. We can't shop everything off to the federal government. We ought to pray for a return of citizens who take ownership of their communities. This would lead to men and women of all political stripes serving side by side for the better of their communities and their neighbors. Through this, they would discover that the political differences they emphasize on social media aren't as important as they thought.
4. Pray for a return of civility.
There have been times when our nation was deeply divided politically. We did fight a Civil War. Our nation is not more divided than it has ever been. What we have now is a situation where many people are financially invested in our political divisions. "In our next segment we are going to talk about how to love your neighbor" doesn't draw as many eyeballs as discussing what progressive elementary school teachers posted on TikTok or Donald Trump's latest missive on TruthSocial. Our anger leads to ratings, subscriptions, and political donations.
We won't be returning to the days when we didn't know how our neighbors voted in the last election any time soon. However, we can return to a time when we loved our neighbors and treated them with respect no matter who they voted for. There can be a revival of honest and civil discussions where fellow citizens seek to ask questions and understand why they disagree with each other. When Christians approach politics like this, we foster a healthy democracy and an atmosphere of peace that benefits everyone.
We never know exactly how the Lord will work through our prayers, but don't you think we would see real and lasting change if we all committed to praying for our nation, its leaders, and its citizens every day? We would see growth and transformation in areas where we need it, and those of us who offer the prayers would experience peace. Then, when we do see lasting change, we know who should get the glory.
The views expressed in this commentary do not necessarily reflect those of Christian Headlines.
Photo courtesy: ©Getty Images/Doidam10, Lucas Sankey/Unsplash
---
Scott Slayton writes at "One Degree to Another."
---
---