Bob DeMoss
| ChristianHeadlines.com Columnist
| Friday, August 6, 2021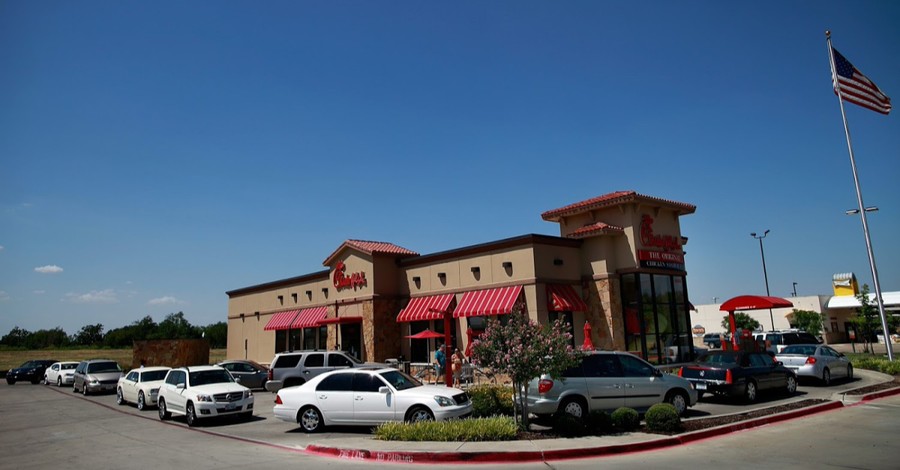 ---
Chick-fil-A breaks ground this month on the construction of a facility in the heart of Notre Dame University. Not everyone is pleased. Approximately 175 of the more than 15,000 students, faculty, and staff have cried foul.
Two undergraduate students, Joey Jegier and Tilly Keeven-Glascock, apparently birds of a feather, wrote a letter to the letter of their college newspaper entitled "Keep Chick-fil-A away." They seasoned their roasting of the chicken franchise with lib-favorite verbiage like "queerphobic groups," "hate groups," and "homophobic views."
But that's chicken scratch compared to their efforts to henpeck the administration into reversing their decision to bring Chick-fil-A to campus. They asserted: "animal agriculture is environmentally unsustainable. North America has an obsession with meat like no other country on Earth, and it is helping destroy the planet."
Let's set aside the fact that North America is a continent—not a country.
Their argument has egg on the face of it. For years Notre Dame has allowed Smashburger, Subway, Taco Bell, Rohr's (a steak joint), Au Bon Pain and other meat-centric eateries to serve the student body. If their concerns about North America's "obsession with meat" and their complaints that Chick-fil-A doesn't offer an "array of options suitable for a diverse campus community"—specifically "vegetarians and vegans" were genuine, why haven't they hatched a campaign to remove those franchises, too?
Even the holy grail of liberal coffee establishments, the revered Starbucks, serves sandwiches with chicken, turkey, ham and bacon on campus. Where's their outrage over that? Clearly, their convictions have either flown the coop, or they suffer from selective outrage.
The disgruntled duo also complained that there's a "lack of accommodations for students with special dietary needs" on campus. And yet, elsewhere in their opinion piece, they served up this doozy: "For example, CoreLife Eatery has a menu of exciting, healthy and tasty options"—which include chicken and beef. I thought meat products were "environmentally unsustainable." They go on to say, "Campus Dining . . . [has] gone above and beyond this past year, providing impressive, themed dinners and an excellent vegan line in the dining halls."
What, then, is the problem? They have a diversity of menu options readily available. Nobody is forcing students to eat at Chick-fil-A. Other restaurants on campus serve similar fare as the besmirched franchise. Why, then, is bringing the chicken chain to Notre Dame an act of being unequally yoked?
Sen. Lindsey Graham (R) expressed concern over this attempt to single out Chick-fil-A over the privately held beliefs of Bubba and Dan Cathy: "It's disappointing to hear some ND students and faculty want to ban Chick-fil-A from doing business on campus because they disagree with the values held by the Chick-fil-A founders. What a dangerous precedent to set."
Thankfully, the administration didn't cave to this latest effort by the self-appointed woke police who, behaving like Head Roosters, attempt to rule the roost with their personal opinions. Instead, Notre Dame responded, saying, "Our students have overwhelmingly expressed a desire to have a Chick-fil-A restaurant on campus, and we look forward to opening one early next year." That's a smart move. Why should 15,000+ students, staff and faculty be denied their freedom of restaurant choice?
In spite of the fact that a handful of disgruntled wokesters at NYU and Northeastern have likewise fought to prevent Chick-fil-A from opening on campus, Chick-fil-A continues to be a customer favorite and, on a national level, leads the way with the highest operating and quality standards. Fox News reports that Chick-fil-A "was named the United States' top fast-food chain in terms of quality, cleanliness, reliability, and customer service for the seventh year in a row."
If students are unhappy with the Atlanta-based fast-food chain or the way Dan Cathy spends his personal money, they should eat somewhere else.
Photo courtesy: ©Getty Images/Tom Pennington/Stringer
---
Bob DeMoss is a New York Times bestselling author of more than 40 books including collaborations with Phil Robertson/Duck Dynasty, Jim Daly/Focus on the Family, Andy Stanley, and Tim LaHaye/Left Behind. His latest short story is "Hazel: The Outlaw Mummy". Visit BobDeMoss.com.