Kayla Koslosky
| ChristianHeadlines.com Editor
| Friday, February 11, 2022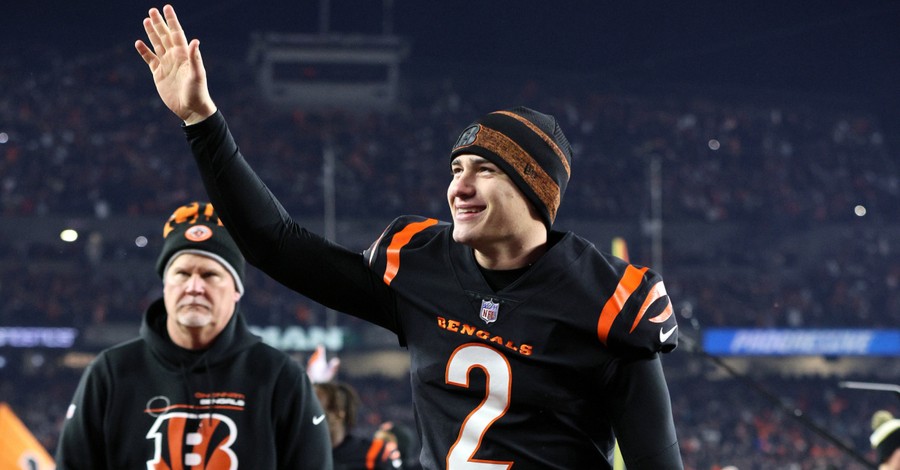 The Cincinnati Bengals and the Los Angeles Rams will face off on Sunday in Super Bowl LVI. The game, which is set to kick off at 6:30 pm EST, will be in SoFi Stadium in Inglewood, California. The Bengals are the American Football Conference champions with a record of 10-7, and the Rams are the National Football Conference champions with a record of 12-5.
Many of the players on these teams are outspoken Christians.
Here are 8 Christian athletes on the 2022 Super Bowl teams:
1. Evan McPherson
A rookie kicker for the Bengals, McPherson has quickly become a household name. In his first season as a professional football player, McPherson broke records by becoming the first placekicker in the NFL to make 12 postseason field goals without a single miss. He is also the first rookie placekicker to make 12 postseason field goals.
After making a 52-yard field goal to win against the Tennessee Titans in late January, McPherson was seen sporting a black t-shirt that read, "God is Good." He later took to Instagram to echo that sentiment captioning a photo of himself pointing up while on the football field, "God is good!! Psalm 34:8." Psalm 34:8 says, "Taste and see that the Lord is good; blessed is the one who takes refuge in Him."
Then, after the team took home the AFC championship title, he took to Instagram again, writing, "To God be the glory!! John 3:16."
McPherson also shared his faith online after he was named the AFC Special Teams Player of the Month for December and when he was drafted to the Bengals in the 2021 NFL draft.
Following his selection in the draft, McPherson took to Twitter, writing, "For Him, Through Him, Because of Him! 'Commit your work to the Lord, and your plans will be established.' Proverbs 16:3 || I'm excited for the next chapter of my life! Go Gators!!"
According to the Baptist Press, growing up, McPherson, who was a fifth-round draft pick out of the University of Florida, attended First Baptist Church in Fort Payne, Alabama.
2. Akeem Davis-Gaither
In 2021, Bengals linebacker Akeem Davis-Gaither decided to give his life to Christ and get baptized. Davis-Gaither, who was a fourth-round draft pick in 2020, was baptized by former NFL player and South Carolina-based Transformation Church Pastor Derwin Gray. After being baptized, Davis-Gaither decided to share the monumental moment on social media.
"After 23 years, I am so proud to have given my life to Christ and Received the gift of new life," Gaither-Davis captioned an image posted to Instagram of himself being Baptized. "God has done wonderful things in my life, picked me up from my lows and humbled me at my highs. Every step of my life, God has blessed me in so many ways. I'm blessed that I'm able to share his love and let my life be a testimony of his unwavering love for us all," he added.
The Super Bowl-bound athlete also quoted Galatians 2:20, which says, "I am crucified with Christ: nevertheless I live; yet not I, but Christ liveth in me: and the life which I now live in the flesh I live by the faith of the Son of God, who loved me, and gave himself for me."
3. Trey Hendrickson
Defensive end Trey Hendricks was a third-round draft pick for the New Orleans Saints in 2017. He later became a free agent, and then, in March 2021, he signed a four-year, $60 million free-agent contract with the Bengals.
In recent media interviews leading up to the big game, Hendrick's placed God front and center. "My Lord and Savior Jesus Christ is more to me than just football," Hendrickson said, according to Sports Spectrum. "It's application and what I've read through my faith and my wife and our meditations and things like that, is that it's pretty similar to the game of football. And its application for the game of football is very simple.
"So it's one of those things that anything that I do on the field is to glorify Him, through Him for Him for His glory. So it's one of those things that just my life is a sacrifice, and the days after football will be the same as the days playing football," he continued. "I try to encourage people any way to crack open their Bible, [with] Instagram, things like that, just look up the verse and continue to grow stronger in faith because that's where it starts," he added.
Hendricks frequently shares Bible verses with his more than 71,000 Instagram followers. In fact, his Instagram bio includes Galatians 6:9, which says, "Let us not become weary in doing good, for at the proper time we will reap a harvest if we do not give up."
4. Michael Thomas
Defensive Back Michael Thomas was unsigned at the beginning of the 2021-2022 NFL season, but four weeks into the season, he received a phone call from the Bengals and was placed on the team's practicing squad on October 5. Just over a month later, Thomas was promoted to the active roster, and when the Bengals made it to the playoffs, he found himself on the field during all three of the team's postseason games. Now, Thomas is set to take the field on Super Bowl Sunday.
"God's plans are far greater than ours, man … I wasn't signed anywhere, but I wasn't stressing," Thomas told Sports Spectrum during a recent interview on their podcast. "I knew God had a plan for me regardless of what that is, but I was very content and ready to transition if I needed to."
Throughout the team's season, Thomas has continually thanked God for the opportunity to continue to play football. He has also publicly praised the Lord with each win.
"I remember praying for another opportunity to get here … 9 Years later … THEY THAT WAIT," Thomas captioned a series of images from Super Bowl XLVII posted to Instagram on Tuesday.
Photo courtesy: ©Getty Images/Andy Lyons/Staff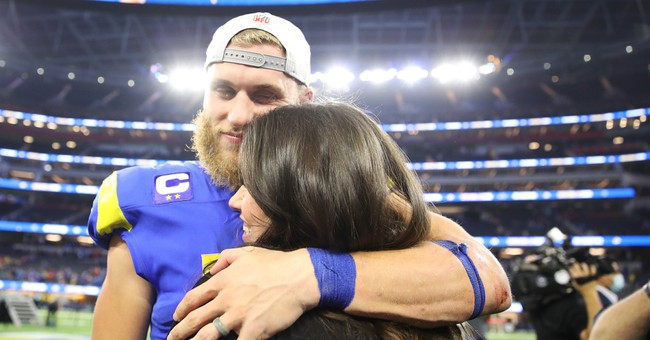 5. Cooper Kupp
As Christian Headlines reported in late January, Rams wide receiver Cooper Kupp and his wife, Anna, have long been outspoken about their Christian faith. After the Rams won the NFC Championship game in late January, Anna shared a heartwarming video of herself running into Kupp's arms in celebration. Anna, who describes herself as a "Child of the King" in her Instagram bio, captioned the video, "This moment. These moments!!! Thanking God for every one of them. We have prayed for a season to glorify our Savior Jesus Christ, and you are doing just that, my lovey Cooper Kupp. SURREAL!!"
The Kupps, who met in high school and were married while in college, own a faith-based clothing line together. Several pieces feature an abridged version of 1 Corinthians 9:25. The clothing pieces have the phrase "Do it to get the crown that will last forever" on them. First Corinthians 9:25 says, in full, "Everyone who competes in the games goes into strict training. They do it to get a crown that will not last, but we do it to get a crown that will last forever."
1 Corinthians 9:24-27 is also featured in Kupp's Instagram bio.
6. Jalen Ramsey
Drafted by the Jacksonville Jaguars in 2016, Jalen Ramsey joined the Rams during the 2019 season. Ramsey, a defensive end, is expected to go up against Bengals wide receiver Ja'Marr Chase on Sunday. During interviews this week, Ramsey opened up about the importance of his faith in his personal and professional life.
"Without my Lord and Savior Jesus Christ, I am nothing honestly," Ramsey said, according to Sports Spectrum. "Without His grace and His mercy and dying for my sins, I mean, I'm nothing. I'm sinful by nature, and I'm not perfect, and that's why I need the Lord so much," he added.
"I've got to always lean on my faith, and I've got to give God the glory and let God really work through me and work through my heart and try to grow. That's really how I try to grow and try to evolve as a person," he added.
As Christian Headlines previously reported, Ramsey describes himself as a "Child of God through my faith in Christ," in his Twitter bio. The pinned tweet on his Twitter account also reads, "Can't tell me we are not CHOSEN! God is the GREATEST! Thank you Jesus!"
The two-time Pro Bowler is also famously known for drawing large black crosses under his eyes in eye black during games and sporting custom thigh pads with crosses on them.
7. Odell Beckham Jr.
A former New York Giant, wide receiver Odell Beckham Jr. joined the Rams in November 2021. Beckham first publicly shared his faith when he was baptized in the Jordan River in Israel in 2018. At the time, the then-Giant shared a series of images of himself being baptized, captioning it, "FRESH START…What a time! #Jerusalem #ImForgiven."
In a subsequent post sharing more from his Israel trip, he wrote, "I couldn't of asked for anything more!!!! God I can't thank u enough for this one. My journey is just beginning.…"
Since then, Beckham has regularly publicly praised the Lord.
On January 22, one day before the Rams were set to play the Tampa Bay Buccaneers in the playoffs, Beckham shared a series of images of him from throughout the 2021-2022 football season, captioning it, "The journey will not always be easy … I'm telling you if [you] stay down, humble yourself, and remain faithful … you will always come out on top wit God on your side." He continued, "Just wanted to thank him for every blessing I've received and every blessing that's comin in the future. LORD KNOWS this hasn't been easy."
A few days later, on January 26, he shared more photos from the season, writing, "This was all a part of God's Plan … keep walkin in faith!"
8. Johnny Hekker
Signed by the Rams in 2012 after he went undrafted, Johnny Hekker is considered one of the best punters in the league. Hekker is the longest-tenured player on the Rams and is a team captain. He is a four-time Pro Bowler and was named first-team All-Pro in 2013, 2015, 2016 and 2017.
Hekker has long been outspoken about his Christian faith. Just before the Rams faced the New England Patriots in Super Bowl LIII in 2019, Hekker spoke to faith-based news agency Sports Spectrum. When asked about how his faith had grown throughout the year, Hekker told the outlet, "The depth of knowledge that you get from actually opening up the Word and reading it, and just the experience that you get the more you sit down and really practice that [is amazing]," he said. "Praying at night with my wife [Makayla], and we have a son now, so just kind of the perspective of a Father's love that you get from having your own children is incredible to see. I could just sit there and stare at him all day, and that's how God the Creator sees us, so it's a very moving perspective to have."
Also that year, Hekker offered his backyard pool up as a baptismal pool for teammate Rodger Saffold who was looking to dedicate his life to Christ.
On January 30 of this year, after winning the NFC Championship game, advancing the Rams to the Super Bowl, Hekker once again praised the Lord, writing on Twitter, "God is on the throne. Thankful for His love and the blessings that have come with this season. #SuperBowl here we come!!!!"
Note: This is not an exhaustive list of Christian athletes playing in Super Bowl LVI.
Related:
'Without My Lord and Savior, I Am Nothing': Rams Defensive Back Jalen Ramsey Address His Faith ahead of Super Bowl LVI
'We Have Prayed for a Season to Glorify Our Savior Jesus Christ': Cooper Kupp's Wife Thanks God as Rams Head to Super Bowl LVI
'To God Be the Glory,' Cincinnati's Evan McPherson Sends Bengals to Super Bowl
Bengals Kicker Evan McPherson Praises God after Making Game-Winning Kick over Titans
H/T: ChrurchLeaders.com
Photo courtesy: ©Getty Images/Christian Petersen/Staff
---
Kayla Koslosky has been the Editor of ChristianHeadlines.com since 2018. She has B.A. degrees in English and History and previously wrote for and was the managing editor of the Yellow Jacket newspaper. She has also contributed to IBelieve.com and Crosswalk.com.
---
---