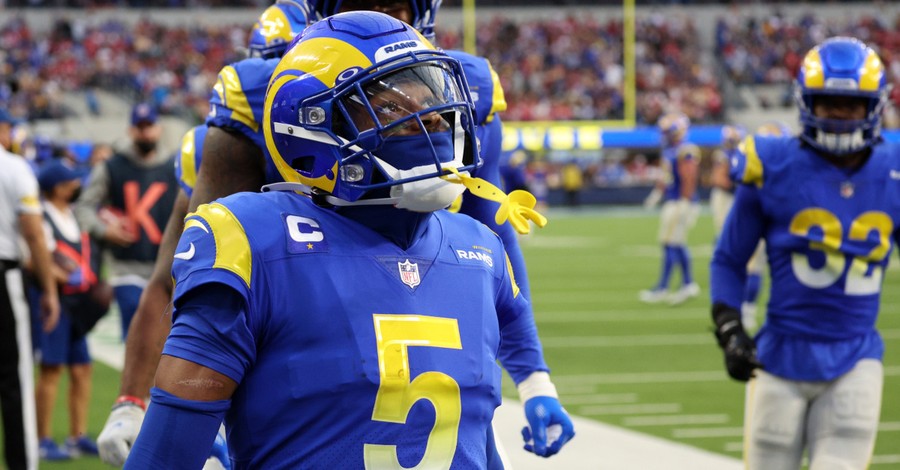 ---
As Los Angeles Rams defensive back Jalen Ramsey prepares to play in Super Bowl LVI on Sunday, he stressed the importance of relying on the Lord.
In an interview with the media this week, Ramsey opened up about how his faith impacts both his personal and professional life.
"I mean without my Lord and Savior Jesus Christ, I am nothing."@RamsNFL Cornerback @jalenramsey shares how much he relies on his relationship with God.#SuperBowl pic.twitter.com/VXiTC8Qdi5

— Sports Spectrum (@Sports_Spectrum) February 8, 2022
"Without my Lord and Savior Jesus Christ, I am nothing honestly," Ramsey said, according to Sports Spectrum. "Without His grace and His mercy and dying for my sins, I mean, I'm nothing. I'm sinful by nature, and I'm not perfect, and that's why I need the Lord so much," he added.
"I've got to always lean on my faith, and I've got to give God the glory and let God really work through me and work through my heart and try to grow," he continued. "That's really how I try to grow and try to evolve as a person."
Ramsey, who joined the Rams in the middle of the 2019 season, was already a two-time Pro Bowler when he joined the team. The Jacksonville Jaguars selected him as the fifth-overall draft pick in 2016.
According to his Twitter and Instagram bios, Ramsey describes himself as a "Child of God through my faith in Christ." As an outspoken Christian, Ramsey frequently posts Bible verses, prayers, and other faith-related content on his social media pages.
During his interview with the media, Ramsey explained that his posts on social media are meant to make people, particularly children, realize the importance of having a relationship with God.
"We can never understand just the magnitude of how great God is because He's that great," Ramsey said. "He's that powerful. But [by] staying in constant meditation of the Word and prayer, I can remain in peace, I can remain humble, I can encourage others, and hopefully, I can let His light shine through me."
Another way Ramsey puts his faith on display is by drawing crosses with eye black under his eyes during football games. He also wears custom thigh pads that reveal a cross through his pants.
According to Sports Spectrum, this season was Ramsey's strongest to date, with a record-breaking 77 tackles and tying his career-high of four interceptions.
"My journey has been different than expected, but I've loved every part of it," he said in the interview. "I'll be overjoyed and super happy to be a Super Bowl champion."
The Rams will square off against the Bengals at Super Bowl LVI this Sunday at SoFi Stadium in Inglewood, California. According to NFL.com, Grammy Award-winning artists Dr. Dre, Snoop Dogg, Eminem, Mary J. Blige and Kendrick Lamar will perform at the halftime show.
Related:
'We Have Prayed for a Season to Glorify Our Savior Jesus Christ': Cooper Kupp's Wife Thanks God as Rams Head to Super Bowl LVI
Super Bowl-Bound Bengals Are 'Men of Integrity' and Character, Chaplain Says
Photo courtesy: ©Getty Images/Harry How/Staff
---
Milton Quintanilla is a freelance writer. He is also the co-hosts of the For Your Soul podcast, which seeks to equip the church with biblical truth and sound doctrine. Visit his blog Blessed Are The Forgiven.