Will Maule
| ChristianHeadlines.com Contributor
| Friday, November 8, 2019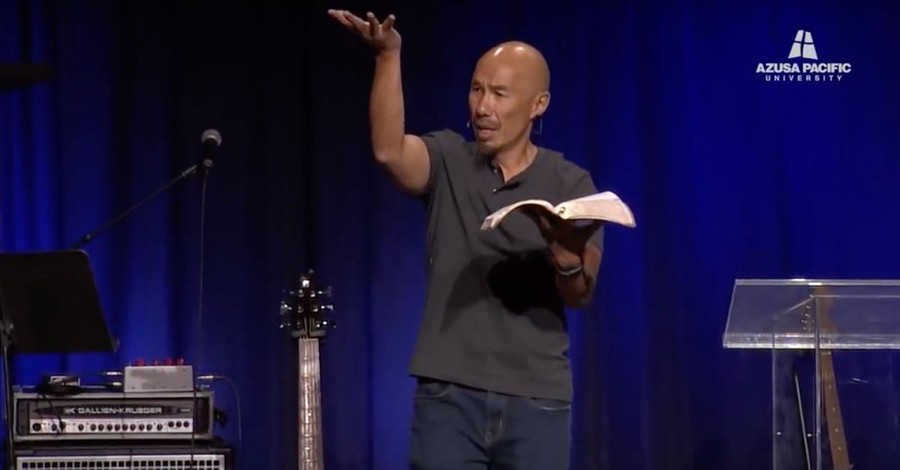 Former megachurch pastor Francis Chan has announced he will be moving to Asia in order to become a full-time missionary.
Chan delivered the shocking news during a sermon at Azusa Pacific University on Wednesday, to the great surprise of those in attendance.
"A few months ago, we were in Myanmar and my wife and I and kids, we were just with a translator going from hut to hut in these slums, trying to explain to people who Jesus is," he explained, according to the Christian Post. "These people had never even heard of Him. And the eagerness, the way they listened, seeing people get baptized — it was just like, wow, what do we do on a normal day that even compares to this?"
Chan went on to describe the moment that he and his wife knew they had to go. "As we got on the plane home, I was like, 'Honey, I think it's time to move,'" Francis explained, noting that he felt he had "been fishing in the same pond my whole life and now there's like thousands of other fishermen at the same pond, and our lines are getting tangled and everyone's fighting over stupid things."
The pastor continued: "What if I heard of a lake that's like a five-mile hike away, and no one's fishing it. And they're saying, 'Man, the fish are biting — just throw a hook in there and they'll go for it!' Man, I'll make that five-mile hike if I love fishing."
Continuing with the same analogy, Chan went on to note that there were many things keeping him in the United States. "I'll tell you what would keep me at the pond is. I built a house on the pond, and all my friends have houses on the pond. And we don't even fish that much, we just go out, and we hang out, and we talk, and we play, and I don't want to leave my friends."
"But if my calling is to go fish, and there's no one fishing over there, why wouldn't I go?"
Chan, the best-selling author of "Crazy Love," hit the headlines back in 2010 after announcing that he would be resigning from his position as senior pastor of Cornerstone Church — a 6,000 member congregation in California which he himself founded.
Speaking to the Relevant Podcast in September 2018, Chan said he "got tired of hearing [his] own voice," and felt as if the congregation was relying on him too much instead of seeking God for themselves.
Chan and his family are set to move to Asia in February of next year.
Photo courtesy: BRMinistries
Video courtesy: BRMinistries
---
---