Will Maule
| ChristianHeadlines.com Contributor
| Tuesday, June 25, 2019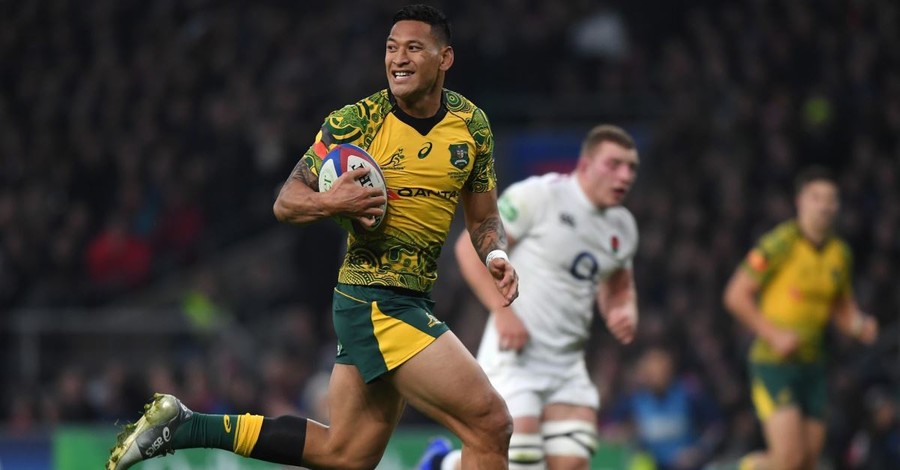 ---
A conservative Christian advocacy group in Australia has donated $100,000 to help prominent rugby star Israel Folau in his legal battle against being fired for posting a religious message on social media. The Australian Christian Lobby (ACL) used its platform to set up another donations page after popular crowdfunding site GoFundMe pulled the plug on Folau's campaign, citing a violation of user policy.
"On behalf of the Australian Christian Lobby, I have spoken to Israel Folau to let him know that ACL will be donating $100,000 to his legal defence, because it's right and it sets an important legal precedent," said ACL's Managing Director Martyn Iles in a statement on the group's website.
"I have also offered to host his online appeal for funds here on our website and he has accepted our offer," he added, before urging supporters to "help Israel Folau stand for your religious freedom" by donating.
Since GoFundMe axed Folau's fundraising efforts, the new campaign has been raising over $1,000 per minute and is currently sitting at over $1.5 million. In a statement, GoFundMe said that they deleted the athlete's page because it "breached its terms of service."
"As a company, we are absolutely committed to the fight for equality for LGBTIQ+ people and fostering an environment of inclusivity," the company's spokeswoman Nicola Britton told the BBC. "While we welcome GoFundMe's engaging in diverse civil debate, we do not tolerate the promotion of discrimination or exclusion."
As Christian Headlines previously reported, Folau had his contract terminated by Rugby Australia after posting an image to Instagram which depicted a paraphrase of a Bible verse found in 1 Corinthians 6:9. "Those that are living in Sin will end up in Hell unless you repent," he captioned the post. "Jesus Christ loves you and is giving you time to turn away from your sin and come to him."
Because the post listed "homosexuals," as those who should repent of their sin, Folau was labeled homophobic and Rugby Australia took swift action to ax him from the team. The termination of his multi-million dollars contract came just prior to the 2019 Rugby World Cup, which is due to take place later this year.
"I believe the termination of my contract is unlawful, which is why I have started legal proceedings against Rugby Australia and Rugby NSW," Folau said in his original GoFundMe appeal.
"In response, Rugby Australia have already said that they will 'divert significant resources' to fight me in court. Even if I win, Rugby Australia can appeal. There is every chance that a prominent test case like this could take years and eventually end up in the High Court of Australia," he continued.
"My wife Maria and I have already spent over $100,000 of our own money, and that was just to try and deal with Rugby Australia's internal tribunal processes. The money I am asking for is to fund the rest of my action in court."
The sporting star has hired a top team of lawyers to represent him, though some experts don't anticipate the fees to reach more than around $400,000 - $500,000. "I know I am putting myself on the line – this action will be very costly in terms of time, money and reputation," he said, according to Sky News. "But I do not intend to stop now."
Related:
Rugby League to Fire $1M Star Player over Bible Verse Post on Homosexuality
Rugby Player Found Guilty of 'High Level' Breach of Contract for Posting Bible Verse on Instagram
Former Rugby Player Files Religious Discrimination Suit after Being Fired over Expressing His Christian Views
Devil Is Responsible for Expanding Transgender Rights for Kids, Former Australian Rugby Player Says
Photo courtesy: Getty Images/Shaun Botterill/Staff