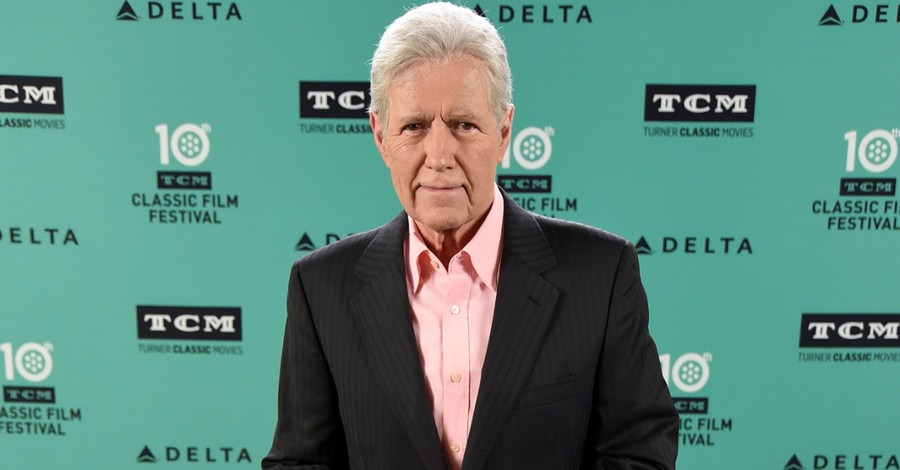 While continuing to receive treatment for his stage four pancreatic cancer, Jeopardy! host Alex Trebek shared that he has also been writing a new memoir.
In March, Trebek, who is continuing to work through his cancer treatment, stopped recording for new episodes of the quiz-based show when the coronavirus broke out across the United States. Since then, hit reruns of Jeopardy! have been airing in its weekly broadcast, with Trebek recording the introductions from home.
Trebek told the New York Times that he is narrating 20 introductions to old episodes of Jeopardy!, including its pilot episode which originally aired in 1984.
According to the long-time host, the night before recording the new introductions, Trebek was not feeling well and in some pain, but after the cameras came on, his strength began to reappear.
"Oddly enough, when we started taping, I suddenly started to regain my strength," Trebek told the Times. "It's the strangest thing. It is some kind of an elixir."
While Trebek hopes to continue with the show that he has been hosting for 36 seasons, he noted that he would step down if his health hinders his performance.
"It's a quality program, and I think I do a good job hosting it, and when I start slipping, I'll stop hosting," he said.
On Monday, Good Morning America released an interview that was recorded with Trebek at his home. In the interview, Trebek stated how he felt like a "terrible burden" to his wife "Jeanie" (Jean Trebek) because of his condition.
But Jean, whom Alex has been married to 30 years, told him that he was not a burden.
"She's a saint," he said. "She has so much goodness in her that she is always giving out, always putting out to help me get over difficult moments. And there have been some difficult moments.
"I'm just in awe of the way she handles it," Trebek said as he choked up tearfully.
Trebek also said he plans to record new Jeopardy! episodes within the next few weeks and hopes to continue hosting for as long as he can.
"My doctor has told me that he is counting on me celebrating two years of survivorship past the diagnosis of stage 4 pancreatic cancer. And that two years happens in February," Trebek told GMA host T.J. Holmes. "So I expect to be around 'cause he said I will be around. And I expect to be hosting the show if I am around."
Trebek is currently undergoing an experimental immunotherapy treatment, which was also used by former Senator Harry Reid, who is now in remission from pancreatic cancer.
While Trebek is also benefiting from the treatment, he's "not going to go to any extraordinary measures to ensure [his] survival."
Trebek's memoir entitled The Answer Is … Reflections on My Life, was published on July 21, a day before Trebek's 80th birthday. All of the proceeds from Trebek's book will be donated to charity
Regarding the memoir, Trebek stated that the support he has received from his fans during this cancer battle led him to write the book.
"I've received so many expressions of love and so many prayers said on my behalf – since the diagnosis was made public that I thought, 'Well, maybe – maybe the people would care to learn something about me," Trebek said.
Trebek told the New York Times that he had learned that an unauthorized biography by author Lisa Rogak would be published on the same day as his memoir. That is when Trebek realized that he needed to share his life story.
"I want you to hear it from me," he said.
Related:
Alex Trebek Credits 'Faith in God,' Prayers for Beating 18 Percent Survival Rate
Alex Trebek Nearing Remission after Dismal Cancer Diagnosis, Credits Fans' Faith and Prayers
In the Midst of Cancer Treatment, Alex Trebek and Wife Donate Thousands to Open Homeless Shelters
Alex Trebek Has Cancer Setback: 'I'm Nearing the End of My Life'
Photo courtesy: ©Getty Images/Presley Ann/Stringer
---
Milton Quintanilla is a freelance writer and content creator. He is a contributing writer for Christian Headlines and the host of the For Your Soul Podcast, a podcast devoted to sound doctrine and biblical truth. He holds a Masters of Divinity from Alliance Theological Seminary.
---
---