Mikaela Mathews
| ChristianHeadlines.com Contributor
| Tuesday, October 1, 2019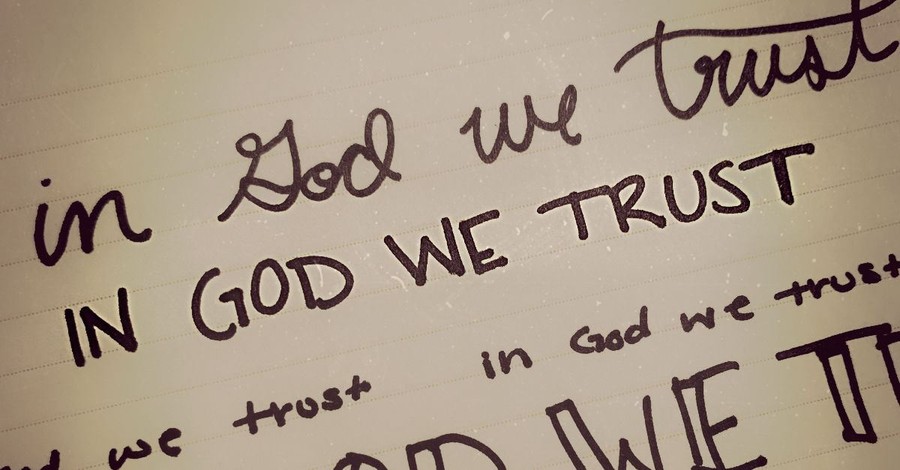 A new bill in Pennsylvania, if passed, would allow schools to display "In God We Trust."
House Bill 1602, sponsored by Republican state Rep. Cris Dush, uses the country's enduring legacy with the phrase to justify the displays, according to The Epoch Times.
"While this phrase was first introduced to the nation by Francis Scott Key in 1814 in the words of our national anthem, it was a Pennsylvanian, James Pollock, the 13th Governor of the Commonwealth of Pennsylvania, who was responsible for suggesting the installation of these words on our coins during his term as Director of the United States Mint," Dush said in a memo.
"With this rich history in mind, my legislation will allow school districts to display the motto in each school building," he said. "The display of our nation's motto may take the form of mounted plaques or artwork from a student contest that will be prominently displayed in each school building."
Schools, however, will not be required to display the phrase. As long as the displays are intended to advance the national motto and not advertise religion, Federal 5th, 9th, and 10th Circuit Courts would likely rule the bill as constitutional.
Some Democrats, however, believe the bill could alienate people without religious belief.
"I do believe that allowing for public schools to put this message in classrooms is an endorsement of a belief of a higher power," said Rep. Ken Boyle, Democratic chair of the committee said, as reported by Local DVM. "I have that belief, but I don't want to impose that upon anyone else."
Pennsylvania is not the first state to make this move. Earlier this year, Kentucky joined Louisiana, Arkansas, Tennessee, Florida, Alabama, Arizona and South Dakota in displaying the motto as a requirement in all public schools.
"Let's keep hope alive," South Dakotan Republican state Sen. Phil Jensen said in response to the passing of the bill. "This is our legislature, our history, a nation that trusts God."
But opponents of these bills believe they could hurt children. "They may feel excluded or could be bullied at school," said Kentucky ACLU's Amber Duke. "So our overall theme in schools is that religion be left to parents and churches and public school should focus on education."
The bill has passed the State Government Committee and now waits to be considered by the full House. 
Related:
45 Percent of College Students Want 'In God We Trust' Removed from Currency
Kentucky Law Requiring 'In God We Trust' Be Displayed at Schools Going into Effect
'In God We Trust' Signs to Be Posted in Every Louisiana School This Year
'In God We Trust' Will Be on All New Mississippi License Plates
Atheist Group Threatens Suit over Mississippi 'In God We Trust' License Plates
Photo courtesy: Kayla Koslosky
---
---