Mikaela Mathews
| ChristianHeadlines.com Contributor
| Thursday, December 5, 2019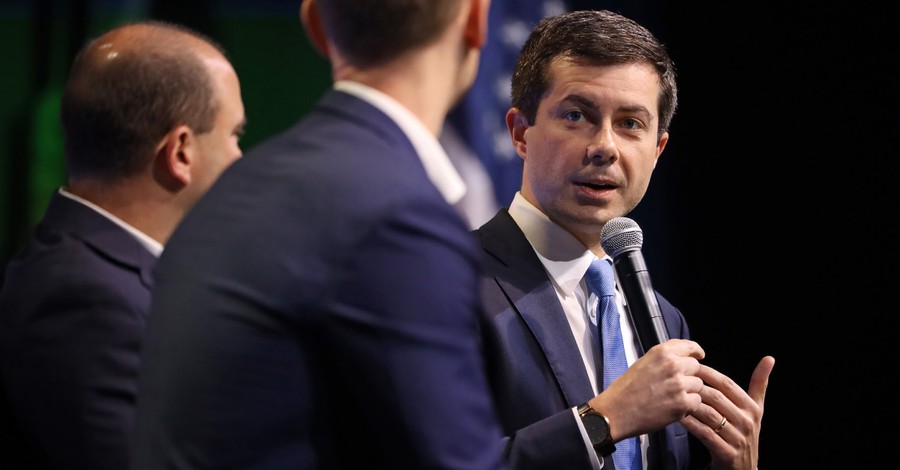 ---
Two-year-old photos of former mayor and Democratic candidate Pete Buttigieg have surfaced showing him volunteering for the Salvation Army, which has recently made headlines after Chick-fil-A removed donations from the charity over their alleged anti-gay agenda.
"I know the photos are two years old, but still, I can't help but wonder if Mayor Pete just looks at what LGBTQ activists have been working on for years and then chooses to spite it," said Zach Ford, press secretary of the Alliance for Justice, a progressive organization, in response to the article calling out Buttigieg in Out Magazine.
In the photos, the openly gay candidate is standing outside Peggs restaurant in South Bend, Indiana, ringing a bell for the charity's Red Kettle Ring Off, according to NBC News. The last known year for his volunteer work was 2015.
The ire with the Salvation Army started in 2012 when trans women claimed the organization was discriminatory towards them. Five years later, the New York City Commission on Human Rights filed a complaint against the charity for allegedly refusing transgender clients at a substance abuse center.
The controversy heated up when Chick-fil-A, a regular sponsor of the charity, was hit with an LGBTQ boycott because of its partnership. Earlier this month, the chicken chain changed course and stopped donations to the Salvation Army for 2020.
But not all gay rights activists agree with the scathing article from Out Magazine.
"Whoa…I don't know if Mayor Pete can recover from this oppo hit which shows him [checks notes] collecting money for the poor," said American political and communications consultant Frank Luntz, according to Fox News.
Federalist senior contributor Chad Felix Greene tweeted: "The @SalvationArmyUS is not 'homophobic.' At this point LGBT media is just spreading bigotry and hatred."
The Salvation Army also responded after Chick-fil-A pulled back on donations.
"We urge the public to seek the truth before rushing to ill-informed judgment and greatly appreciate those partners and donors who ensure that anyone who needs our help feels safe and comfortable to come through our doors," the statement said. "We serve more than 23 million individuals a year, including those in the LGBTQ+ community. In fact, we believe we are the largest provider of poverty relief to the LGBTQ+ population."
Buttigieg's team has declined to respond to the criticism. He is currently campaigning in South Carolina before the state's Democratic primary elections in February.
Photo courtesy: ©Getty Images/Chip Somodevilla/Staff
---
Mikaela Mathews is a freelance writer and editor based in Dallas, TX. She was the editor of a local magazine and a contributing writer for the Galveston Daily News and Spirit Magazine.