Mikaela Mathews
| ChristianHeadlines.com Contributor
| Monday, June 10, 2019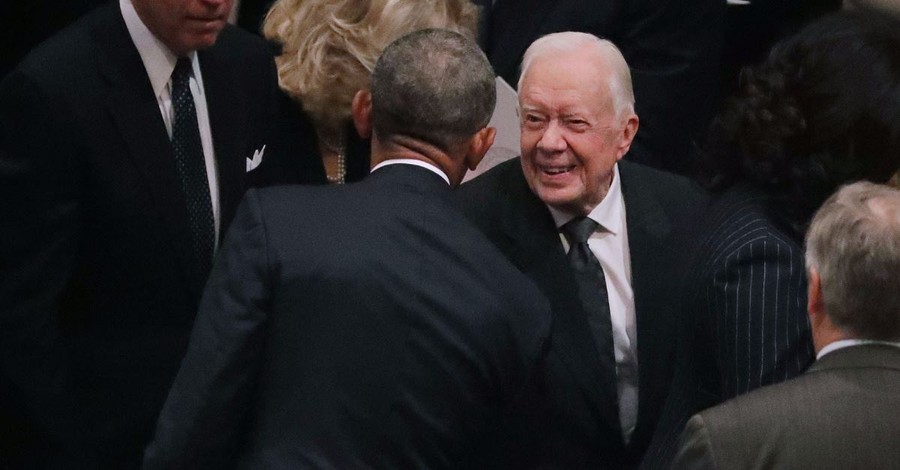 Former U.S. President Jimmy Carter is back behind the pulpit, teaching Sunday School for the first time after breaking his hip.
At Maranatha Baptist Church in Plains, Georgia, Carter thanked those present for their prayers and well wishes. The 94-year-old broke his hip in May when he fell while leaving to go turkey hunting.
Although hundreds of visitors sit in on Carter's regular Sunday School lessons, his return caused a surge in attendance. According to WRIC, "people began gathering at midnight to hear Carter, and by 8 a.m., a line wrapped around the church despite pouring rain."
People from Atlanta to New York City gathered to hear him. "We wanted to pay tribute for all of the work he has done," Glenda Morris-Robinson, a pediatrician from Atlanta told AJC. "It is so wonderful to see a true servant leader. He was remarkable."
Carter had hoped to return much earlier. He was ready to go back to teaching Sunday School a week after his surgery, but he needed a little more time to recuperate.
As per the former president's request, no one claps or stands when he walks into the foyer. "He has a very clear message of serving others," Ricardo Martinez, a visitor to the church, said. "He is a man of peace. He was the most powerful man in the world and he comes back to Plains to teach Sunday school and to teach others to serve."
His lesson focused on John 14:15-26, "The Promise of the Holy Spirit," then discussed Jesus washing the disciples' feet.
"How many of you have ever washed someone's feet?" he asked. "You put yourself physically at their feet, but you acknowledge them as a superior person. We should be looked upon as servant leaders. All of us needs to be servant leaders."
Several members of the Congressional Black Caucus were in the audience. Georgia Congresswoman Lucy McBath was inspired by his lesson. "This man is a living spiritual legend, who reminds me why I am serving and who I am serving," she said.
Carter ended his lesson with a question and a challenge. "If you did one good thing for one other person, would it make America a better country?" he said. "Find one person in your neighborhood who might be lonely and make it a point to visit them. You promise to do that? It will make America a better nation. That is what the Holy Spirit does. It orients your heart and mind toward servant leadership."
Photo courtesy: Getty Images/Chip Somodevilla/Staff
---
---