Michael Foust
| ChristianHeadlines.com Contributor
| Wednesday, February 5, 2020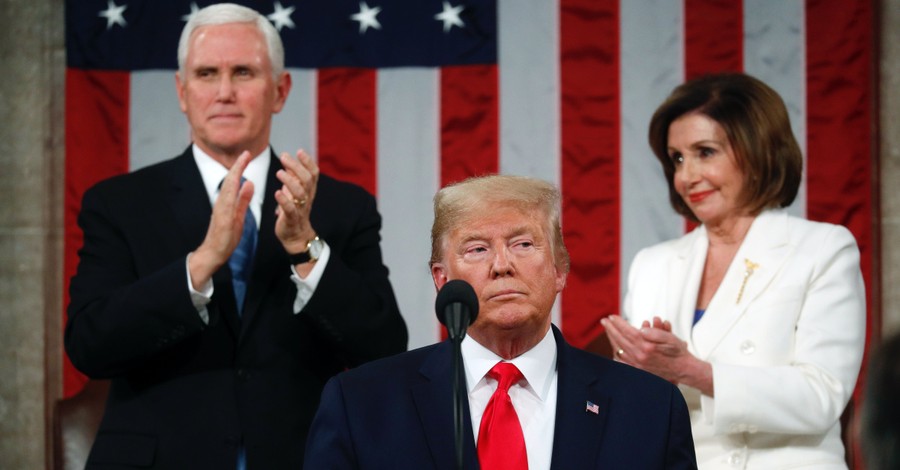 ---
President Trump promoted a ban on late-term abortion, defended prayer in public schools and celebrated the confirmation of 187 new federal judges during a State of the Union address Tuesday that spotlighted several issues championed by Christians and social conservatives.
The speech drew repeated applause from Republicans in the chamber but less-frequent applause from Democrats and was capped by House Speaker Nancy Pelosi tearing up her copy of the speech after Trump had finished.
Most social conservative leaders, though, commended Trump's priorities.
The president addressed the issue of abortion while recognizing a two-year-old girl, Ellie Schneider, who survived after being born at 21 weeks and six days and weighing less than a pound in a Kansas City hospital. She is one of the youngest premature babies ever to survive. Ellie and her mom, Robin, were in the gallery and received an ovation from the audience.
"Ellie reminds us that every child is a miracle of life," Trump said. "And thanks to modern medical wonders, 50 percent of very premature babies delivered at the hospital where Ellie was born now survive. It's an incredible thing."
Trump called on Congress to provide an additional $50 million to fund neonatal research. He then turned to the issue of abortion.
"That is why I'm also calling upon members of Congress here tonight to pass legislation finally banning the late-term abortion of babies," he said. "Whether we are Republican, Democrat, or independent, surely we must all agree that every human life is a sacred gift from God."
His administration also is "defending religious liberty," Trump said.
"That includes the constitutional right to pray in public schools," he said. "In America, we don't punish prayer. We don't tear down crosses. We don't ban symbols of faith. We don't muzzle preachers and pastors. In America, we celebrate faith, we cherish religion, we lift our voices in prayer, and we raise our sights to the glory of God."
On the issue of judges and judicial confirmations, Trump commended Senate Majority Leader Mitch McConnell (Ky.) for his leadership on the issue and said "we have confirmed a record number of 187 new federal judges to uphold our Constitution as written. This includes two brilliant new Supreme Court justices, Neil Gorsuch and Brett Kavanaugh."
"And we have many in the pipeline," Trump said.
The president endorsed school choice and urged Congress to pass the Education Freedom Scholarships and Opportunities Act, which would provide a federal tax credit to encourage individuals and businesses to donate to scholarship funds. The Department of Education says it would inject up to "$5 billion yearly into locally controlled scholarship programs," including for private schools.
"The next step forward in building an inclusive society is making sure that every young American gets a great education and the opportunity to achieve the American dream," Trump said. "Yet, for too long, countless American children have been trapped in failing government schools. To rescue these students, 18 states have created school choice in the form of Opportunity Scholarships. The programs are so popular that tens of thousands of students remain on a waiting list."
Trump recognized Janiyah Davis, a fourth-grader from Philadelphia who Trump said was hampered when Pennsylvania Gov. Tom Wolf, a Democrat, vetoed legislation in 2019 that would have expanded a tax credit program that benefits private schools.
"Janiyah's mom, Stephanie, is a single parent," Trump said. "She would do anything to give her daughter a better future."
Then, to applause, Trump announced that Janiyah would be receiving a scholarship "to the school of your choice."
"No parent should be forced to send their child to a failing government school," Trump said.
Seconds after Trump finished his speech, Pelosi tore up her copies of the speech. Asked by reporters why she did it, Pelosi said, "It was the courteous thing to do considering the alternative," and, "It was a manifesto of mistruths." She also said, "I was trying to find one page with truth on it."
House Speaker Nancy Pelosi: "I tore it up." Speaker Pelosi was asked what she thought of President Trump's State of the Union address. She responded that she "tore it up" and said: "I was trying to find one page with truth on it." #8NN pic.twitter.com/oTb11jG8I1

— 8 News NOW (@8NewsNow) February 5, 2020
But Tony Perkins, president of the Family Research Council, called it a "powerful and inspiring speech."
"[Trump] is not afraid to take the slings and arrows that come for standing up for these values. In the face of this barrage, President Trump gave a cheerful and unifying vision of what America can be," Perkins said in a statement. "The president spoke very movingly about protecting the most vulnerable among us including unborn children. He championed the values that have made America a truly exceptional nation: strong families, religious freedom, the sanctity of human life, a strong military, and pro-growth economic policies. … In my twenty-five years in the political arena, I've seen no president who has done more to advance the sanctity of life and to protect and restore religious freedom at home and abroad."
Related:
New Trump Rule Stops Obamacare's 'Hidden Abortion Surcharge'
Trump Admin. Keeps Pro-Abortion Language out of U.N. Resolution
U.S. Tells United Nations: 'There Is No International Right to an Abortion'
It's Official: Planned Parenthood to Lose $60 Million Under Trump Pro-Life Rule
Photo courtesy: ©Getty Images/Pool
---
Michael Foust has covered the intersection of faith and news for 20 years. His stories have appeared in Baptist Press, Christianity Today, The Christian Post, the Leaf-Chronicle, the Toronto Star and the Knoxville News-Sentinel.