Josh M. Shepherd
| Contributor to ChristianHeadlines.com
| Thursday, January 5, 2017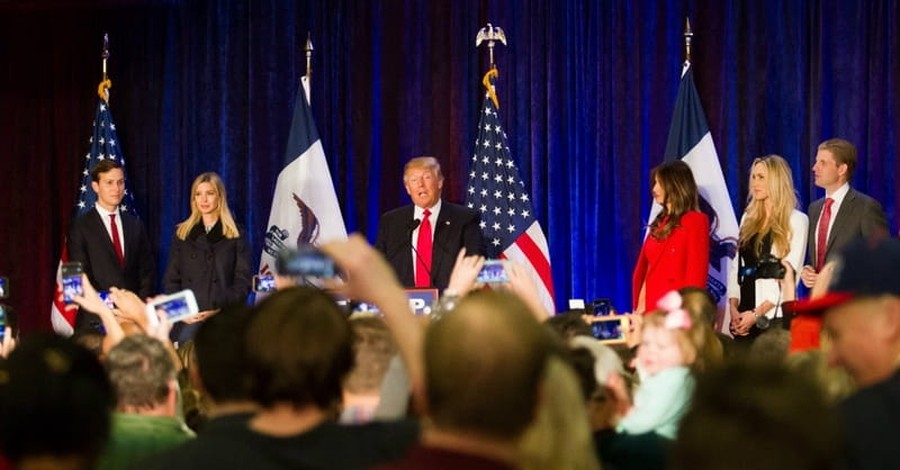 ---
President-elect Donald Trump has his own list of resolutions for 2017, with "Make America Great Again" right at the top. Executing these goals will largely be delegated to his Cabinet, chosen to guide the sprawling bureaucracy of the Executive Branch.
Unfortunately, a perfect storm of factors—an exhausting campaign season driven by strong emotions, an unexpected result that upends presumptive choices, and a national media continuing to display blatant bias—results in less advance knowledge than usual about these important leaders. 
One must get past one-line partisan summaries (either "basket of deplorables" or "conservative all-stars") to truly evaluate the designated Trump Cabinet, all of whom must be confirmed by the U.S. Senate. The government's various departments employ more than four million Americans, including military personnel, and have a lead role in managing the $3.8 trillion annual federal budget.
Note that White House staff and advisors, overseeing day-to-day operations and technically not part of the Cabinet, are not covered in this list. As of this writing, the President-elect has not designated picks for Veterans Affairs or Agriculture.
The Good: Competency Recognized Across the Aisle
A few leaders announced by Trump have received scant media coverage, primarily because their leadership experience in a given area is above reproach. 
When President-elect Trump chose retired General James Mattis as Secretary of Defense, Sen. John McCain, foreign policy experts, and even military historian Max Boot (a fierce Trump critic) praised the pick with no reservations.
Mattis is the sort of general who slept on a simple cot when serving in Iraq, even when nicer quarters were available to a commander. Head of U.S. Central Command during a tumultuous time, it was Mattis who had a role convincing President Obama to increase troops on the ground when it was strategically needed—and already has moved Trump away from supporting torture as an interrogation technique.
A Marine General will not hesitate to say when necessary: No, Mr. President. One could presume the same about Elaine Chao, former Secretary of Labor under George W. Bush, who has remained engaged in national economic and political issues through her work in Washington think tanks.
She is expected to bring this same rigor and centrist mindset as Secretary of Transportation, which may play a significant role as Congress drafts an infrastructure bill to restore the nation's roads and bridges. (It doesn't hurt that her husband Mitch McConnell serves as Senate Majority Leader, where the bill could face hurdles.)
Wilbur Ross is one used to getting over hurdles. Known as the buyout billionaire for his deals to scoop up bankrupt businesses, Ross believes government regulations and one-sided trade deals have been killing the U.S. economy.
It's no surprise that Trump would select his longtime Wall Street friend Ross as Secretary of Commerce, overseeing economic and trade policy. Confirmation of Mattis, Chao, and Ross should be relatively swift; others may expect a battle.
The Challenged: Defying Powerful Special Interests
Four Cabinet-level picks have generated inordinate media criticism. If confirmed, they will be tasked with policy areas expanded under President Obama: justice, education, health care, and energy advancement.
The hearings to confirm Alabama Senator Jeff Sessions as Attorney General, scheduled for January 10 and 11, will jumpstart the U.S. Senate's role in approving Cabinet members. An early backer of the President-elect, Sessions would head up the powerful Department of Justice.
Using decades-old secondhand quotes as sources, many media reports smear Sessions as somehow racist. Yet Bob Woodson of the Center for Neighborhood Enterprise (CNE) points to recent actions of the Alabama Senator. While Lowndes County has an important place in civil rights history, residents were appalled that essential infrastructure—like sewer lines—were not maintained.
Sessions worked with CNE to help this central Alabama community secure the federal grant needed. There's good reason why no less a civil rights icon than Rep. John Lewis walked side by side across the Edmund Pettus Bridge in Selma with Senator Sessions—and that one Sessions supposedly treated unjustly has endorsed his appointment.
When Betsy DeVos and her husband Dick visited a private school serving low-income families in their hometown of Grand Rapids, Michigan, they didn't know it would change their lives. "We met parents who were doing everything in their power to have their kids in an environment that was safe, where they were learning, and where the atmosphere was just electric with curiosity," DeVos told Philanthropy Magazine in 2013.
Fast forward 28 years. The DeVos family has given tens of millions to help underprivileged children in their education journey, started a nationwide school choice effort in 2003—and now Betsy DeVos has been chosen as the next Secretary of Education. Powerful teachers unions and lobbyists are sounding alarm bells about this mother of four and grandmother of five who believes charter schools and homeschooling are valid options for many families.
DeVos notes her strong support for local control of school curriculum and the important role of public schools. Though fearful rhetoric may get louder, her experience speaks for itself. 
Even before 2010, when the Affordable Care Act was passed without a single Republican vote, Dr. Tom Price knew U.S. health care policy needed to change—and that putting the federal government at the center of it would not be a solution. Since then the Georgia Congressman has faithfully introduced his health care reform bill year after year, honing it with each version.
When confirmed as Secretary of Health and Human Services, Dr. Price will face no small task: this department is the government's largest, twice the size of Defense in terms of budget and employing 72,000 staff. Already Price is discovering new allies, as the influential American Medical Association endorsed his appointment.
Considering Rick Perry served as Governor of Texas during 14 years of massive job growth—with the energy industry a significant part—his designation as Secretary of Energy seems fitting. It also shows the President-elect is willing to appoint even strong opponents, in light of Perry's remarks about Trump on the campaign trail.
While critics focus on a debate gaffe from 2011 where Perry forgot the Department of Energy in a list, a fair appraisal of his energy policies reveal a serious leader prepared to reform a complex agency.
The Unknown: Many Questions to Be Raised in Senate Hearings
Because the U.S. President has wide latitude on foreign policy, leaders of defense and diplomacy are of particular importance. Even among his allies on Capitol Hill, Trump's choice of Exxon-Mobil chairman Rex Tillerson for Secretary of State raises serious questions.
"Being a 'friend of Vladmir' in not an attribute I am hoping for from a Secretary of State," tweeted Senator Marco Rubio, referring to Tillerson's ties to the Russian President. Three other Republican Senators—McCain, Graham, and Lankford—issued statements casting doubt on the choice of Tillerson, who has worked 41 years solely for Exxon and represented the company's interests in Russia for decades.
While well-versed in fiscal and monetary policy, Steven Mnuchin may face criticism from both sides of the aisle. As Secretary of the Treasury, he would follow other Goldman Sachs bank executives who served in this position: Robert Rubin (under President Bill Clinton) and Henry Paulson (under President George W. Bush).
Naming Rep. Ryan Zinke as Secretary of the Interior follows through on a Trump policy that's unpopular among conservatives. Like Trump, Zinke believes the federal government is justified in claiming millions of acres of state lands (Zinke left his position as an RNC delegate after disagreeing with the 2016 party platform on this issue.)
Following a hunting trip with Donald Trump, Jr. after the election, the Montana Congressman was announced as the pick over other contenders. For some choices, the questions have less to do with connections than personal character.
No one doubts it was Andrew Puzder who led a dramatic turnaround of fast food chain Hardee's/Carl's Jr. It's how he did it that raises eyebrows: Puzder personally insisted on an ad campaign with buxom, barely-clad women headlined as "hot and delicious" to bring in new customers. Now he's been tapped to become Secretary of Labor. Some praise his labor policies; others note labor-related lawsuits against him.
Such a questionable business move does not speak well of Puzder's character, and serves as a reminder of the President-elect's own troubling statements towards women that are far from family-friendly.
As one who pioneered difficult surgery techniques—notably, separating conjoined twins—the distinguished medical career of Dr. Ben Carson is unmatched by few living physicians. At first glance, Americans should be grateful to have a genius and man of prayer serving within the federal government in any capacity.
Yet many believe the designation of Dr. Carson as Secretary of Housing and Urban Development comes down to an unfortunate observation. "Maybe because it had the word 'urban' in it, Trump felt that he needed to have someone with some melanin in his skin," said housing advocate Jumaane Williams in an interview. "Otherwise, I couldn't figure out why not something that fit the skill set that [Carson] has."
Questions about qualifications could also be raised about General John Kelly, tasked with heading up the massive Department of Homeland Security. "I don't think it's as simple as some might think, because there is a huge difference between the military and law enforcement," stated Lt. Gen. Jerry Boykin on the 'Washington Watch' radio program. "It's going to take a lot of agility, and he's going to need a deputy who is a longtime officer and understands law enforcement."
But Trump designating the former head of U.S. Southern Command, in charge of the U.S./Mexico border, for this role signals the entire department may have a stronger hand in implementing immigration policies.
This underlines perhaps the biggest unknown of the Trump Administration: how he will make good on his oft-repeated promise to "build a wall," and enforce a stronger immigration stance while maintaining American liberty. It's a controversy to watch closely in the coming months.
Josh M. Shepherd, contributor to Christian Headlines, has served on staff at The Heritage Foundation, Focus on the Family and Bound4LIFE International. He earned a degree in Business Marketing from the University of Colorado. Josh and his wife Terri live in the Washington, DC area. Follow Josh on Twitter @joshMshep.
Photo courtesy: Wikipedia
Publication date: January 5, 2017