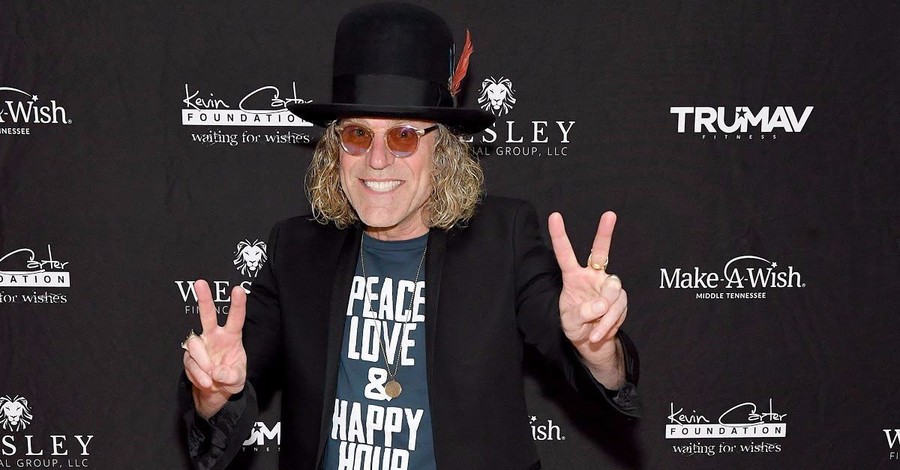 Working with a faith-based coalition, Kenny Alphin of country duo Big & Rich met with six U.S. Senators this past week. They spoke on behalf of people worldwide facing extreme hunger.
"I want to make a difference even in the smallest way. I'm only one person, but I can feel it working…"
As half of country duo Big & Rich, "Big" Kenny Alphin sings their hit song "That's Why I Pray" on stages across the country night after night. On June 20, he put the sentiment into action when he joined a coalition of faith leaders on a mission to Capitol Hill. They met with leaders in six Senate offices to advocate for global nutrition funding in U.S. foreign aid.
"I'm grateful that you may know my voice for singing songs," said Alphin in a statement. "I'm even more grateful to use it to speak on behalf of our fellow brothers and sisters who are suffering from hunger and malnutrition."Since their debut in 2004, when they won Best New Artist honors at the Billboard Music Awards, Big & Rich have been a staple on Top 40 radio.
The Faith-Based Coalition for Global Nutrition represents the collective voice of more than 250 evangelical pastors, recording artists, and nonprofit leaders. Members include Gospel Music Association president Jackie Patillo, recording artist Michael W. Smith, and Dr. David Stevens, CEO of the Christian Medical and Dental Associations. 
Longtime global health leader Jenny Eaton Dyer, Ph.D., previously affiliated with The ONE Campaign founded by Bono of British rock band U2, directs the group's advocacy efforts. 
"I was excited when Big Kenny was able to make time during his tour schedule to come and join us this past week," said Dyer in a recent phone interview. "We are in an emergency moment in several countries right now. Last year alone, this funding through USAID served over 22 million children—really, it saved their lives."
GLOBAL HUNGER AND FAMINE CRISIS
Current efforts of the coalition are focused on ensuring that nutrition is fully funded in the Fiscal Year 2020 federal budget. The House passed the State, Foreign Operations, and Related Programs funding bill on May 16, and that bill is currently being debated in the Senate. 
A report released last fall by several world health agencies surprised many observers. For the third year in a row, the number of undernourished people in the world has risen. It's a fact that coalition members had at the ready when meeting with the offices of Senators Lamar Alexander (R-Tenn.), Cindy Hyde-Smith (R-Miss.), James Lankford (R-Okla.), Jeanne Shaheen (D-N.H.), Roger Wicker (R-Miss.), and Todd Young (R-Ind.).
"Over the past couple years, we've seen some of the largest famines worldwide since the 1980s," said Dyer, who teaches religion and global health courses at Vanderbilt University in Nashville, Tenn. "From North Africa to the Middle East, there are currently about 52 million people on the brink of famine, suffering with chronic undernourishment."
Contrary to popular understanding, she explained that famine does not result solely from drought. War and social unrest also break down a community's capacity to flourish. "Famine is often manmade, with conflict being the key variable," added Dyer. "Around these conflict states, you find lack of access to resources for the population which include food and clean water."
Such pronounced needs compel Christians broadly to affirm the coalition's response, including at the conservative-leaning Institute on Religion & Democracy (IRD) in Washington, D.C.
"Christians should desire for governments to do justice," stated IRD president Mark Tooley via e-mail. "For religious groups to urge government to spend more to alleviate human suffering, there's nothing objectionable about such an initiative. Governments obviously have an important role."
The series of meetings on Friday marked the first advocacy trip to Capitol Hill for singer/musician Alphin, though he has long spoken out for the impoverished in South Sudan and Haiti. While his Top 40 hits often mention Christian faith, the Nashville celebrity has not publicly discussed his church affiliation. 
In February 2017, when Alphin's father died at age 86, he shared of his faith heritage. "If you ever got to hear him pray, there was no doubt his heart was pure," Alphin wrote on Facebook, in tribute to his father. "His faith was as strong as any and his kindness and compassion for others ran deep… He showed us what it meant to live an exemplary life of service to God, family, and community." 
The Faith-Based Coalition for Global Nutrition, an initiative of The 2030 Collaborative founded by Dyer, has elevated the country star's voice in new spheres. "Big Kenny has played an integral part in philanthropy and issue awareness," said Dyer. "For years, he has championed education for girls, emergency relief funding, and fighting poverty."
CROSSING THE POLITICAL AISLE
When navigating issues of partisan politics, the country duo has attempted to walk the line.
During the 2017 inauguration of President Donald Trump, several major recording artists opted not to accept the invitation. Yet Big & Rich, comprised of Alphin and John Rich, said they considered it an honor to headline a D.C.-area gala hosted by the Great America Alliance. 
Now Alphin has joined a coalition somewhat at odds with the Trump administration. The faith-based collective advocates for nutrition funding to reach $175 million, an increase of $30 million from current levels. However, the Presidential budget recommended global nutrition be cut to $79 million. 
"This is some of the most effective funding spent in our national budget," said Dyer. "We understand concerns around budget deficits, but this is not the place to cut. Foreign aid represents less than one percent of the U.S. budget, and it is saving the lives of literally millions of people." 
For the Capitol Hill meetings, Dyer and Alphin were joined by coalition members Matthew Boulton, former president of Christian Theological Seminary in Indianapolis, Ind.; Doug Severn, senior pastor of City Pres Church in Oklahoma City, Okla.; and Rita Wray, founder of Wray Enterprises and a community organizer from Jackson, Miss. 
USAID reports that 76 million people received assistance last year through its food programs. For years Dyer and her longtime collaborator, former Senator Bill Frist (R-Tenn.), have documented the cost-effectiveness of foreign aid. 
Yet it raises questions for some, about whether the church rather than government should be leading in international relief efforts.
"Churches don't seek to replace government, but do have a distinct message that government cannot replicate," said Tooley, whose group founded in 1981 provides analysis on policy issues to diverse evangelical leaders. "The church's chief focus should be on how Christians can directlyalleviate human suffering in witness to Christ. That message inevitably is obscured when church groups instead focus on secular humanitarian outreach."
A native of Nashville, Dyer speaks often to local congregations where she answers objections to Christian involvement in advocacy for public funding of relief work.
"As Christians, we should be praying and giving to nonprofits, and to our churches that do work locally and globally" she said. "Then our government is able to tackle some extreme poverty issues like hunger. That requires expertise, funding, and infrastructure at a level the church doesn't quite have the ability to do."
"THAT'S WHY I PRAY" 
According to a 2017 report from the World Health Organization, nearly one in three people worldwide suffer from at least one form of malnutrition. At a time when some leaders urge pulling back from international relief efforts, the Faith-Base Coalition for Global Nutriton has committed to address this issue. 
They have united based on their shared faith values. "We are called to lift up the widow, the orphan, and the refugee," said Dyer. "There are over 2,000 Scripture verses urging us to help those who are hungry and living in poverty. We really need political will and sustained effort to achieve these goals, which have been reset for 2030." 
Having seen Scriptures used in service of various political causes, the president of the Institute on Religion & Democracy urges modesty when applying particular verses to current policies. 
"Bible verses don't necessarily command specific government actions," stated Tooley. "What the Bible does command is the church's evangelistic mission, for which secular humanitarianism is no substitute." 
For Kenny Alphin, he often lets music do the talking for him. Released in 2012, Big & Rich's hit song "That's Why I Pray" hinted as his drive for advocacy years before he visited Capitol Hill. "People 'cross the world holding on," he sings. "The earth caved in, the ocean came down crashing… Out of everything we can create."
Today, Alphin has hope that believers with common cause can help solve difficult problems. 
"I'm excited that we can all make a difference for the hungry," he says. "Can I get an Amen?"
Josh M. Shepherd covers culture, faith, and public policy issues for media outlets including The Stream and The Federalist. A graduate of the University of Colorado, he previously worked on staff at The Heritage Foundation and Focus on the Family. Josh and his wife live in the Washington, DC, area with their son.
Photo courtesy: Getty Images/Jason Davis/Stringer
---
---