John Paluska
| ChristianHeadlines.com Contributor
| Monday, April 5, 2021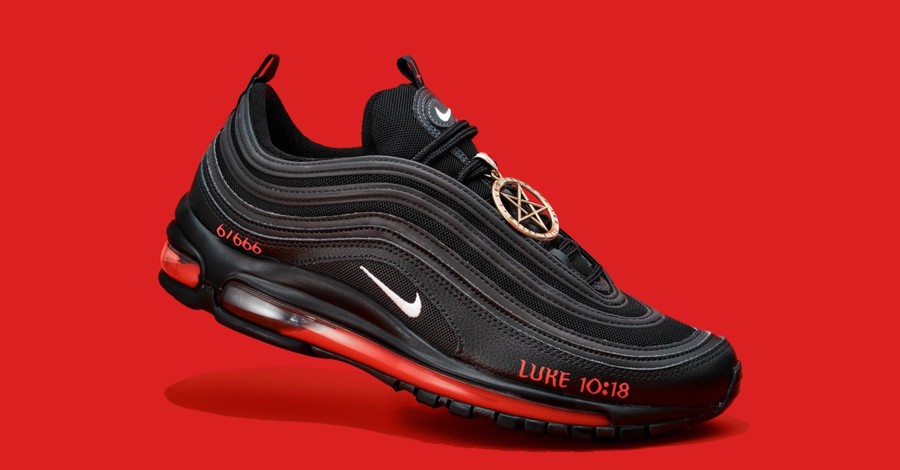 ---
Lil Nas X made headlines recently for making satanic shoes that used a Nike-copyrighted shoe, The Christian Post reports.
Lil Nas X collaborated with MSCHF to modify 666 pairs of Nike shoes to feature Satanic symbols and Bible verse Luke 10:18, which talks about Satan's fall. The shoes also reportedly contain a drop of human blood in every sole. However, because Nike themselves didn't make the shoes, a judge said they need to be axed in response to Nike's claim of intellectual ownership.
In Nike's complaint against MSCHF, they write, "MSCHF is currently taking orders for shoes it refers to as Satan Shoes, which are customized Nike Air Max 97 shoes that MSCHF has materially altered to prominently feature a satanic theme. This was done without Nike's approval or authorization, and Nike is in no way connected with this project. Below is an image of the genuine Nike Air Max 97 shoe next to MSCHF's customized Satan Shoe. The material alterations include at least referring to the shoe as the Satan Shoe, adding red ink and human blood to the midsole, adding red embroidered satanic themed detailing, adding a bronze pentagram to the laces, and adding a new sock liner."
The judge agreed and told MSCHF to decommission the shoes at once. MSCHF tried to argue the shoes were "art pieces" being sold to collectors. However, the judge didn't agree. The judge reportedly questioned, "How much tarnishment is required? There's no bright line but the more famous the mark — and we think Nike's swoosh is one of the most famous marks of all time — the more protection it is afforded." In other words, because the Nike swoosh is universally recognized, the shoes are infringing on a copyrighted work.
Many people boycotted Nike over the shoe, thinking it was officially sanctioned by Nike.
Related:
Nike Sues over Satan Shoes: Company Did 'Not Approve or Authorize' Product
Governor Kristi Noem Blasts Lil Nas X's 'Satan Shoes': 'We Are in a Fight for the Soul of Our Nation'
Photo courtesy: ©MSCHF
---
John Paluska has been a contributor for Christian Headlines since 2016 and is the founder of The Washington Gazette, a news outlet he relaunched in 2019 as a response to the constant distribution of fake news.