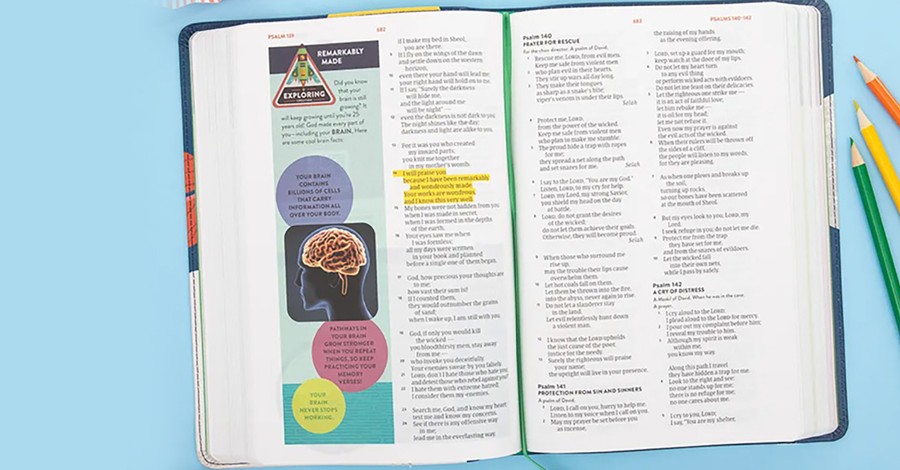 The CSB Explorer Bible for Kids was awarded the accolade of 'Bible of the Year' at a Christian Book Awards event hosted by the Evangelical Christian Publishers Association (EPCA).
It is the first time in 18 years that a children's resource Bible has received the award at the event, which was held in Nashville, Tennessee, on May 9.
Holman Bibles of Lifeway Christian Resources produced the CSB kids' Bible. The content uses the text of the Christian Standard Bible (CSB), which was the second best-selling Bible translation in April 2023, according to ECPA sales data.
Andy McLean, a publisher for Holman Bibles, which is the oldest Bible publisher in the USA, believed the creative layout would help children engage with scripture.
"We are honored that the CSB Explorer Bible for Kids has been recognized and awarded Bible of the Year," McLean said in a statement emailed to Christian Headlines.
"It affirms what we set out to accomplish – creating a compelling way to help kids engage with the history, culture and meaning of the text of scripture," he added.
The CSB Explorer Bible for Kids is designed to make Bible reading accessible to children. There is a full-color design, and the content is supported by images, illustrations, timelines and interactive studies via QR codes.
These interactive codes are embedded in the text, which allows kids to connect with online videos and discussion topics. There are also printable activities suitable for home study but also within school or church classes.
Introductions to the 66 books in the Bible give easier context on the timeline of the history of God's relationship with us.
"One of the most fulfilling aspects of our work at Holman Bibles is the opportunity to help readers meaningfully engage with the written Word of God – especially our youngest readers," McLean said.
"The CSB Explorer Bible for Kids is designed to build biblical literacy, offering historical context while connecting stories and characters to the grand narrative of scripture. This visually compelling Bible fuels kids' curiosity, empowering them to know, love and live the Word of God throughout their lives," he added.
Lifeway Christian Resources received the Spanish Bible of the Year Award for The Thematic Study Bible(Biblia Temática de Estudio), by the Spanish Evangelical Publishers Association (SEPA). The self-supporting nonprofit company, based in Middle Tennessee, is the largest known provider of Spanish-language Bibles.
More information about the CSB Explorer Bible for Kids can be found at Lifeway.com.
Photo courtesy: ©Lifeway Christian Resources
---
Christopher Eyte lives with his wife Céline and three children in Swansea, Wales, UK. He has worked as a journalist for many years and writes his own blog (hislovefrees.life) encouraging others in their walk with Jesus. He became a Christian in February 2002, after a friend explained God's amazing grace!
---
---