Tim Tune
| ChristianHeadlines.com Contributor
| Thursday, March 26, 2020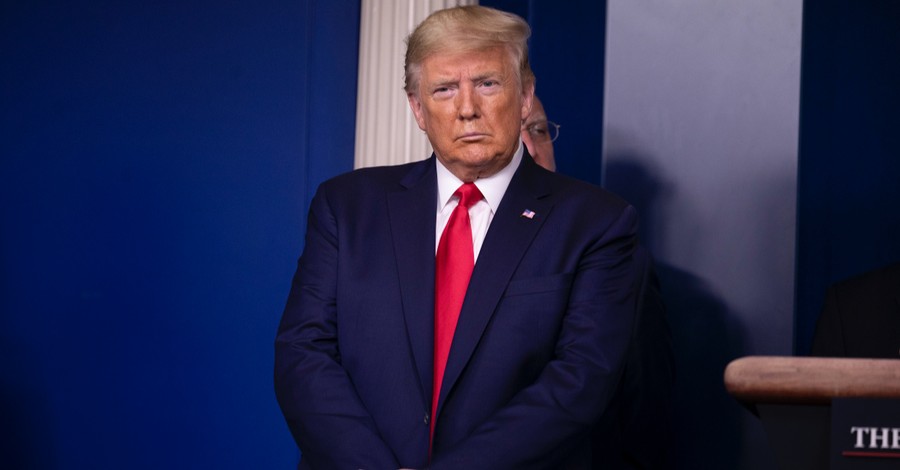 Though President Donald Trump has publicly identified as a Presbyterian and Protestant, and is often associated with evangelical leaders, there is a wide range of opinions among Americans about the details of his religious beliefs and practices, Pew Research Center says.
The polling agency reports that its research into Trump's religion reveals that half of American adults say they're either "not sure what his religion is (34 percent) or that he has no religion (16 percent)," while "just 33 percent say he's Protestant."
Overall, the report said, Americans "don't think Trump is particularly religious." Most say the president is "not too" (23 percent) or "not at all" (40 percent) religious. More than one-in-four (28 percent) say he's "somewhat" religious, and less than one-in-ten – only 7 percent – say he's "very religious," according to the survey. Just more than a third (34 percent) express uncertainty about Trump's specific religious affiliation.
The Pew report says Trump, a self-identified Presbyterian, is the ninth president to be affiliated with that Protestant faith group. A 2015 CNN report, published just over two months after Trump declared his candidacy, says that Trump attended First Presbyterian Church in the Jamaica neighborhood of New York's Queens Borough. The report said he was confirmed there, according to a statement from the church, which was founded over 350 years ago.
Later, the report said, Trump attended Marble Collegiate Church in Manhattan, which was founded in 1628. Norman Vincent Peale, author of The Power of Positive Thinking, was pastor of the church for 52 years from 1932-1984. Peale died in late 1993.
Trump "had a longstanding history" with the church where "his parents were for years active members and one of his children was baptized," according to a statement from the church quoted in the report. The statement acknowledged at the time that Trump was "not an active member." And now, Pew says, "Trump does not regularly attend a Presbyterian church."
He associates with leaders in a range of faith groups, Pew says, including Paula White, his spiritual adviser, who previously led a Pentecostal-leaning church. Others include Southern Baptist leader Robert Jeffress, pastor of First Baptist Church, Dallas.
Despite these and other public associations, Pew says that "fewer than half of Americans associate him with Christianity or, more specifically, Protestantism."
Not even half of American adults – 44 percent – say Trump "is a Christian," including 33 percent who identify him Protestant, 8 percent as Catholic, and 2 percent who says he's "just Christian."
And fewer than two-in-ten (16 percent) say that Trump has "no religion," including 2 percent who say they believe he's an atheist, and 13 percent who describe his religion as "nothing in particular."
A small percentage (5 percent) describe the president's religion as "something else." When asked to be more specific about their response, Pew reports that many respondents in this group "provide caustic responses, saying they think Trump worships himself, that he worships money or power, that he is a fake Christian or someone who only pretends to be religious, or that he is evil."
Respondents' religion and political party sympathies show "clear differences of opinion on this question," Pew says.
More than other groups, the report said, Jews and white Christians – which include white evangelicals, white non-evangelical Protestants and white Catholics – tend to lean Republican and are more likely than other cohorts to say Trump is a Protestant.
Pew says their survey revealed that Republicans and GOP sympathizers "are about twice as likely as Democrats and their leaners to say that Trump is Christian (60 percent vs. 31 percent) and, more specifically, that he's Protestant (47 percent vs. 23 percent)."
Democrats are also more likely to have the opinion that Trump "does not have a religion." One-quarter says "Trump has no religion (including 4 percent who say he is an atheist and one-in-five who say his religion is "nothing in particular"), compared with 7 percent of Republicans who say this."
Views on how religious Trump is also "vary sharply," depending on a respondent's political leanings. Pew reports that more than six-in-ten Republicans and GOP sympathizers (62 percent) say Trump is "very" or "somewhat" religious. However, less than two-in-ten Democrats and Democratic leaners (12 percent) say they have that opinion.
Photo courtesy: ©Getty Images/Tasos Katopodis/Stringer
---
Tim Tune is a freelance journalist based in Fort Worth, Texas. His work has been published by Baptist Press, as well as the Dallas Morning News, the Fort Worth Business Press, Arlington Today magazine and other North Texas publications.
---
---