Scott Slayton
| ChristianHeadlines.com Contributor
| Tuesday, March 24, 2020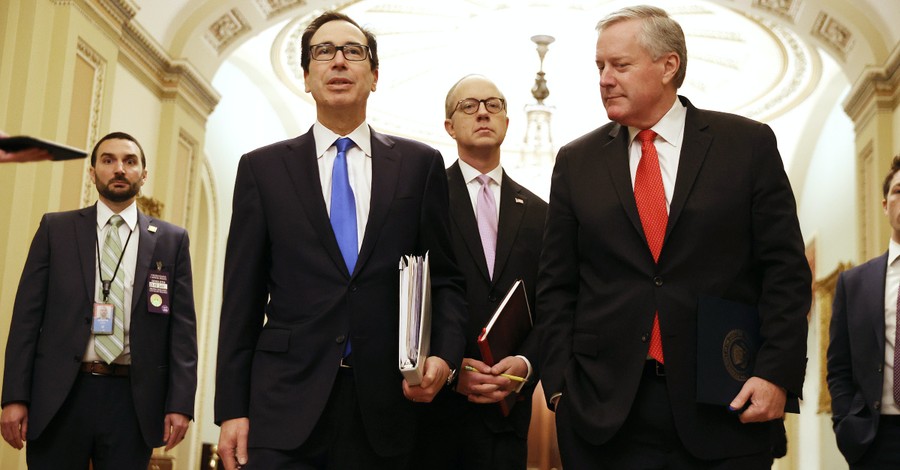 ---
The Senate may be close to a deal on an almost $2 trillion economic stimulus package. This comes one day after Senate Democrats blocked the package two days in a row.
Monday's vote led to partisan bickering on the floor like few observers have seen in their lifetimes, CBN News reports. Democrats demanded that a long list of "Progressive wish-list" items be added to the bill and argued that the bill did not do enough for people at the bottom of the economy. They also objected to $500 billion set aside for corporate bailouts that they claim would be a "slush fund" for Treasury Secretary Steve Mnuchin.
Senate Minority Leader Chuck Schumer (D-NY) said the bill, "includes a large corporate bailout with no protections for workers and virtually no oversight." He added that he was also troubled by "significant shortfalls of money that our hospitals, states, cities, and medical workers desperately needed."
Senate Majority Leader Mitch McConnell (R-KY) said the "Democrats won't let us fund hospitals or save small businesses unless they get to dust off the Green New Deal." One Democratic demand was for new emissions standards for airlines, which led Senator Ted Cruz (R-TX), to thunder from the Senate floor, to question, "What the hell do the emissions standards on airplanes have to do with thousands of people dying and millions of people out of work in the coronavirus epidemic?" Cruz also pointed out repeatedly that the 47-47 vote wasn't even on the bill itself, but to even consider the bill, the Federalist reports.
Five Republican Senators were not on the floor for the procedural vote. Senator Rand Paul (R-KY) tested positive for the coronavirus on Sunday. Utah Senators Mike Lee and Mitt Romney, both Republicans, are self-quarantining after they spent time with Paul over the weekend. Senators Cory Gardner (R-CO) and Rick Scott (R-FL) were already in self-quarantine.
Senate Democrats met with high-level Trump administration officials late into the night on Monday night and came away hopeful that a deal could be reached sometime Tuesday. One of the major sticking points they cleared away was a plan for overseeing the $500 billion in bailouts for companies suffering financially because of the COVID-19 epidemic.
According to the New York Times, Mnuchin said Monday that "a lot of progress had been made" and House Speaker Nancy Pelosi (D-CA) said Tuesday morning that she had "real optimism that we could get something done in the next few hours."
Scott Slayton writes at "One Degree to Another."
Photo courtesy: ©Getty Images/Chip Somodevilla/Staff
---
Scott Slayton writes at "One Degree to Another."