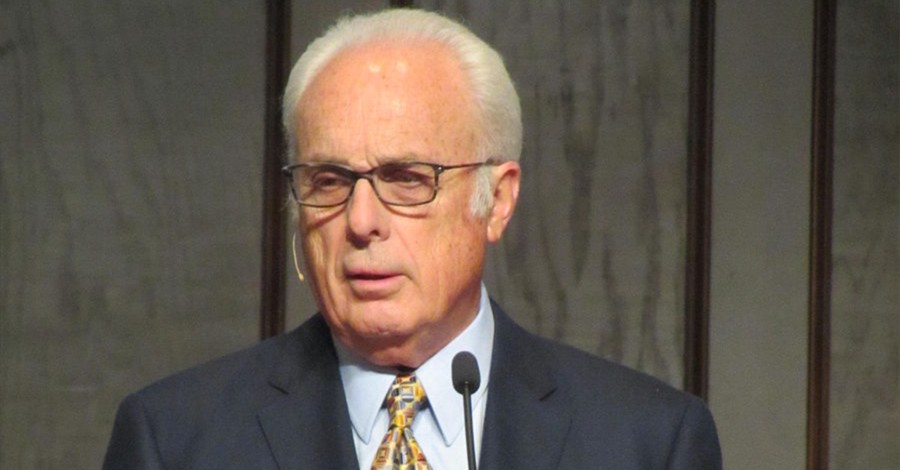 Pastor John MacArthur of Grace Community Church is continuing to lead Sunday church services despite lockdown restrictions and threats of legal action.
Prior to delivering his sermon this past Sunday, MacArthur welcomed congregants "to the Grace Community Church peaceful protest" which was met with laughter, cheers, and a standing ovation.
"Are you glad to be here?" MacArthur asked the congregation. "Everything for us is based on the word of God, right? And that means we are pro-life, pro-family, pro-law and order, and pro-church of the Lord Jesus Christ."
According to The Christian Post, the 81-year-old pastor then invited Chaplain Martin Morehouse from the Los Angeles Police Department to deliver a prayer to open the service.
As part of Chaplain Morehouse's prayer, he asked the Lord to provide MacArthur and Grace Community Church with the "wisdom and faith to weather all of the things going on in church and outside church."
MacArthur then went on to preach a message from 1 Corinthians 1, which partly reads, "For the foolishness of God is wiser than human wisdom, and the weakness of God is stronger than human strength."
"We are here in obedience to our Lord, we are here because He has given us commands, not in a personal esoteric way, not through some vision or dream, not because I hear voices from Heaven, I don't, but because I have a Bible," he said. "Grace Church is defined by its commitment to Holy Scripture. For true Christians, the Bible is our greatest treasure."
Regarding believers, MacArthur said that "the mark of a true Christian is the love of Scripture."
"God's true church has always been a place where people hunger for the truth from the Bible. That's why we're here," he said.
"If this pulpit was not the place for the proclamation of the Word of God, this place would begin to be empty," he added. "That's why you're here ... it's clear to me that you love the word of God. That's why you're here."
In recent days, John MacArthur has made headlines for openly defying lockdown orders from the State of California. Officials have threatened fines and or possible arrest if MacArthur continues to hold indoor services.
In a recent episode on the "Edifi with Billy Hallowell" podcast, MacArthur explained why he continued to defy lockdown orders. He noted that the deaths in California was roughly about .02 percent of its population, adding that "it wasn't what they said it was going to be."
"There were 8,500 deaths [in California] — half of them were people over 80 with obvious comorbidity issues," he said.
MacArthur continued, "It just seemed to me that 99.98 is pretty good odds to come to church, and people were crying out to open the church because of the fears — and then, of course, the church is the center of life for people who love the Lord, and they were cut off from their friends."
Despite facing legal threats from the state of California, MacArthur assured that he and his church will continue having Sunday services.
"Grace Church is going to meet … and we're going to continue to meet and we're going to always meet because Jesus Christ is the head of the church. Jesus is Lord," he asserted. "And government has a certain purview given by God, but it doesn't cross over into the realm of the kingdom of God, so we're going to meet."
As Christian Headlines previously reported, Trump's personal attorney Jenna Ellis and Charles Limandri will be representing MacArthur and his church as special counsel.
Related:
Trump's Personal Attorney to Represent John MacArthur amid Threats of Fines, Arrest for Holding Indoor Services
Pastor John MacArthur Could Face Fines, Be Arrested for Holding In-Person Church Services amid COVID-19
John MacArthur's Church Defies Order to Close: 'We Must Obey God Rather Than Men'
Christian Leaders Disagree with MacArthur's Church: Bible Doesn't Require 'Civil Disobedience' in Pandemic
Photo courtesy: Public Domain
Video courtesy: Bass Singing Preacher
---
Milton Quintanilla is a freelance writer and content creator. He is a contributing writer for Christian Headlines and the host of the For Your Soul Podcast, a podcast devoted to sound doctrine and biblical truth. He holds a Masters of Divinity from Alliance Theological Seminary.
---
---