Milton Quintanilla
| Contributor for ChristianHeadlines.com
| Wednesday, November 25, 2020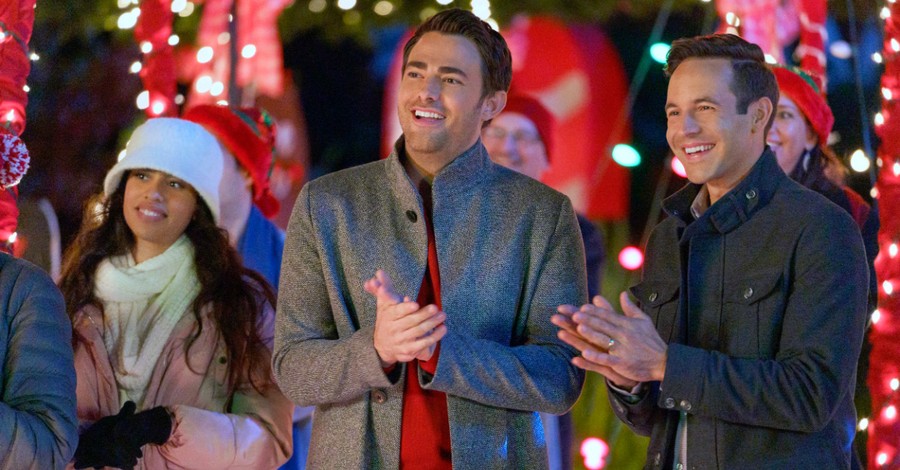 ---
On Sunday, the Hallmark Channel released The Christmas House, its first holiday film featuring a same-sex couple as its main characters. The film stars real-life gay actor Jonathan Bennett.
Bennet, 39, who is best known for his role in the 2004 hit film, Mean Girls, commended the Hallmark Channel for being more LGBTQ-inclusive with their movies.
"I'm proud of everyone at Hallmark Channel for making the holiday table bigger and more welcoming and warmer this year," Bennett told NBC News. "It's an honor to be part of the network's progress."
The film follows Brandon Mitchell (Bennett) and his husband, Jake (Brad Harder), who travel home for the holidays while they anxiously wait for a call concerning the adoption of their first child.
"What I love about the characters in the movie is that we aren't caricatures or stereotypes," Bennett explained. "We are two loving, stable, kind men who are in love and want to start a family of our own."
He stressed that it is important for the LGBTQ community "to see themselves in media" and hopes that the film will do just that.
"Representation is important, but correct representation is more important, not just for viewers who may not interact or accept LGBTQ people, but it's also important for LGBTQ people to see themselves in media," he argued.
For Bennett, shooting The Christmas House was like life imitating art as it inspired him and his real-life husband, Jayes Vaughn, to consider adopting on their own.
"Being on set and experiencing this couple navigating the adoption process, there are ups and downs, you start to feel the warmth and unconditional love of family, and it starts to inspire you to consider sharing that experience with your partner in real life, too," he said.
The release of The Christmas House comes as the Hallmark Channel has promised to deliver on LGBTQ-inclusive content.
In August, the Hallmark Channel released the film Wedding Every Weekend which featured their first same-sex wedding between two women. Last year, the network came under fire for pulling, then reinstating a commercial with a lesbian wedding.
Additionally, several other networks have LGBTQ themed films set to release for the holidays.
On Nov. 25, Hulu released its film Happiest Season, which follows a young woman who has kept her relationship with her female partner a secret from her parents. The film stars Kristen Stewart (Twilight) and Mackenzie Davis (Blade Runner 2049).
The Christmas Setup, which premieres Dec. 12, will be Lifetime's first holiday film to focus on an LGBTQ romance between real-life gay couple Ben Lewis ("Arrow") and Blake Lee ("Parks & Recreation").
As Christian Headlines previously reported, the film was written and directed by people from the LGBTQ community.
On Dec. 13, Paramount will release Dashing in December, in which the main character, Wyatt ( "The Young & The Restless" actor Peter Porter), returns home for the holidays and tries to convince his mother to sell their family's ranch. Wyatt, however, ends up falling for a rancher ("Fuller House" star Pablo Di Pace) in an unexpected romance.
Related:
Lifetime to Release Its First LGBTQ Christmas Film
Photo courtesy: ©Hallmark/IMDb
---
Milton Quintanilla is a freelance writer. He is also the co-hosts of the For Your Soul podcast, which seeks to equip the church with biblical truth and sound doctrine. Visit his blog Blessed Are The Forgiven.