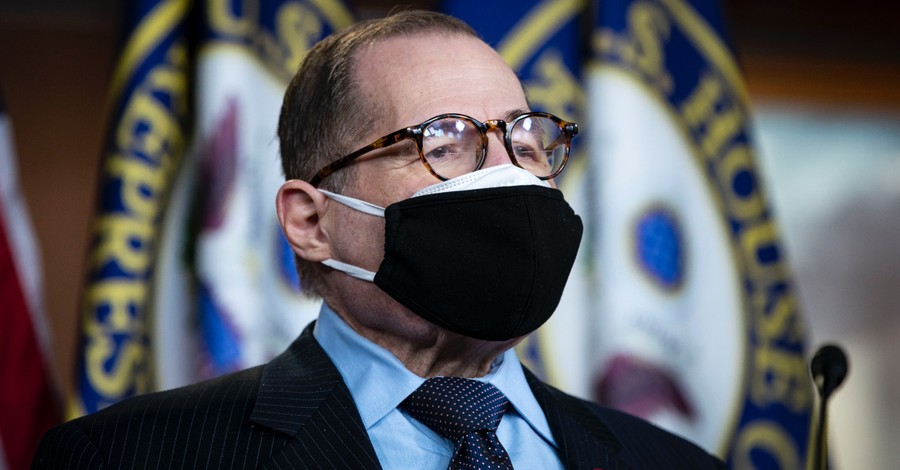 During last Thursday's House Debate over the Equality Act, Democratic Rep. Jerry Nadler of New York asserted that "God's will is no concern of this Congress," after a fellow Congressman opposed the measure by pointing to God and the Bible.
According to The Christian Post, Rep. Greg Stuebe (R-FL), asserted during his remarks on the House floor that the Equality Act, which the House later passed, is contradictory to the Bible.
Stuebe noted that "the gender confusion that exists in our culture today is a clear rejection of God's good design."
"Whenever a nation's laws no longer reflect the standards of God, that nation is in rebellion against Him and will inevitably bear the consequences," he asserted. "And I think we are seeing the consequences of rejecting God in our country today. And this bill speaks directly against what is laid out in Scripture."
Stuebe added that "it's not clothing or personal style that offends God, but rather, the use of one's appearance to act out or take on a sexual identity different from the one biologically assigned by God at birth."
In response to Stueb's comments, Nadler, who is Jewish, told the Florida Congressman: "Mr. Steube, what any religious tradition ascribes as God's will is no concern of this Congress." Nadler's comments were later criticized by leaders of the Coalition for Jewish Values, a group of approximately 1,500 traditional Orthodox rabbis, saying that the New York Congressman has "forgotten the Constitution."
According to PJ Media, CJV President Rabbi Pesach Lerner explained in a statement that "the Founding Fathers required Congress avoid infringing upon the free exercise of religion, meaning it must be sensitive to what every religious tradition describes as God's will."
He added, "It is especially true that Congress must remain cognizant of the set of foundational moral principles — including valuing peace, human life, and individual liberty and responsibility — that America calls Judeo-Christian ethics."
Meanwhile, CJV Vice President Rabbi Yoel Schonfeld noted that Nadler "unmasked" the true nature of the Equality Act.
"Far from valuing diverse opinions and beliefs, it tramples free exercise of religion and even demonizes free speech," Schonfeld warned. "Reading the Bible in public, per the Equality Act, could be called an exercise in bigotry and grounds for a 'discrimination' complaint. Without question, the true bigots here are those who support deliberate attacks upon the cherished beliefs of others."
Related:
House Passes Equality Act in a 'Severe Blow' to Religious Liberty, Women's Rights
Franklin Graham Denounces the Equality Act, Calls It a 'Very Dangerous Bill'
4 Things Christians Should Know about the Equality Act
Photo courtesy: ©Getty Images/Al Drago/Stringer
---
Milton Quintanilla is a freelance writer and content creator. He is a contributing writer for Christian Headlines and the host of the For Your Soul Podcast, a podcast devoted to sound doctrine and biblical truth. He holds a Masters of Divinity from Alliance Theological Seminary.
---
---