Michael Foust
| ChristianHeadlines.com Contributor
| Friday, February 26, 2021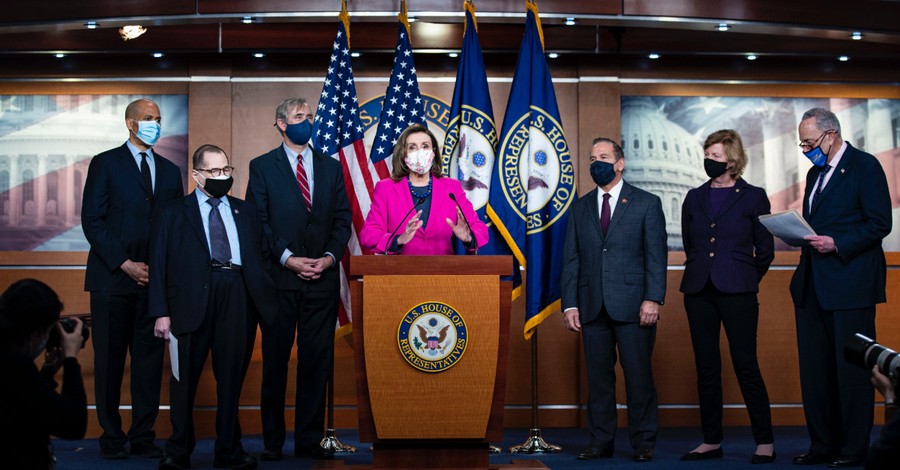 A landmark bill that would place sexual orientation and gender identity along race in the nation's anti-discrimination laws passed the U.S. House of Representatives Thursday and advanced to the Senate, where its prospects are far less certain.
H.R. 5, also known as the Equality Act, passed the House 224 - 206 along a mostly party-line vote, with three Republicans joining 221 Democrats in support. All 206 "no" votes came from Republicans.
Opponents say it would have a devastating impact on women's rights and religious freedom.
Although the House previously passed the bill in 2019, Thursday's passage marked the first time it had passed with Democrats in control of the House, the Senate and the White House – a trifecta that gives it a legitimate chance of becoming law.
The Senate has never passed the Equality Act. Politico reported it is unlikely to pass that body in its current form.
President Biden applauded the bill's passage.
"Transgender rights are human rights – and the House made that clear today by passing the Equality Act," he tweeted. "Now it's time for the Senate to do the same."
Transgender rights are human rights — and the House made that clear today by passing the Equality Act.

Now it's time for the Senate to do the same.

— President Biden (@POTUS) February 26, 2021
The bill would amend the Civil Rights Act of 1964 – a law that was passed to confront racial discrimination – by adding "sexual orientation" and "gender identity" to the list of protected classes for public places, education and employment.
It guarantees that individuals cannot be denied access "to a shared facility, including a restroom, a locker room, and a dressing room, that is in accordance with the individual's gender identity."
It would force schools to allow biological boys who identify as girls to play on girls' teams.
Controversially, the bill explicitly forbids individuals from using the Religious Freedom Restoration Act of 1993 to sue based on claims within the Equality Act. That 1993 law, signed by President Clinton, prevents the government from "substantially burdening a person's exercise of religion."
"The 'Equality Act' offers no protections for religious freedom," Alliance Defending Freedom said in an analysis.
Rep. Mike Johnson (R.-La.), during floor debate, urged his colleagues to oppose the bill.
"Everybody in this chamber believes that all people are entitled to dignity and respect. We believe that every single person is made in the image of God. And because of that every single person has an estimable dignity and value," Johnson said. "... [But] this bill is a severe blow to women's rights, to people of faith, to every parent, every student, every medical professional, and so many more. Because we believe in the dignity and value of every person, we have to oppose this dangerous un-American legislation."
House Minority Leader Kevin McCarthy (R-Calif.) also highlighted the bill's impact on religious liberty and women's rights.
"If you look at Biden's appointments [of] Cabinet members, suing nuns and others, this really seems like an onslaught against freedom of religion. For girls' sports as well," McCarthy said in a press conference. "Now the Democrats have even taken it further."
The pro-life Susan B. Anthony List warned that the bill would protect abortion rights. That's because the bill adds "pregnancy, childbirth, or a related medical condition" to the definition of "sex," which "courts have interpreted broadly to include abortion," Susan B. Anthony List said in a news release.
Tennis legend Martina Navratilova co-wrote a Washington Post editorial in 2019 warning that the Equality Act "would do significant damage" to women's sports by making "it unlawful to differentiate among girls and women in sports on the basis of sex for any purpose."
Alliance Defending Freedom this month warned that the Equality Act "should be concerning to anyone who values religious freedom and true equality."
ADF says the Equality Act would:
"forbid churches and religious nonprofits from requiring their employees to live out their religious beliefs about marriage, sexual morality, and the distinction between the sexes." Churches and religious nonprofits could be "required to open their sex-specific facilities to members of the opposite sex," ADF said.
"threaten religious foster care and adoption agencies with closure if they operate according to their deeply held belief that the best place for a child is a home with a married mother and father."
"threaten creative professionals and other business owners who simply want to live and work according to their beliefs." As an example, ADF mentioned a Christian printer in Kentucky who refused to print an LGBT pride shirt and was ordered by the local human rights commission to undergo diversity training.
"force individuals to speak messages that violate their beliefs under the threat of punishment." ADF referenced a Christian man who is a university professor and was disciplined for not referring to a biological male student as a woman. The student identifies as female."
Alliance Defending Freedom general counsel Kristen Waggoner on Thursday urged the Senate to defeat the bill.
"Our nation's laws should respect the most fundamental freedoms of every American citizen. But the deceptively titled 'Equality Act' hides behind promises of toleration and empowerment, while its policies threaten real harm to women and children, radically alter our legal landscape, and discriminate against religious communities," Waggoner said. "This legislation would deny female athletes fair competition in sports, ignore women's unique health needs, and force vulnerable girls to share intimate spaces with men who identify as female. The Equality Act also punishes and marginalizes people who hold decent and honorable beliefs about marriage or dare to believe the scientific evidence regarding the physical differences between men and women."
At its core, the "Equality Act" would eliminate the equal opportunities and fair playing fields women have worked so hard to achieve. https://t.co/oYaJHOXQUK

— Alliance Defending Freedom (@AllianceDefends) February 25, 2021
Related:
Biden Urges Congress to 'Swiftly Pass' Equality Act that Would Let Boys Play on Girls' Teams
Photo courtesy: ©Getty Images/Al Drago/Stringer
---
Michael Foust has covered the intersection of faith and news for 20 years. His stories have appeared in Baptist Press, Christianity Today, The Christian Post, the Leaf-Chronicle, the Toronto Star and the Knoxville News-Sentinel.
---
---