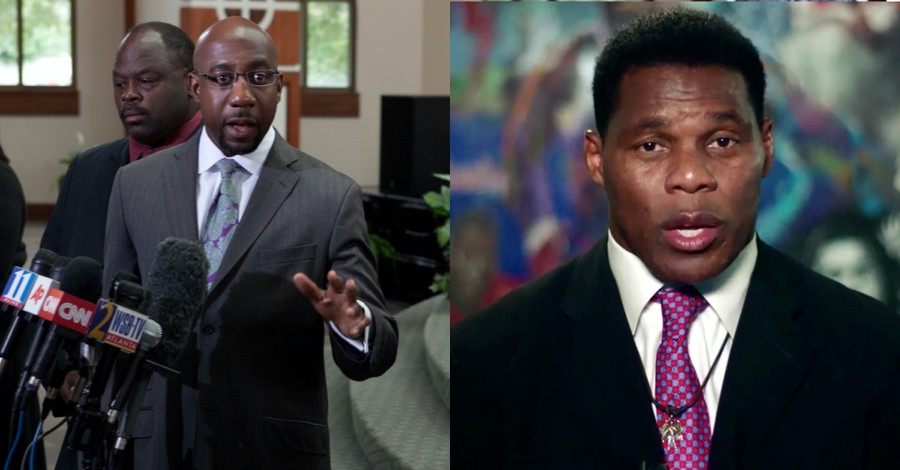 The senatorial race in Georgia between incumbent Rev. Raphael Warnock (D) and newcomer Herschel Walker (R) will head into a runoff election next month.
The runoff election is scheduled to take place on Dec. 6 after neither Warnock nor Walker were able to secure 50 percent of the vote needed to be declared the winner.
"If you can hang in, hang in there a little bit longer, just hang in there a little bit longer, because something good, it takes a while for it [to] get better. And it's going to get better," Walker, a former NFL player, said Tuesday evening. "So I wanted to thank you guys for hanging in."
Warnock, the senior pastor of Ebenezer Baptist Church of Atlanta, asserted that he was "going to have received more votes than my opponent."
"And whether we need to work all night, through tomorrow, or for four more weeks, we will do what we need to and bring this home," he tweeted early Wednesday.
As of Wednesday afternoon, Warnock garnered 49.4 percent of the vote, while Walker earned 48.5 percent.
Earlier this year, Warnock was elected to the Senate after a hotly contested runoff election against then-Republican Georgia incumbent Kelly Loeffler, giving the Democratic Party a slight majority in the Senate. The results of the current race will also determine which political party will take control of the Senate.
Both Warnock and Walker have faced controversy following allegations of moral misconduct and hypocrisy.
According to The Christian Post, Warnock was met with backlash after his church reportedly tried to evict several people living in an apartment complex the church held 99 percent ownership over.
In October, The Washington Free Beacon published documents supporting the allegations. The documents also named Warnock as the "principal officer" of the foundation managing the complex.
Meanwhile, The Daily Beast reported that Walker, who campaigned on a pro-life platform, previously paid for his girlfriend's abortion in 2009. Walker, however, shot down the allegations, calling them a "flat-out lie" and "another repugnant hatchet job from a democrat activist disguised as a reporter."
In a court filing submitted earlier this year, Warnock's ex-wife, Oulèye Ndoye, accused him of refusing to "reimburse" her for "childcare expenses for the children" during periods when the children were under his custody.
Related:
Herschel Walker Argues Slavery Reparations Are 'Outside the Teaching of Jesus Christ'
Woman Claims Georgia GOP Senatorial Candidate Herschel Walker Paid for Her to Have an abortion
'I'm a Pro-Choice Pastor,' Raphael Warnock Says, Sparking Pro-Life Pushback
'Is He a Christian?' — Tony Dungy Asks of Pro-Choice Pastor Raphael Warnock
Raphael Warnock 'Used the Bible to Justify Abortion,' Loeffler Charges during Senate Debate

Photo courtesy: ©Getty Images/Jessica McGowan/Stringer, Getty Images/Handout
---
Milton Quintanilla is a freelance writer and content creator. He is a contributing writer for Christian Headlines and the host of the For Your Soul Podcast, a podcast devoted to sound doctrine and biblical truth. He holds a Masters of Divinity from Alliance Theological Seminary.
---
---