Michael Foust
| ChristianHeadlines.com Contributor
| Monday, December 7, 2020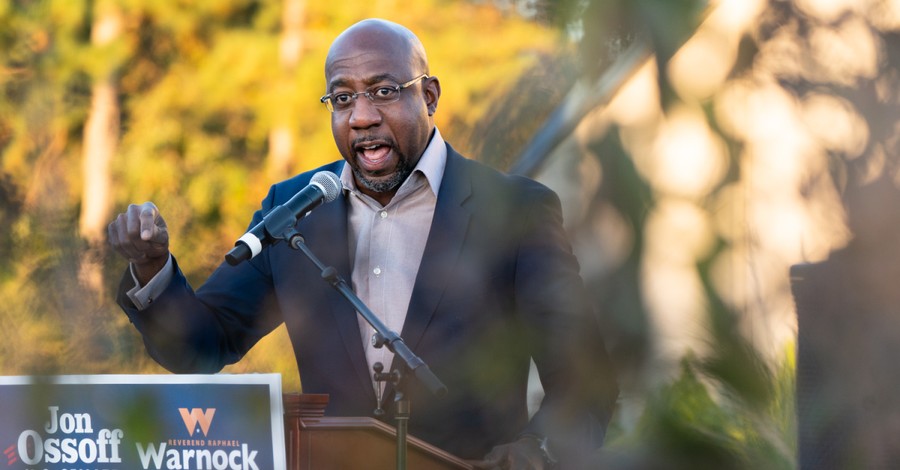 ---
U.S. Senate candidate Raphael Warnock has used the Bible to defend his support for legalized abortion, Sen. Kelly Loeffler charged during a debate between the two Sunday.
Loeffler, who is seeking re-election, apparently was referencing comments by Warnock this summer during an interview with WGAU's Tim Bryant. Warnock, the senior pastor at Ebenezer Baptist Church in Atlanta, told Bryant that abortion rights are "consistent with my view as a Christian minister."
The two will face each other during a runoff Jan. 5 for a U.S. Senate seat after neither received 50 percent of the vote on Election Day last month. Warnock is the Democratic candidate, Loeffler the Republican.
"He's … used the Bible to justify abortion," Loeffler said early in the debate, before returning to the same subject later: "I'm not going to be lectured by someone that uses the Bible to justify abortion, to attack our men and women in the military."
Warnock did not discuss the interaction between Scripture and the Bible but did defend his pro-choice beliefs.
"I have a profound reverence for life and an abiding respect for choice," he said. "The question is whose decision is it? And I happen to think that a patient's room is too small a place for a woman, her doctor, and the U.S. government – I think that's too many people in the room. But those who are concerned about life, and I certainly am, ought to be focused on the incredibly high rates of infant mortality and maternal mortality in our country when compared to other developed nations. That's something that government can work on and I've been working on it in my entire career."
WGAU's Bryant, during the summer interview, asked Warnock how the pro-choice views of the Democrat Party "square with" his "role as a minister, a leader of a church, a man of God."
"I believe that healthcare is a human right," said Warnock, who has served as senior pastor of the church since 2005. "And I believe that it is something that the richest nation in the world provides for its citizens, and for me reproductive justice is consistent with my commitment to that.
"I believe unequivocally in a woman's right to choose, and that the decision is something that we don't want government engaged in – that's between her and her doctor and her minister. And I will fight for that in the United States Senate, and at the same time continue to fight so women can receive the kind of services that they need in order to have a healthy pregnancy and healthy babies. We have a maternal death rate in this country that is exceedingly high, particularly to be the richest country in the world."
Referencing his career as a minister and in public service, Warnock added, "I've been focused on women's health, women's choice, reproductive justice. That is consistent with my view as a Christian minister. And I will fight for it."
Bryant then asked, "Do you think it's consistent with God's view – that God endorses the millions of abortions we've had in this country since Roe v Wade?"
Warnock responded, "I think that human agency and freedom is consistent with my view as a minister."
Ebenezer Baptist is affiliated with the Progressive National Baptist Convention.
Related:
Megachurch Pastor: Abortion 'Is Consistent with' Christianity and 'I Will Fight' to Keep it Legal
Photo courtesy: ©Getty Images/Elijah Nouvelage/Stringer
---
Michael Foust has covered the intersection of faith and news for 20 years. His stories have appeared in Baptist Press, Christianity Today, The Christian Post, the Leaf-Chronicle, the Toronto Star and the Knoxville News-Sentinel.