Mikaela Mathews
| ChristianHeadlines.com Contributor
| Thursday, October 24, 2019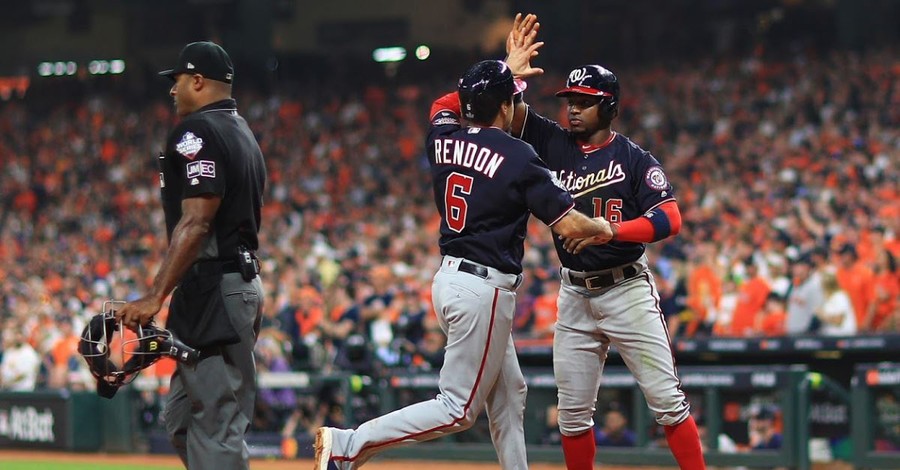 The Washington Nationals dazzled the nation after their rough start to the season that led to an outstanding Wild Card victory that brought them to the World Series. 
Many players on the Cinderella team credit God for their success, according to CBN.
"I want to be known as a Christian baseball player and I'm still trying to grow into that. But in the end, I want to be more Christian than baseball player," third baseman Anthony Rendon said. "If I just try to stay in the Word and try to surround myself with good people and have good community, I think that will just guide me on that path."
The 21-year-old rising baseball star is not alone in his active faith. Center fielder Victor Robles regularly prays with teammate Juan Soto, the 2018 National League Rookie of the Year runner-up, before their games.
The Nats have thus far beat the Houston Astros in two out of the seven World Series games. They narrowed out a win 5-4 on Tuesday night in the first game and knocked it out of the park for game two with a 12-3 defeat.
Prayer has played a large role in Soto's short but successful baseball career. After the Nats won against the Dodgers in the playoffs, he posted in Spanish on Instagram, "Humble yourselves before the Lord, and He will exalt you (James 4:10)."
He also told CNS News earlier this year how his family has rallied behind him with prayer.
"We just prayed before the game. And we told Him that we just need his help. You know, go help, and right now and get opportunity and just, get on it," he said.
Robles, after suffering from a strained hamstring, kept his focus on God.
"A lot of times when you have an injury like the one I have, it's a couple months to come back from," he said. "I was able to come back from it in a little more than a week and a half. I had a lot of faith in God and I knew that he was going to heal me as quickly as possible."
Teammates have noticed the young stars' maturity. With fellow youngster Carter Kieboom, also 21 years old, Soto and Rendon are the youngest to hit home runs in the same game since 1908. "I'm glad we got them on our side," Jeremy Hellickson of the Nats said, later calling the trio "special players."
The Astros and Nats will face off again on Friday evening in Washington for game three. 
Photo courtesy: Getty Images/Mike Ehrmann/Staff
---
---