Mikaela Mathews
| ChristianHeadlines.com Contributor
| Published: Aug 25, 2020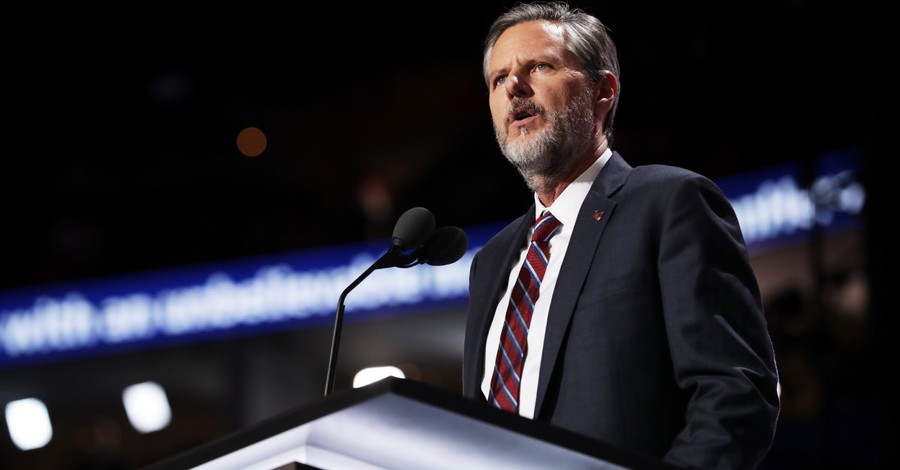 On Monday night, Jerry Falwell, Jr. submitted his letter of resignation to the Board of Directors at Liberty University, but, according to a news statement released by the school, Falwell rescinded the resignation shortly after.
Falwell, a staunch supporter of Donald Trump, agreed to a leave of absence two weeks ago after he posted a photo of himself and his wife's pregnant assistant with their pants unbuttoned to social media, as Christian Headlines previously reported. Falwell also held a cup of dark liquid, which he claimed was dyed water, and his hands high up on the pregnant woman's waist.
Though the University stated that the leave was indefinite, Falwell reportedly did not agree to leave permanently.
A day after the social media post went viral, Falwell issued a statement to The Washington Examinerexplaining that his wife had an extramarital affair with a business partner, according to the Associated Press. The 27-year-old man, Giancarlo Granda, allegedly attempted to extort the Falwell family.
"Over the course of the last few months this person's behavior has reached a level that we have decided the only way to stop this predatory behavior is to go public," a statement from the family read.
However, Granda claimed that Falwell not only knew about the seven-year-long affair but also acted as a voyeur.
"The Executive Committee's Board of Trustees asked Falwell to go on indefinite leave of absence on August 7, to which he agreed," the statement from Liberty said. "Since that time, additional matters came to light that made it clear that it would not be in the best interest of the University for him to return from leave and serve as President."
In a phone call to the Wall Street Journal, Falwell accused the Board of breaking his contract after he submitted his resignation on Monday.
"The board put me on leave, took away my duties as prez, and that's not permitted by my contract," he said. "And they put me on leave because of pressure from self-righteous people."
The Board of Directors plans to meet on Tuesday morning to discuss Falwell's resignation. The current acting President, Jerry Prevo, petitioned students for "prayer for the University and for all of its leadership, past, present and future, as we walk with the Lord through this stormy time of transition."
Related:
Jerry Falwell, Jr. Apologizes for Posting 'Hypocritical' Photo of Himself on Instagram
Jerry Falwell to Take an Indefinite Leave of Absence from Liberty University
Liberty University Appoints Acting University President amid Jerry Falwell's Leave of Absence

Photo courtesy: ©Getty Images/Chip Somodevilla/Staff
---
Mikaela Mathews is a freelance writer and editor based in Dallas, TX. She was the editor of a local magazine and a contributing writer for the Galveston Daily News and Spirit Magazine.
---
---