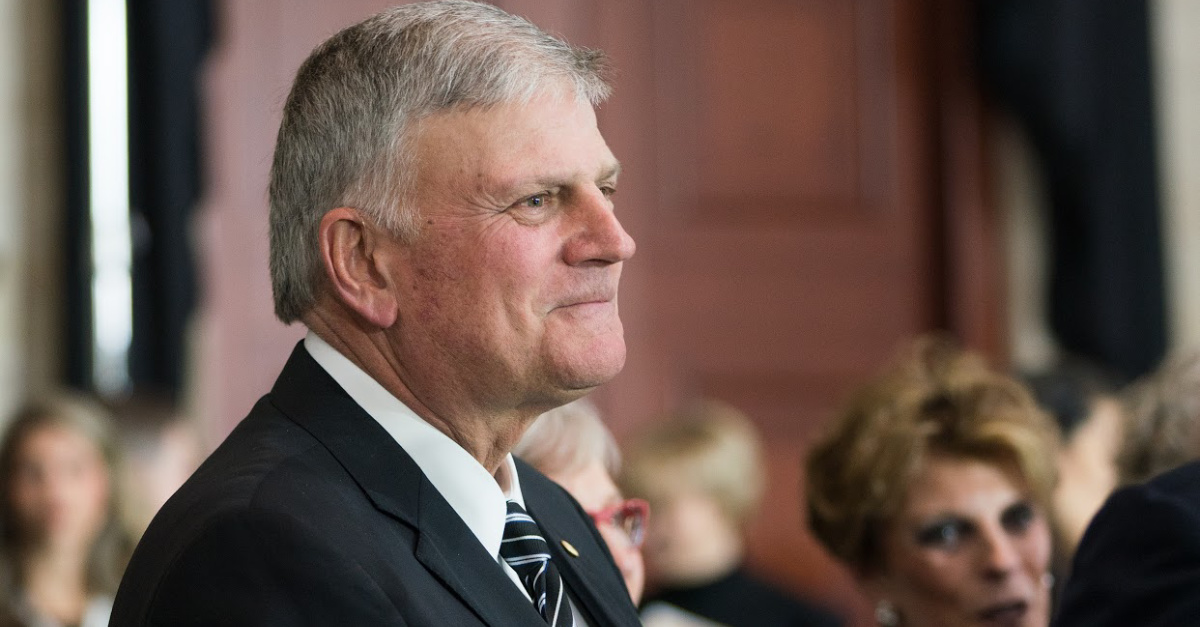 ---
Franklin Graham announced on Facebook that he will be attending this year's "March for Life" event in Washington, D.C. this weekend.
"I'm going to do something on Friday that I've never done before—I'm going to march. I'm going to DC to walk in the March for Life," Graham said, according to Faithwire. His daughter, Cissie Graham Lynch, will also join him.
"Why don't you come join me?" he continued. "I would encourage anyone and everyone who cares about abortion to come, to walk, and to pray. Let's let the courts, Congress, the media, and the world know what we believe and how important the lives of these children are. Every life matters to God and should matter to us."
This year's March for Life theme is "Life Empowers: Pro-Life is Pro-Woman." Jeanne Mancini, President of March for Life, explained to The Daily Signal that the theme is in response to the centennial anniversary of the 19th Amendment, when women were granted the right to vote.
"It's a great opportunity to go back and look at the suffragist, the early feminist, the early female leaders who recognize the inherent dignity of women and the inherent dignity of the unborn. We're not at odds with each other and they had a really good understanding about that."
Several pro-life leaders will speak during the march, according to Mancini, including Senator Katrina Jackson. As one of the few pro-life Democrats, Jackson recently passed legislation to regulate abortion clinics in Louisiana.
"I understand my party's position on abortion. I knew it when I ran," she said to the Washington Times. "I consider myself a whole life Democrat—just like our governor—which means that we advocate for life from the womb to the tomb."
Lila Rose, President of Live Action, will also be at the march. In an opinion piece for Fox News contrasting the March for Life with the Women's March, Rose advocated that abortion is antithetical to feminism.
"Abortion has done nothing to correct the oppression and inequality that women face; instead, it has perpetuated that oppression and inequality," she wrote. "Abortion is one more excuse to neglect and discriminate against pregnant women, because it gives women the Faustian bargain of purported equality in exchange for the life of their child.
"My hope is that we will see that real feminism promotes and accepts all aspects of who a woman is, sees men as equal partners, and sees children as gifts."
President Trump will also be attending Friday's March for Life.
Photo courtesy: ©Getty Images/Pool
---
Mikaela Mathews is a freelance writer and editor based in Dallas, TX. She was the editor of a local magazine and a contributing writer for the Galveston Daily News and Spirit Magazine. She blogs at mikaelamathews.com.