Mikaela Mathews
| ChristianHeadlines.com Contributor
| Thursday, September 3, 2020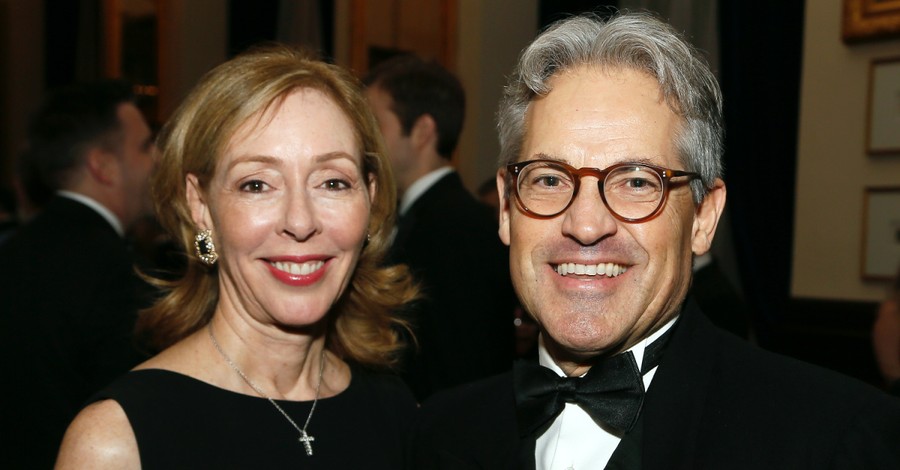 Christian author and conservative radio personality Eric Metaxas took to social media this week to say that he was "menaced" by a protestor after the Republican National Convention, according to The Christian Post.
A video went viral over the weekend showing a rioter riding his bicycle close to Metaxas and screaming at him and other supporters of the president. Metaxas is then seen lunging toward the man on the bike and taking a swing at the back of his head.
The man jumped off of his bike and shouted, "You just attacked me, bro! That's a felony!" The rioter ran after him and Metaxas jogged backwards while the rioter continued his rant, "F—- you, you Republican piece of s—-", he said, then faced an elderly man and yelled, "What are you going to do? You ain't s—-, you old a— man."
Secret Service officers dragged the man away before the conflict could continue to escalate.
The man posted the video to his Instagram account and told Religion News Service, "He attacked me. I wasn't threatening or intimidating. I was on a rented bicycle! He clearly punched me from behind…I don't want the dude to get charged. I just want awareness that Republicans are attacking people."
However, Metaxas contends that the man antagonized him several times and was driving perilously close to him, his wife, and pastor Harry Jackson.
"For context, just so you know, the guy came at me with his bike and was very menacing for a long time," Metaxas said in an interview with WORLD Magazine.
Jackson also told WORLD that the bicyclist was "playing chicken" with Metaxas by swerving close to them while cursing Trump and them. Jackson also felt threatened enough that he wondered if he would need to defend himself with his walking cane.
Journalist Andy Ngo confirmed that the protestor was Anthony Paul Harrington of Portland. Harrington had traveled to D.C. to protest the RNC and has a long history in Oregon of violence.
Metaxas stayed off of social media for a few days but is now back speaking against Black Lives Matter, Antifa, riots, Democrats and violence.
"When Antifa/BLM claim to care about Black lives, understand they will say & do ANYTHING to destroy the America they hate," he said. "They would have killed George Floyd if it would have helped them."
Photo courtesy: ©Getty Images/Paul Morigi/Stringer
---
Mikaela Mathews is a freelance writer and editor based in Dallas, TX. She was the editor of a local magazine and a contributing writer for the Galveston Daily News and Spirit Magazine.
---
---