Mikaela Mathews
| ChristianHeadlines.com Contributor
| Tuesday, October 6, 2020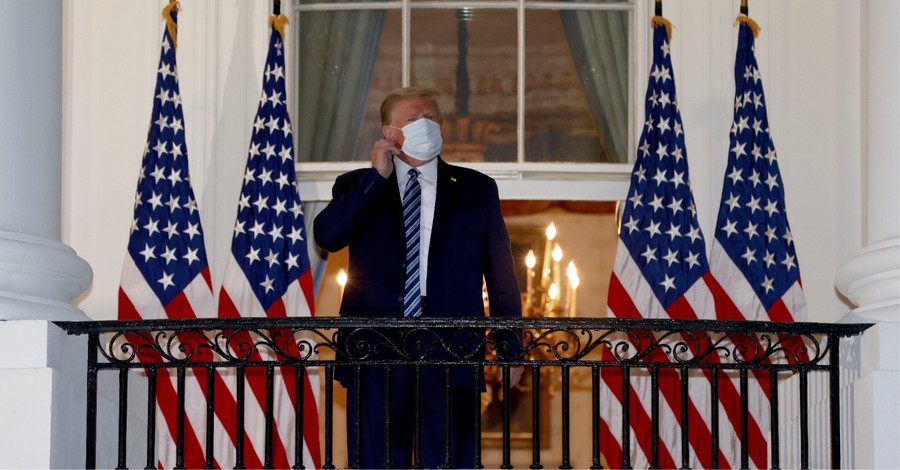 ---
Less than 30 days away from the election, President Donald Trump was released from Walter Reed Medical Center on Monday evening following a positive COVID-19 test on Thursday, according to Fox News.
The President stayed for three days at the military hospital. His doctors grew concerned over his health after he registered a fever and needed supplemental oxygen on Friday, as reported by CBN News.
But now, Walter Reed hospital staff believe Trump is fit enough to return to the White House where he will receive around the clock medical care. His doctor, Navy Cmdr. Sean Conley, however, told reporters on Monday that he remains contagious.
Trump announced his return on Twitter, praising the medical staff at "the great Walter Reed Medical Center."
He left the hospital in high spirits, stating that he "felt better than [he] did 20 years ago!" He continued with the advice that Americans should "not be afraid of COVID. Don't let it dominate your life." He also commended his own administration for developing "some really great drugs & knowledge."
I will be leaving the great Walter Reed Medical Center today at 6:30 P.M. Feeling really good! Don't be afraid of Covid. Don't let it dominate your life. We have developed, under the Trump Administration, some really great drugs & knowledge. I feel better than I did 20 years ago!

— Donald J. Trump (@realDonaldTrump) October 5, 2020
The tweet caught the ire of reporters and liberals alike.
"This is not just the president returning to the White House. This may be Patient Zero," said CNN's White House correspondent Jim Acosta. "This is the virus coming back to the White House."
CNN anchor Jake Tapper also sympathized with Americans who had lost loved ones to COVID or fear for their loved one's lives. "Almost 210,000 Americans are dead," he said. "… It's okay that it's dominating your life because it has dominated your life! … This is so disrespectful to you and I just want to let you know that you're not alone if you're out there just shocked by this callous indifference."
The Washington Post's Jennifer Rubin even went so far as to call for Walter Reed's defunding in light of Trump's return.
"Any MD who publicly endorses this insanity needs to lose his/her license. Period," she said in a series of tweets. "Congress might want to defund Walter Reed. It is a public health hazard … A 74-year-old [obese] man with covid – who might have lung damage - and a pattern of disregarding medical advice is returned to an environment in which he may infect others. What planet does Conley inhabit? Where is the rest of Walter Reed? The VP? They are remarkable cowards."
Yet, some applauded the the President's remark, saying it was "what needed to be said."
Alex Berenson, author of "Unreported Truths," told Tucker Carlson on Fox News that we need to return to normal again. "We are six months [into the virus] and we know that if you believe the [World Health Organization] and 750 milling people have been infected with this, that the death rate is about 1 in 1000 … it is a tiny death rate. And we have gone crazy and we have sacrificed our kids and we have sacrificed society and Donald Trump walked out of that hospital today and said what needed to be said. We have to stop being so afraid of this."
The presidential campaign will continue on schedule with Vice President Mike Pence and Senator Kamala Harris squaring off this week in a debate. The pair will stand 12 feet apart out of an abundance of caution.
Photo courtesy: ©Getty Images/Win McNamee/Staff
---
Mikaela Mathews is a freelance writer and editor based in Dallas, TX. She was the editor of a local magazine and a contributing writer for the Galveston Daily News and Spirit Magazine.