Mikaela Mathews
| ChristianHeadlines.com Contributor
| Thursday, January 30, 2020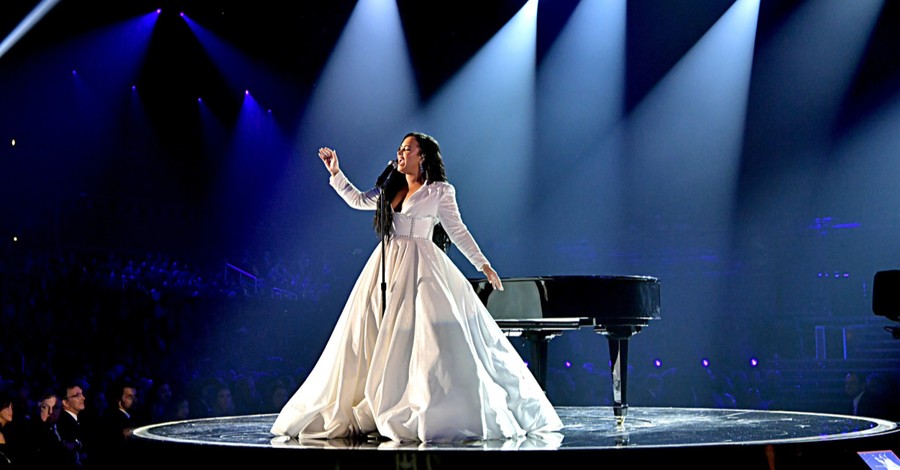 In an interview this week, singer Demi Lovato shared how God has helped her through her most difficult seasons of life.
"When I'm going through a rough time, I look toward the future for hope to change perspective on things. When I go through something difficult, I stop and think, Why is God putting me through this? Sometimes it doesn't make sense in that moment," she said in an interview with Zane Lowe on Apple Music's Beats 1, according to CBN News.
Most recently, Lovato has struggled with alcohol and drug abuse. Her newest song, "Anyone," was recorded shortly before her drug overdose in July 2018.
After a two-year hiatus to heal, Lovato made an emotional come back at the Grammy's on Sunday with "Anyone." It tells of her longtime battle with substance abuse and loneliness.
The lyrics read, in part: I tried to talk to my piano, I tried to talk to my guitar, Talk to my imagination, Confided into alcohol. I tried and tried and tried some more, Told secrets 'til my voice was sore. Tired of empty conversation, 'Cause no one hears me anymore.
Anyone, please send me anyone. Lord, is there anyone? I need someone, oh Anyone, please send me anyone. Oh, Lord, is there anyone?
She shared with Lowe that she had tried to find God through "other relationships or substances." But God wasn't there. He was "always at an arm's length and constantly with me."
After her Grammy performance, she posted on Instagram: "What an unbelievable night. My first time back on stage in almost 2 years. So emotional for me. Thank you all for the love, support and for sharing this moment with me. I love you all."
In fall last year, Lovato said she felt a stronger connection to God after her baptism in the Jordan River.
"I've never felt such a sense of spirituality or connection to God…something I've been missing for a few years now," she said in an Instagram post. "Spirituality is so important to me…to be baptized in the Jordan river—the same place Jesus was baptized—I've never felt more renewed in my life."
Lovato will perform the National Anthem at the Super Bowl on Sunday, Feb. 2.
Photo courtesy: ©Getty Images/Emma McIntyre/Staff
Video courtesy: Demi Lovato
---
Mikaela Mathews is a freelance writer and editor based in Dallas, TX. She was the editor of a local magazine and a contributing writer for the Galveston Daily News and Spirit Magazine.
---
---