Mikaela Mathews
| ChristianHeadlines.com Contributor
| Wednesday, June 3, 2020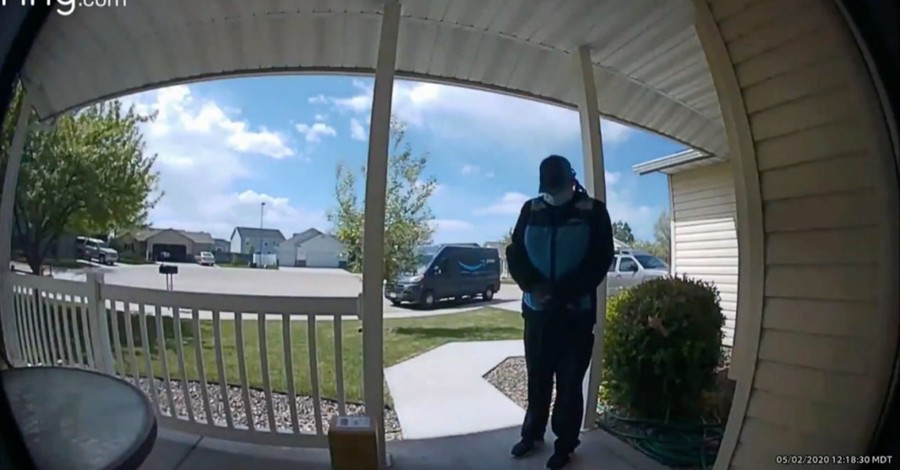 In the middle of a busy day, Amazon delivery driver Monica Salinas stopped to say a prayer for a baby at high risk for the coronavirus.
"There was a note and it said their baby's food was essential, and every time I see that note, it just touches my heart," Salinas said, according to The Christian Post. "I just stopped to do what my heart told me to do, to say a prayer for the baby and for the parents because that's got to be very painful for all of them to see their baby hurt and struggle. I just prayed that they can make it through another day, one day at a time."
Derek and Raquel Pearson's son, Lucas, is less than a year old and was diagnosed with a heart condition, making him at risk for respiratory complications. He also requires thickeners in order to digest milk. His parents have isolated themselves during the COVID-19 pandemic in order to protect their son.
"We really depend on getting all of these supplies online so we don't have to go out to the store and bring a virus home," said Raquel. "We just want to minimize exposure to coronavirus."
Raquel noticed Salinas stop by the door and bow her head. At first, she didn't know what she was doing until Salinas made the sign of the cross after praying. The delivery driver told the Catholic News Agency that she prayed, "Dearest God, please protect this family through your Precious Blood, and this baby, so that he may grow to become a man."
The gesture moved the Pearson family.
"We were very grateful that a stranger would take time out of her very busy day to pray for our baby," Raquel said.
An active member of her Catholic church and singer in the parish choir, Salinas has held onto her faith her whole life. "I would like to let everyone know that God is good," she said. "I always tell people, every day, that God is good, one day at a time."
Photo courtesy: KTVB7
Video courtesy: KTVB7
---
Mikaela Mathews is a freelance writer and editor based in Dallas, TX. She was the editor of a local magazine and a contributing writer for the Galveston Daily News and Spirit Magazine.
---
---