Michael Foust
| ChristianHeadlines.com Contributor
| Tuesday, February 4, 2020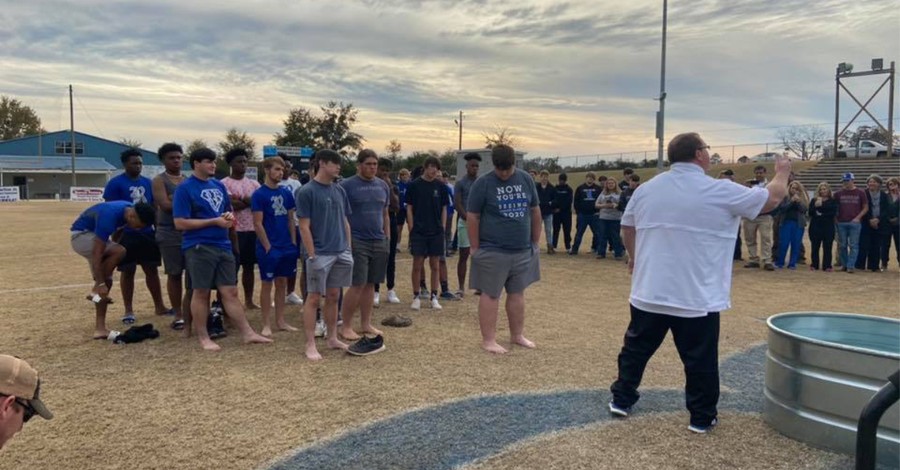 ---
An atheist organization is calling for an investigation after 26 Alabama high school football players were baptized at midfield in the team's football stadium, saying the event ostracized non-religious students and gave the appearance of school endorsement.
The superintendent, though, says the school followed the law.
At issue is a Nov. 21 event in which 26 members of the Reeltown High School football team who had made professions of faith were baptized in a trough at the 50-yard-line on a day the team didn't play. The players had accepted Christ at an assembly held outside school hours and wanted to be baptized together, on the field where they play, AL.com reported.
The Freedom From Religion Foundation (FFRF), though, says the event was improper and possibly illegal. It sent a letter to Tallapoosa County Schools Superintendent Joe Windle asserting that "reasonable" students would have perceived "it was endorsed by the school."
"The District should take the appropriate steps to ensure there will be no further religious rituals, including baptisms, during school-sponsored activities," the FFRF letter said.
Further, the letter said, the event "ostracizes those students and families who identify as nonreligious." FFRF calls itself an organization of "atheists, agnostics and skeptics of any pedigree."
Family members were present, as was head football coach Matt Johnson.
Windle says he investigated the matter and found no wrongdoing. He also says he signed off on the baptisms. Players weren't required to attend, and local pastors performed the baptisms, Windle said.
"The coach told me it would happen and I told the coach he couldn't be involved," Windle told AL.com. "He said, 'I won't.' I was asked if they could do it. I said that I had no problem with it, to be sure they get two pastors to do it and to be sure that they do it and that [Johnson] stay out of it and that's what we did."
The baptisms took place in the middle of a banner season: Reeltown was 9-1 and eventually advanced to the Class 2A state championship game.
"This was a special football year for Reeltown," Windle said. "You know how communities come together with a football team that goes through the playoffs … it energizes the entire community. These kids have been playing together since they were 6 or 7 years old. The 26 players asked the coach that 'we've spent so much time together on this field, can we be baptized at the 50-yard-line?' He said, 'Let me think about that.'"
The Freedom From Religion Foundation, he said, was off-target in its allegations.
"The First Amendment doesn't convert all public schools into a religion-free zone," Windle told AL.com. "It guarantees a separation of religion and we don't promote religion in this system. But we are not restricting our students from exercising their right to free speech as a student."
He added, "If these kids say 'I want this opportunity to be baptized on the 50-yard-line,' I don't care if they are Catholic, Muslim or Buddhist … in a rural system like ours, we make our facilities available to any organization that wants to use them."
Related:
Tennessee Gov. Declares Day of Prayer and Fasting: 'Give Thanks to God Almighty'
Sheriff Rebuffs Atheists, Won't Remove 'In God We Trust' from Patrol Cars
Lt. Gov.'s Prayer for Atheist Group Was Unconstitutional, Atheist Group Says
VA Hospitals to Allow Bible Displays, Distribution under New Policy
'The Cross Does not Offend the Constitution' -- Supreme Court Upholds WWI Memorial
Photo courtesy: Reeltown Football Team/Tim Smith Facebook Pages
---
Michael Foust has covered the intersection of faith and news for 20 years. His stories have appeared in Baptist Press, Christianity Today, The Christian Post, the Leaf-Chronicle, the Toronto Star and the Knoxville News-Sentinel.