Michael Foust
| ChristianHeadlines.com Contributor
| Friday, July 12, 2019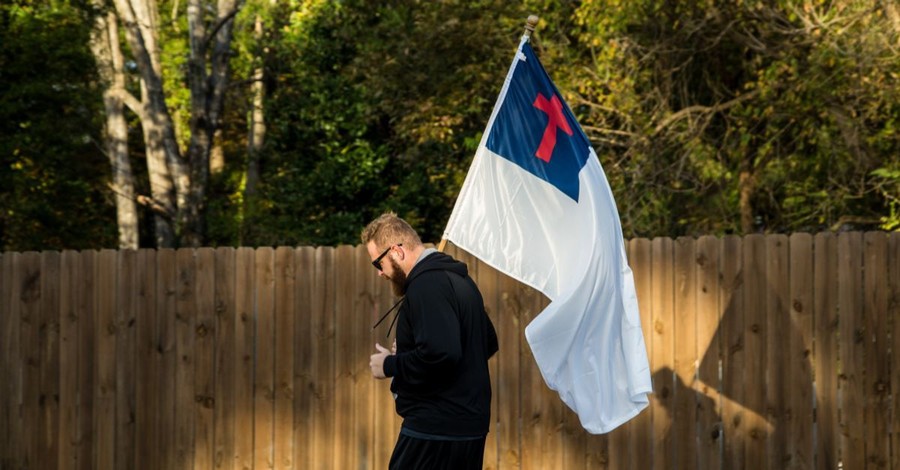 The city of Boston is engaging in unconstitutional discrimination against religious speech by banning the Christian flag from its City Hall flagpoles while permitting more than 200 other types of flags to fly, according to a new federal lawsuit.
The suit by Liberty Counsel was filed Monday on behalf of citizen Hal Shurtleff and his Christian civic organization, Camp Constitution. Shurtleff wanted to fly the flag during a one-hour event on Constitution Day in 2017 and 2018 to commemorate the contributions of the Christian community but was denied.
The city allows a variety of flags to fly on its flagpoles to commemorate civic and cultural organizations yet prohibits non-secular flags.
A federal court and an appeals court previously ruled against Shurtleff. The new lawsuit includes a new set of "key facts" that should "compel a result in Camp Constitution's favor," the suit says.   
Among those new facts: At least 13 times between 2005 and 2019, the city allowed the Turkish flag -- with its Islamic star and crescent – to be raised on city hall flag poles, the suit says. The city also allowed the Chinese, Cuban and Vatican flags to fly on city hall flag poles. All total, according to the suit, 284 different types of flags have flown. Not mentioned in the new suit are transgender and LGBT pride flags, both of which have flown.
"Yet, despite all of these many flag raisings containing religious symbols and imagery, and the City's allowing the official flag of the Catholic Church, Camp Constitution's proposed flag raising was denied because it was 'religious,'" the suit says. "There can be no dispute that the City's denial impermissibly discriminated between religion and non-religion, and discriminated between religious sects. Both violate the Establishment Clause."
Further, "prior to Camp Constitution's request for access to the City Hall Flag Poles," the city accepted all applicants, the suit says. It also contends that the Christian flag was prohibited merely because of its name. The Bunker Hill flag — which has flown on a city hall flagpole — has a similar design with a cross. 
The city's denial violates the U.S. Constitution's First and Fourteenth Amendments, the suit contends. 
"Censoring religious viewpoints in a public forum where secular viewpoints are permitted violates the First Amendment," said Mat Staver, founder and chairman of Liberty Counsel. "Boston city officials may not ban the Christian flag as part of a privately-sponsored event when they allow any other flag by numerous private organizations. It's time for the court to stop the city's unconstitutional censorship."
Related:
Christian Cake Artist Jack Phillips Faces Another Lawsuit
Supreme Court Sides with Christian Baker in Gay Marriage Wedding Cake Case
Michael Foust is a freelance writer. Visit his blog, MichaelFoust.com.
Photo courtesy: Phil Thep/Unsplash
---
---