Michael Foust
| ChristianHeadlines.com Contributor
| Wednesday, June 22, 2022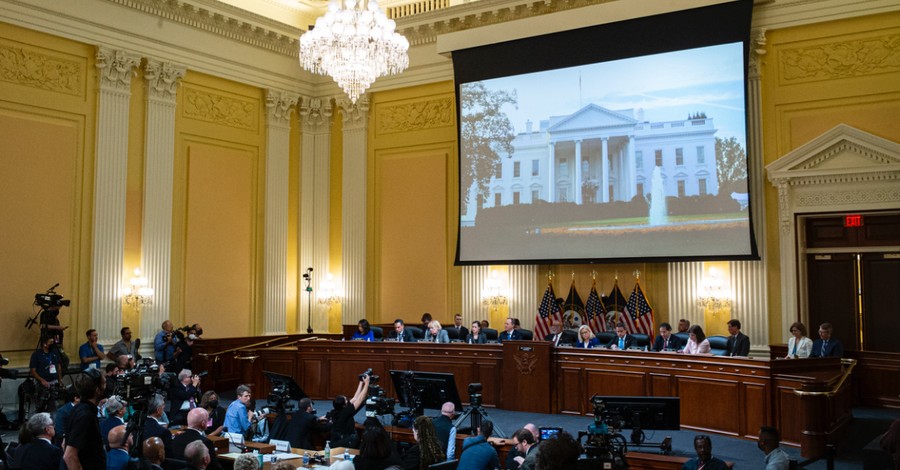 State-level Republican leaders who campaigned for former President Donald Trump in 2020 told the January 6 Committee Tuesday that allegations of election fraud lacked the necessary evidence, despite what Trump's team alleged in media interviews.
The U.S. House Select Committee on the January 6 Attack heard from GOP leaders in Arizona and Georgia – all of whom said they wanted Trump to win but were duty-bound to follow the U.S. Constitution and allow President Biden's victory to be certified.
Here are five key takeaways from the hearing:
1. Arizona GOP Leader: Trump Team Would not Provide Evidence
Arizona House Speaker Rusty Bowers, a Republican who campaigned for Trump, said the former president's team pressured him to side with them on allegations of fraud but never provided evidence. The Trump team had claimed that thousands of illegal votes had been cast.
Bowers said he asked Trump attorney Rudy Giuliani for evidence "multiple times."
"I said, 'Do you have their names?'"
"Yes," Giuliani replied, according to Bowers.
"Will you give them to me?" Bowers asked.
"Yes," Giuliani said.
Bowers, though, said the Trump team never provided the evidence.
2. 'I Would Not Break My Oath'
Bowers said the Trump team wanted the Arizona House to hold a hearing on the allegations of election fraud.
"I did not feel that the evidence … merited a hearing, and I didn't want to be used as a pawn," Bowers said.
The Trump team also wanted Arizona to replace the Biden electors with Trump electors, Bowers said.
"I said, 'Look, you are asking me to do something that is counter to my oath when I swore to the Constitution to uphold it. And I also swore to the Constitution and the laws of the state of Arizona," Bowers said. "... It is a tenet of my faith that the Constitution is divinely inspired, one of my most basic foundational beliefs. And so for me to do that, because somebody just asked me to, is foreign to my very being. I will not do it."
Bowers said he campaigned for Trump and wanted him to win. But he said Biden won Arizona.
3. Raffensperger: Biden's Victory Was Confirmed by 3 Recounts
Georgia Secretary of State Brad Raffensperger, a Republican, said the ballots in his state underwent a machine recount, a forensic audit and a full hand recount. Biden won all three recounts, Raffensperger said.
"Three recounts – all remarkably close, which showed that President Trump did come up short," he said.
He said he wanted Trump to win the state, but "President Biden carried the state of Georgia by approximately 12,000 votes."
4. Sterling: There Were No Suitcases of Ballots
Gabriel Sterling, a Republican and the chief operating officer in the Georgia Secretary of State's office, said there were no "suitcases" of Biden ballots as alleged by the Trump team.
The ballots in question – seen on video – were nothing more than "ballots that had been packed into … absentee ballot carriers by the workers in plain view of the monitors and the press."
The ballots on video, Sterling said, were being unpacked by workers moments after they had packed up for the night by placing the ballots in the carriers (which also is on video, he said). The workers unpacked the ballots only after the Secretary of State's office phoned and told them to continue working.
Sterling said many Republicans wanted to believe the election was stolen simply because Trump – a man "who many looked up to" – had told them it was stolen.
"I even have family members who I had to argue with about some of these things," Sterling said.
"The facts don't matter as much," he said, when individuals believe in their "heart" that the election was stolen.
5. Bill Barr: Trump's Allegations about Georgia Had 'No Merit'
Bill Barr, who served as attorney general under President Trump, said his office "took a look hard" at the allegations of fraud in Georgia.
"And based on our review of it, including the interviews of the key witnesses, the Fulton County allegations had no merit," Barr said.
Photo courtesy: ©Getty Images/Pool
---
Michael Foust has covered the intersection of faith and news for 20 years. His stories have appeared in Baptist Press, Christianity Today, The Christian Post, the Leaf-Chronicle, the Toronto Star and the Knoxville News-Sentinel.
---
---