Michael Foust
| ChristianHeadlines.com Contributor
| Updated: Sep 30, 2020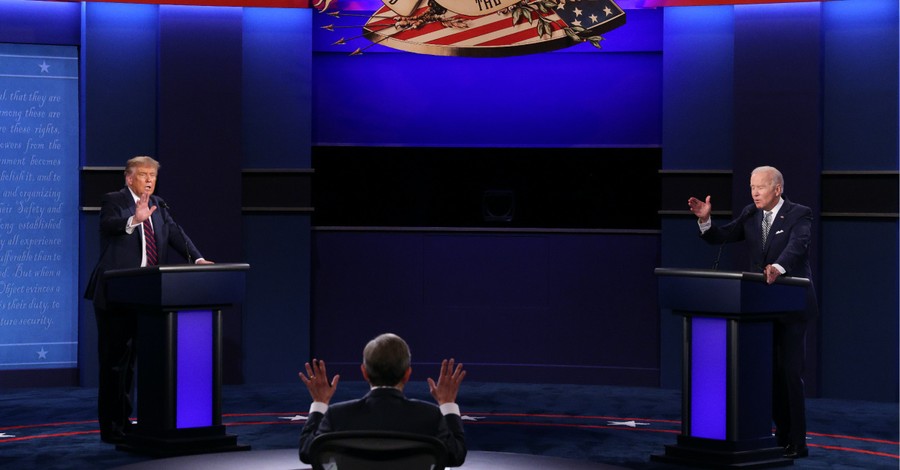 President Trump said Tuesday during the first presidential debate he has a constitutional right to nominate a new justice to fill the vacancy on the U.S. Supreme Court, while Democrat Joe Biden said the president's nominee would endanger Obamacare and women's rights.
"We won the election. Elections have consequences," Trump said.
"We should wait and see what the outcome of this election is," Biden responded.
The debate was filled with interruptions, crosstalk and name-calling, and led Lou Dobbs of Fox Business Network and George Stephanopoulos of ABC News each to call it the worst debate they had ever seen.
A CBS News/YouGov poll after the debate said only 17 percent of debate watchers said they were "informed" by the debate. About one-third (31 percent) said they were entertained. More than two-thirds (69 percent) said they were "annoyed."
The opening topic focused on Trump's nomination of Amy Coney Barrett to fill the seat of the late Justice Ruth Bader Ginsburg.
Trump emphasized he is elected for four years, not three, and constitutionally doesn't have to wait for the election to conclude.
"We have the Senate, we have the White House, and we have a phenomenal nominee respected by all," Trump said. "… In fact, some of her biggest endorsers are very liberal people from Notre Dame and other places. So I think she's going to be fantastic. We have plenty of time – even if we did it after the election itself. … We won the election and therefore we have the right to choose her, and very few people knowingly would say otherwise."
If the Democrats controlled the White House and Senate, Trump said, "there's no way they would give it up."
Biden urged Republicans to wait.
"The American people have a right to have a say in who the Supreme Court nominee is and that say occurs when they vote for United States Senators and when they vote for the president of United States. They're not going to get that chance now because we're in the middle of an election already."
Biden implied Barrett's confirmation would endanger the Affordable Care Act (Obamacare) and women's rights.
"The point is that the President also is opposed to Roe v. Wade. That's on the ballot as well in the court," Biden said.
Trump responded, "You don't know her view on Roe v. Wade. You don't know her view."
Biden refused to say whether he supports a proposal by some prominent Democrats to add seats to the Supreme Court.
"Whatever position I take on that, that'll become the issue. The issue is the American people should speak. … I'm not going to answer the question."
The two men also differed dramatically on Trump's response to the COVID-19 pandemic and what Biden would have done differently.
"We, in fact, have 4 percent of the world's population [but] 20 percent of the deaths," Biden said. "... The president has no plan. He hasn't laid out anything. He knew all the way back in February how serious this crisis was. He knew it was a deadly disease. What did he do? He's on tape as acknowledging he knew it. He said he didn't tell us or give people a warning of it because he didn't want to panic the American people. … He panicked."
Trump said "millions of people would have died" if Biden had been president.
"You didn't think we should have closed our country because you thought it was terrible," Trump told Biden. "... We got the gowns. We got the masks. We made the ventilators. You wouldn't have made ventilators. And now we're weeks away from a vaccine. We're doing therapeutics already. Fewer people are dying when they get sick. Far fewer people are dying. We've done a great job."
Related:
Supreme Court 'Game Changer' – Christian Leaders Applaud Amy Coney Barrett Pick
Photo courtesy: ©Getty Images/Scott Olson/Staff
Video courtesy: ©C-Span
---
Michael Foust has covered the intersection of faith and news for 20 years. His stories have appeared in Baptist Press, Christianity Today, The Christian Post, the Leaf-Chronicle, the Toronto Star and the Knoxville News-Sentinel.
---
---