Maina Mwaura
| ChristianHeadlines.com Contributor
| Wednesday, March 23, 2022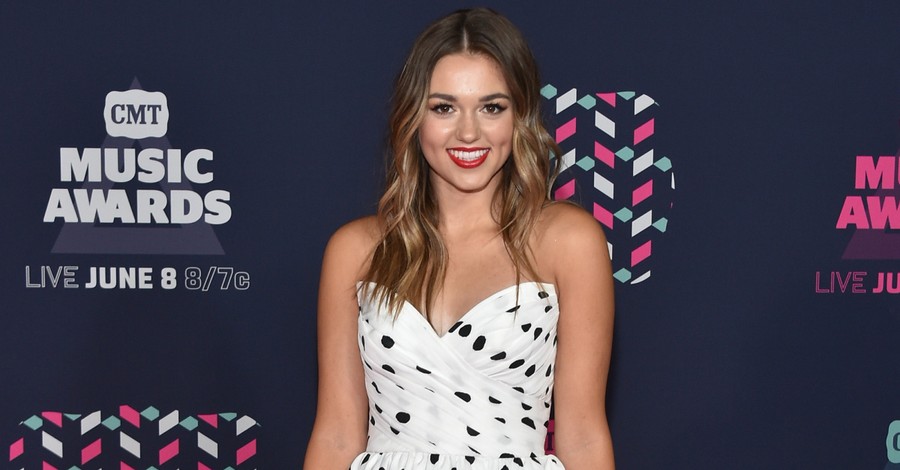 Author and inspirational speaker Sadie Robertson Huff, 24, recently spoke to young adults about social media usage at the annual Passion Conference. During the conference, Huff emphasized the pull and power social media can have over us and urged attendees to practice discernment when using social apps.
Huff, who recently released a book on using social media responsibly, expanded on this message in a sit-down interview with Christian Headlines.
When asked why she decided to tackle this issue, Huff shared that God has equipped her to reach young people, and during her quiet time reflections, she felt she was being called to speak on social media.
"One day, I was just reading the word, and a lot of my life, well, I'll say the majority of my life, revolves around the Lord and His word, and that's how it should be. But another part of my life revolves around social media. Social media is a huge part of my life and a huge part of my ministry in connecting with my audience," Huff told Christian Headlines. "And so, one day, I was reading the word, and I saw that when Jesus was talking to Peter and his disciples, he asked them this question straight up. He just actually called them to follow him. He said, follow me, and when he said follow me, I was like, that's so funny, it's like social media. Like we follow each other, this whole thing, which then it led me to think, okay, what similarity is this?" Huff recalled thinking.
This question is precisely what led Huff to write her new book Who are you Following? Reflecting on how the Bible relates to modern life, Huff realized that the way Jesus used his following to be a light in the world is exactly how Christians should be using their social media following.
"And I saw things like the fact that Jesus was famous, and that Jesus had crowds following him. Even the fact that Jesus calls us to be the light of the world. I was like, man, this could be a whole book. I just started thinking about how people really genuinely need help navigating how to approach social media in a biblical, gospel-centered way. I thought this might be a really timely thing to write," she said.
While Huff believes that social media can be used for good, she also believes it can be damaging.
"To be honest, it was a book that I was writing from a place of having experienced all these things. So it wasn't like I was writing to the person who struggles with this that I cannot relate to – because I could. It's what I've struggled with. This is what I've seen. Social media had an effect on me. And so, for me to get to go through some of those old wounds that I had and the things that I walked through with social media, and to put the spirit of God on it was so cool," she shared.
"There was one day where I was writing, and I was just crying and writing, my husband Christian came. He's like, 'Are you okay,' and I couldn't help but be so thankful that I get to write something like this to help people get through things that I went through. I had been in this toxic cycle, in being on social media and not feeling good enough, living a double life on social media than what my life and reality looked like. All of that led me to just being annoyed and fed up with the way that I was treating social media and the way that I was living. So I knew I needed to take a step away, and so I did for a season."
Huff asserts that curating who you are following and taking time to detox from social media is imperative for your emotional and spiritual health.
"Well, it's so important that you know who you're following. We all know that, like if I'm following someone, they're leading me. If I'm following the maps on my phone, it's taking me where I would need to go. But we don't think about that in the context of social media. So that's why we don't realize that we're following all these people and we're ending up in places we never meant to go to – when I say ending up in places, we never meant to go, I mean like in your mind. Your body also is ending up in places you didn't mean to go," She asserts. "So, follow people who align with the things that you believe, who are pushing you to be better. But that doesn't mean you can't follow people who are different than you. Of course, follow people who are different than you, learn from them, but have an awareness that who you're following leads you, and make sure that person is leading you to Jesus."
Who Are You Following? was released in February 2022 and is available for purchase.
This interview was edited for clarity and length.
Related:
Sadie Robertson Huff Shares Heartwarming Video of Her Baby Daughter Raising Her Hands, Worshipping God
Sadie Robertson Huff Warns Young People Not to Confuse God's Truth with Personal Opinion

Photo courtesy: ©Getty Images/Mike Coppola/Staff
---
---