Lori Arnold
| ChristianHeadlines.com Contributor
| Tuesday, November 12, 2019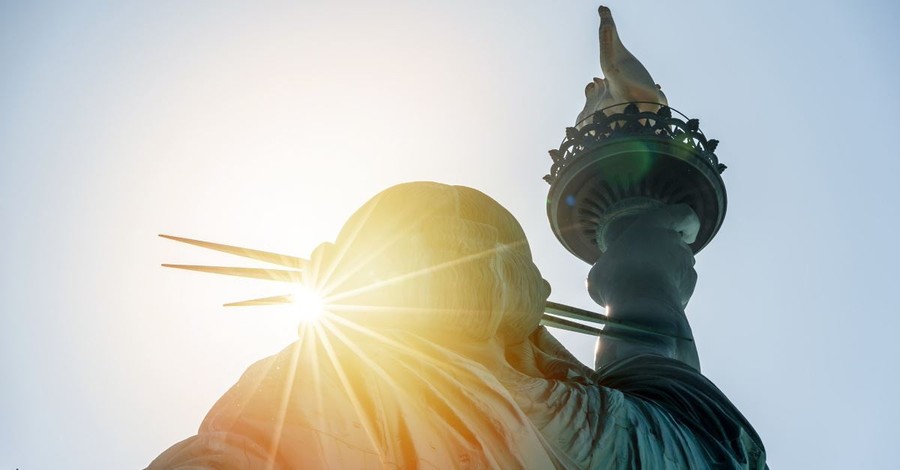 ---
Editor's Note (Nov 14, 2019): This article has been updated to reflect the most recent list of signatures on the Evangelical Immigration Table's 2019 "Evangelical Call for Restitution-Based Immigration Reform" document. Previous names listed reflected the 2012 resolution. 
Nearly 100 prominent evangelicals representing national ministries, denominations, universities and churches are seeking an immigration reform plan that would provide undocumented immigrants living in the United States a path to legal permanent residency—after making restitution.
The "Evangelical Call for Restitution-Based Immigration Reform", announced Nov. 6, was drafted by the Evangelical Immigration Table and, according to its leaders, is urging that legal status be provided without resorting to mass deportation or amnesty, the two most polarizing issues of the ongoing debate.
The statement urges lawmakers to enact policies that would allow immigrants in the country illegally to earn Lawful Permanent Resident status if they acknowledge their violation of U.S. immigration laws and pay a significant fine as restitution. The restitution element is key, they maintain, because it upholds respect for the rule of law.
"As evangelical Christians, our approach to immigration policy is driven by biblical principles," the statement read. Those principles include "respecting human dignity, respecting family unity, honoring the law and celebrating opportunities for redemption."
The statement also acknowledges the need for secure borders, adding that the government has a "God-ordained responsibility to protect its citizens."
"Deporting all immigrants here in the country illegally is neither feasible nor morally just," the statement said. "Many immigrant families have been here for decades, and many are members of local churches. We must develop a solution that fits the problem we have, solves it by upholding the rule of law, creates a process of restitution, and gives the possibility of integration so immigrants can fully participate in American life."
While the religious leaders are committed to restitution, they are recommending such action be waived for Dreamers, the name for undocumented immigrants brought to the U.S. as children, a timely topic since the U.S. Supreme Court is hearing oral arguments today on the Trump administration's ability to end the Deferred Action for Childhood Arrivals or DACA.
The Evangelical Immigration Table, launched in 2012, is led by the Assemblies of God, Bethany Christian Services, Council for Christian Colleges and Universities, the Ethics & Religious Liberty Commission of the Southern Baptist Convention, Faith and Community Empowerment (formerly Korean Churches for Community Development), the National Association of Evangelicals, the National Hispanic Christian Leadership Conference, The Wesleyan Church, World Relief and World Vision.
The key principles espoused by the group include the God-given dignity of every person, unity of the immediate family, respect for the rule of law, secure national borders, fairness to taxpayers and a path toward legal status and/or citizenship for those who qualify and who wish to become permanent residents.
In keeping its commitment to taxpayer fairness, the statement calls for authorities to include in any reform program a requirement that "all immigrants be self-sufficient, work, pay taxes, and be productive, or be in families and households that are doing so."
Those who qualify for legal status should also pay a "significant" fine, which could be paid in installments over seven years.
"We recognize that the law has in many cases not worked well, has been inconsistently enforced, and has been violated both by the immigrants present without authorization and by the employers who employ them without authorization," the statement read.
Some of the prominent leaders who have signed the statement are:
Eddy Aleman, General Secretary, Reformed Church of America
Paul Baxley, Executive Coordinator, Cooperative Baptist Fellowship
Doug Clay, General Superintendent, Assemblies of God USA
Steven Cole, Executive Director, The Brethren Church
Gustavo Crocker, General Superintendent, Church of the Nazarene
Kevin Kompelien, President, Evangelical Free Church of America
Russell Moore, President, Ethics & Religious Liberty Commission of the Southern Baptist Convention
Wayne Schmidt, General Superintendent, The Wesleyan Church
Steve Timmermans, Executive Director, Christian Reformed Church of North America
John Wenrich, President, Evangelical Covenant Church
Danny Akin, President, Southeastern Baptist Theological Seminary (Wake Forest, NC)
Bruce Ashford, Provost/Dean of Faculty, Southeastern Baptist Theological Seminary (Wake Forest, NC)
Jay Barnes, President, Bethel University (St. Paul, MN)
Michael Beals, President, Vanguard University (Costa Mesa, CA)
Gayle Beebe, President, Westmont University (Santa Barbara, CA)
Dan Boone, President, Trevecca Nazarene University (Nashville, TN)
John Bowling, President, Olivet Nazarene University (Bourbonnais, IL)
Amy B. Carey, President, Friends University (Wichita, KS)
Joseph Castleberry, President, Northwest University (Kirkland, WA)
Gregg A. Chenoweth, President, Bethel University (Mishawaka, IN)
Greg Christy, President, Northwestern College (Orange City, IA)
Dean Collins, President, Point University (West Point, GA)
Alan Cureton, President, University of Northwestern (Roseville, MN)
Jules Glanzer, President, Tabor College (Hillsboro, KS)
Kent Ingle, President, Southeastern University (Lakeland, FL)
John Jackson, President, William Jessup University (Rocklin, CA)
Ronald Matthews, President, Eastern University (St. Davids, PA)
Shirley Mullen, President, Houghton College (NY)
Keith Newman, President, Southern Nazarene University (Bethany, OK)
Sheldon C. Nord, President, Corban University (Salem, OR)
David W. Olive, President, Bluefield College (VA)
Charles W. Pollard, President, John Brown University (Siloam Springs, AR)
Jeren Rowell, President, Nazarene Theological Seminary (Kansas City, MO)
Philip Ryken, President, Wheaton College (IL)
Ed Stetzer, Dean of School of Mission, Ministry, and Leadership, Wheaton College (IL)
Joseph Stowell, President, Cornerstone University (Grand Rapids, MI)
Walter Strickland, Vice President, Southeastern Baptist Theological Seminary (Wake Forest, NC)
Ron White, President, Emmanuel College (Boston, MA)
G. Craig Williford, President, Multnomah University (Portland, OR)
William M. Wilson, President, Oral Roberts University (Tulsa, OK)
Joseph Womack, President, Northwest Christian University (Eugene, OR)
Adam Wright, President, Dallas Baptist University (TX)
Mark Young, President, Denver Seminary (CO)
You can find the full list, here.
"This call for restitution-based reform is important," Moore, the president of the Ethics and Religious Liberty Commission said in a statement. "That's because the security of our nation requires both a strong border and a society healthy enough to encourage those living in the shadows to come into the light.
"Millions of our undocumented neighbors in our communities and our churches want to do the right thing. They just don't know what the right thing is, because our government can't make up its mind about that. We would do well as a country to make a way for them to earn the chance to do so. This could happen easily through financial and other civic requirements to stay lawfully."
In an article for Christianity Today's "The Exchange," Matthew Soerens, the U.S. director of church mobilization for World Relief, talked about the balancing act that comes with immigration reform.
"As I speak in evangelical churches on a regular basis, I find most evangelicals are desperate for an approach to immigration that respects biblical principles," he wrote, adding, "It also means respecting the law—the point on which evangelicals feel most conflicted. While they don't like raids and mass deportation, amnesty—which means dismissing and forgiving the violation of U.S. law—is also a non-starter.
"The solution," he added, "lies in the middle."
Photo courtesy: Getty Images/Cla78