Lori Arnold
| ChristianHeadlines.com Contributor
| Tuesday, October 29, 2019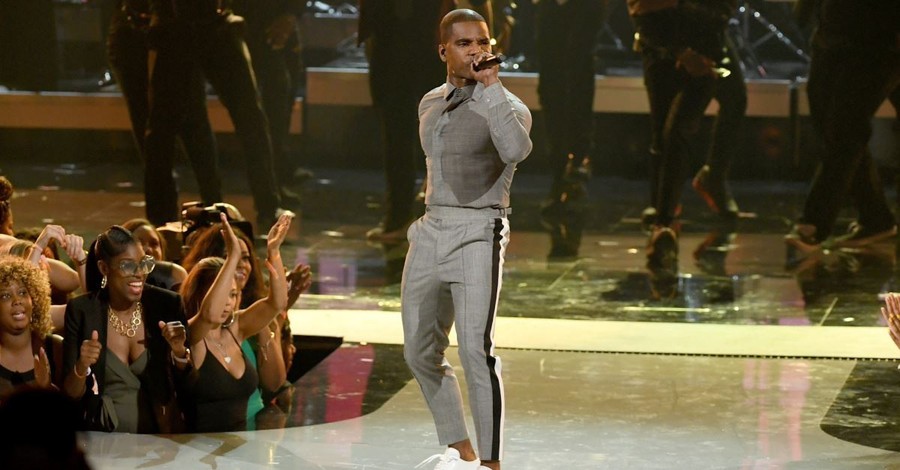 Grammy and Dove Award winner Kirk Franklin said he is boycotting Trinity Broadcasting Network, the Gospel Music Association, future Dove Awards shows and all affiliated events after comments he made about a fatal police shooting were edited out of his recent acceptance speech—for the second time in four years.
Franklin announced his decision Monday on a video he posted on his Instagram and Facebook accounts. Franklin won a Dove Award for Best Gospel Artist at the Oct. 15 Dove Awards and, during his speech, the singer shared customary thanks to his wife, Tammy, and support team before turning to an officer-involved shooting in his hometown of Fort Worth, Texas. He asked the audience to pray for 28-year-old Atatiana Jefferson, a black woman who was shot and killed through her window by a white police officer. Her 8-year-old nephew was with her and witnessed the shooting.
"I'm just asking that we send our prayers for her family and for his and I'm asking that we send our prayers for that 8-year-old little boy that saw that tragedy and we just lift them up and I'm asking that you pray with us … just pray grace and mercy over their lives in the name of Christ our king," he noted in an unedited clip of his speech posted on YouTube.
But when the Dove Awards were broadcast five days later on TBN, that portion of his speech had been edited out, a repeat of similar incident during the 2016 awards when he also won the Best Gospel Artist prize.
"During that (2016) awards speech I felt the responsibility as a Christian and a man of color to address the civil unrest at that time that was plaguing our country with the killings of Philando Castile and Walter Scott – just to name a few – by white police officers," he said in his social media video. "And at the same time, the horrific killings of five Dallas police officers by an African American. I called upon the audience to join me in remembering that as Christians, when we say nothing, we're saying something.
"After a standing ovation we prayed, stood in unity for all the families affected by those tragedies. We all felt that moment that there was a shift in the climate of our separate worlds. Unfortunately, when that speech aired on the Christian network TBN, that part of my speech was edited out. I made my disappointment and frustrations known to the Dove Awards committee and to the Trinity Broadcasting Network. I never heard from TBN and the Dove Awards committee promised to rectify the mistake so that it wouldn't happen again."
After the most recent incident, Franklin said he met with the Dove Awards committee and representatives of TBN, but was not satisfied with their response.
"I am aware that the word boycott often has a negative connotation and finality to it, but my goal will forever be reconciliation as well as accountability," he said. "It is important for those in charge to be informed. Not only did they edit my speech, they edited the African American experience."
Franklin described this most recent experience as making him "feel like quitting" and left him "heartbroken."
After the October meeting with GMA and TBN, Franklin said he spent time in prayer and also huddled with his team and pastor Dr. Tony Evans before deciding to go forward with a boycott until "tangible plans are put in place to protect and champion diversity, especially where people of color have contributed their gifts, talents and finances to help build the viability of these institutions."
During his video, Franklin made it clear he was not asking others to follow suit.
"I'm not asking those in the Gospel community to follow my decision," he said. "No. This is my personal choice to take a stand and hold responsible those in positions of power to acknowledge the issues in our separate communities that have existed from colonialism to Jim Crow …. I pray there will be a significant change from this hurtful experience. I look with anticipation for that day of healing and I'm committed to contributing to that process. In the end we will not remember the words of our enemies but the silence of our friends," he added.
In a statement issued by the GMA, Jackie Patillo, its president and executive director, said Franklin's speech was edited on TBN for time considerations.
"Due to our broadcast window, we had to significantly edit the Dove telecast to 2 hours, which aired Sunday, October 20th. In light of this, we understand that many were disappointed because there were so many memorable moments and noteworthy portions of acceptance speeches absent," Patillo said.
She acknowledged meeting with Franklin and his team and said her organization is looking at ways to make things right.
"At the request of Kirk's team, we held our response regarding those concerns until we were able to speak with Kirk privately, apologize directly, and discuss resolutions to rectify this unfortunate issue," her statement said.
"With that said, we would like to publicly acknowledge that we are deeply apologetic for the missteps that happened relating to the editing of Kirk Franklin's Dove Awards acceptance speech.  We accept the responsibility of our error. Although completely unintentional, we understand it caused great harm and deeply wounded many in the African American and Gospel community. As well, it left a general perception that we are not concerned with key social issues that affect people of color.  It is not our intent to disregard or silence any of our artists, and we are deeply saddened by this perception and are committed to change this."
She went on to say they plan to announce initiatives at a future date, but in the meantime, TBN has made an unedited version of the show available online and every award winner has been given copies of their full acceptance speeches "to post and share on their platforms as desired."
"In recent years, we have worked hard to ensure that The Dove Awards stage is a platform that promotes unity and celebrates God's diverse Kingdom," Patillo said. "Our heart is to showcase that unity and the Gospel message to a broken and divided world. Let us continue to strive to be a light in the darkness and come together to raise the banner of Jesus Christ."
Photo courtesy: Getty Images/Kevin Winter/Staff
---
---