Lori Arnold
| ChristianHeadlines.com Contributor
| Thursday, November 21, 2019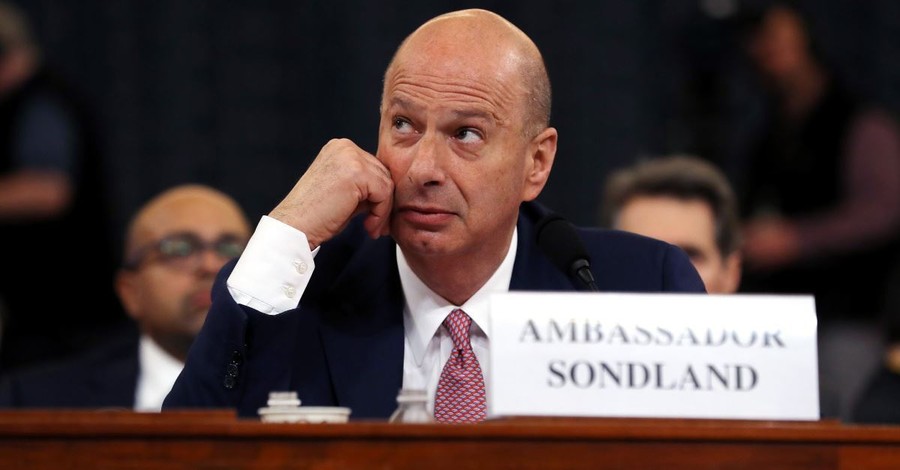 ---
U.S. Ambassador to the European Union Gordon Sondland issued an opening statement Wednesday before the House Intelligence Committee's impeachment hearing, prompting Democrats to seize on the moment as proof President Trump is guilty of bribery in dealing with Ukraine. 
"I know that members of this committee have frequently framed these complicated issues in the form of a simple question: Was there a 'quid pro quo?'" Sondland said. "As I testified previously, with regard to the requested White House call and White House meeting, the answer is yes."
Before the end of the hours-long hearing, however, Sondland also testified that— during a September phone call, the ambassador asked Trump what he wanted in order to secure a meeting with Ukrainian President Volodymyr Zelensky—the commander-in-chief said the opposite.
"He just said, 'I want nothing. I want nothing. I want no quid pro quo. Tell Zelensky to do the right thing.' Something to that effect," Sondland testified.
The House impeachment inquiry was launched by Democrats who allege Trump used his office to coerce Ukraine into investigating the business dealings of former Vice President Joe Biden's son, a move they say was politically expedient for the president and his 2020 re-election campaign. At the center of the coercion, they allege, were threats to withhold military aid to the European nation.
"Trump's scheme undermined military and diplomatic support for a key ally," House Intelligence Committee Chairman Adam Schiff said during the hearing. "Trump put his personal and political interests above those of the United States."
During questioning, the ambassador said the president never directly told him there were "preconditions" to having a meeting with the Ukraine president but requests by Rudy Guiliani, the president's attorney, did make "announcing investigations of the 2016 election/DNC server and Burisma" a prerequisite.
"No one ever told me the aid was tied to anything," Sondland said. "I was assuming it was."
Sondland's responses prompted Rep. Devin Nunes of California to downplay the ambassador's testimony.
"Once again, the American people seen another failure of their preposterous conspiracy theory," he said at the hearing's conclusion.
Observers say the testimony was damaging to the president but what is unclear is whether it will change any minds over the highly divisive impeachment inquiry.
"The pundits, on CNN, Fox and MSNBC, said Sondland's account was damaging to Trump and his top aides," Fox News media critic Howard Kurtz wrote in his analysis. "Even Ken Starr on Fox said 'it doesn't look good for the president, substantively,' although Trump 'may have covered himself' by not giving explicit instructions. But it may not be true, as MSNBC co-anchor and Trump-basher Nicolle Wallace put it, that 'Gordon Sondland's testimony today changed everything.'"
He went on to discuss the polarization of the case, which pits "those who believe Trump is the victim of a partisan witch hunt" against "those who believe he extorted a foreign country to go after a political rival."
"I think few minds will be changed by these hearings, which dragged on for nearly 12 hours," Kurtz opined.
Photo courtesy: Getty Images/Chip Somodevilla/Staff
Video courtesy: PBS News Hour