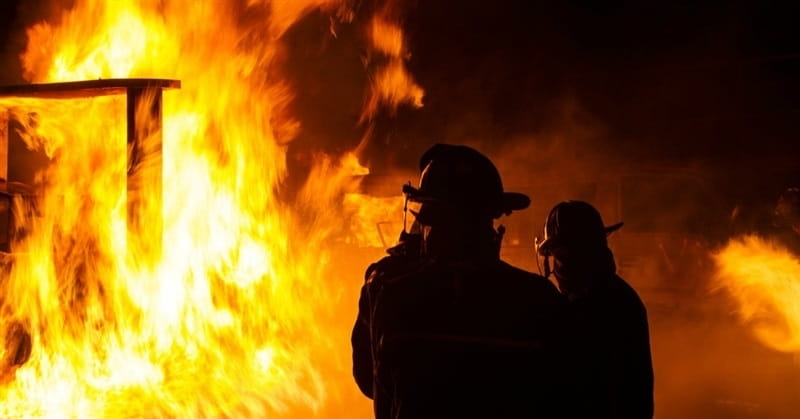 ---
Last week, ABC News reported on one man's incredible act of self-sacrifice for his family in the face of approaching wildfires. Although his act certainly demonstrates a rare heroism—a quality that seems to be disappearing in the passivity of today's culture—it also demonstrates what the Bible calls the greatest kind of love.
According to the ABC News article, a California family—a mother, father, son, and two grandparents—evacuated their home shortly before it went up in flames along with their entire ranch and all of their possessions. As they drove away from their burning house, emergency response personnel saw the Tamayo family from a helicopter and landed to take them to safety. Unfortunately, however, the helicopter could only fit four people. One member of the Tamayo family would have to stay behind.
The father, Pepe, told the helicopter crew to take his family, choosing to remain on the ground. The reporter writes, "Pepe tried hard not [to] show his fear, but the flames were close." The heroic father even called his daughter, who was not with the rest of the family, and told her, "[I]f I don't see you again, remember I love you."
The crew members, promising to return for Pepe after taking his family to safety, were struck by this father's "courage and selflessness." Although they all feared that they wouldn't be back in time to save Pepe, the crew members found him later that night and flew him to safety, reuniting him with his family. One of the crew members said of this victory, "When I saw him again, I was so happy and thanking God for saving his life."
Pepe's act of self-sacrifice for his family echoes Jesus' words in John 15:13. Here, after urging his disciples to love one another, he says, "Greater love has no one than this, that he lay down his life for his friends." As John 15:12says, this is the very way in which Christ has loved us. Pepe's act of selfless love for his family reminds us of our Savior, who himself faced death so that we could live.
Leah Hickman is a 2017 graduate of Hillsdale College's English program. She has written pieces for multiple Hillsdale College campus publications as well as for BreakPoint.org, ChristianAnswers.net/Spotlight, and the Discover Laura Blog. Read more by Leah at aworldofgrasspeople.blogspot.com.
Photo courtesy: Thinkstockphotos.com
Publication date: October 17, 2017