John Paluska
| ChristianHeadlines.com Contributor
| Tuesday, September 1, 2020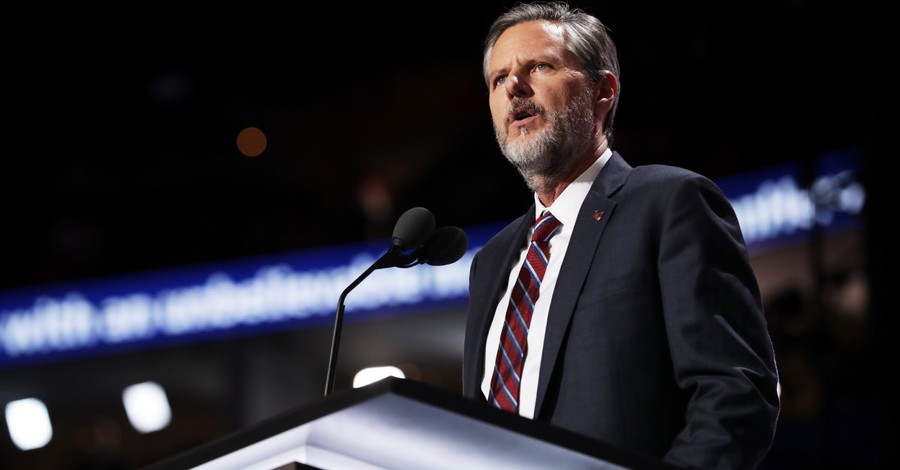 ---
The Associated Press reports that Jerry Falwell, Jr. is under investigation by Liberty University after being ousted for sexual conduct that violates Liberty University's ethical codes. The investigation will be headed by the college's board and will span everything Falwell oversaw as head of Liberty University.
The investigation was allegedly sparked after an interview with Giancarlo Granda, a young pool boy working for the Falwell family. In the interview, Granda alleges he would have sex with Becki Falwell as Jerry Falwell, Jr. watched. However, the family denied Falwell was watching the young couple, though they agreed Becki and Granda were having sex. They say Granda tried to extort them by threatening to go to the press about a fake scandal.
This isn't the first time Liberty University has come under fire, however. As Christian Headlines previously reported, before Granda's interview, Falwell sparked national outrage after he shared a photo of himself with his arm around a young woman, identified as his wife's assistant, with both of their pants unzipped. In the photo, Falwell was also holding a cup containing an unknown dark liquid.
Additionally, Falwell Jr. posted a now-deleted anti-mask tweet where he said he was selling masks with Ralph Northam's blackface photo on them. The tweet was condemned by some black religious leaders and others, and Falwell Jr. later apologized for the tweet.
Liberty University also is in the midst of a giant PR nightmare over many black students and employees coming forward saying they feel unsafe to be at Liberty University. They claim the school is racist and nobody has done anything to change the toxic environment for young black college students there.
Some of the complaints allege black students were called the n-word to their faces and had their property destroyed. Some also report being stopped by cops multiple times for simply walking on the sidewalk minding their own business. At this time, it is unclear if the college has made any changes to rectify these situations.
Related:
Jerry Falwell, Jr. Apologizes for Posting 'Hypocritical' Photo of Himself on Instagram
Jerry Falwell to Take an Indefinite Leave of Absence from Liberty University
Liberty University Appoints Acting University President amid Jerry Falwell's Leave of Absence
Alumni Organization Asks Liberty Board to 'Permanently Remove' Falwell as President
Liberty University: Jerry Falwell, Jr. Submitted His Resignation, Then Withdrew It
Liberty University Board Accepts Jerry Falwell Jr.'s Resignation
Photo courtesy: ©Getty Images/Chip Somodevilla/Staff
---
John Paluska has been a contributor for Christian Headlines since 2016 and is the founder of The Washington Gazette, a news outlet he relaunched in 2019 as a response to the constant distribution of fake news.