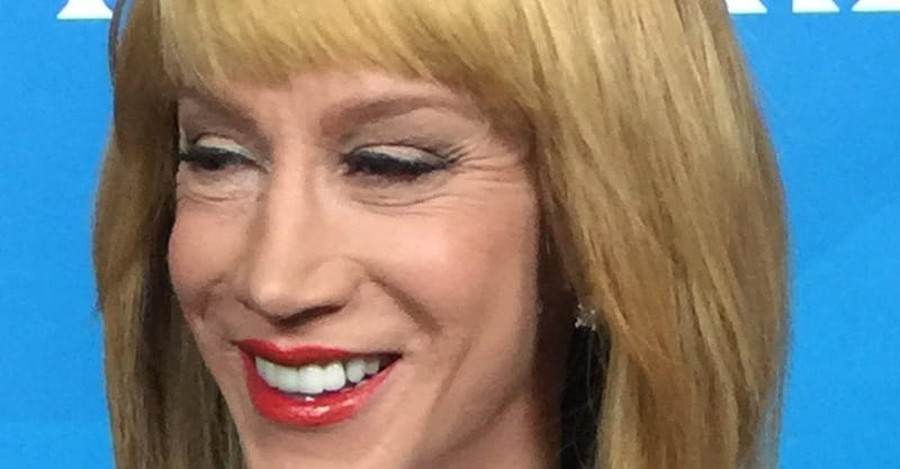 ---
One day after the disturbing photos were released of comedian Kathy Griffin holding up a mock "decapitated" head resembling President Trump, CNN announced they have decided to terminate their contract with her.
According to a statement by the network, "CNN has terminated our agreement with Kathy Griffin to appear on our New Year's Eve program." Late Tuesday a statement was sent to USA TODAY by CNN spokesman Shimrit Sheetrit reading, "We found what she did disgusting and offensive."
Griffin has co-hosted CNN's annual New Year's Eve program alongside Anderson Cooper since 2007. Cooper has clearly distanced himself from Griffin by tweeting on Tuesday, "For the record, I am appalled by the photo shoot Kathy Griffin took part in. It is clearly disgusting and completely inappropriate."
Griffin has apologized for the photos, taken by celebrity photographer Tyler Shields. "I beg for your forgiveness. I went too far," she said in a video posted both to Instagram and Twitter late on Tuesday. "I made a mistake and I was wrong." The video has been watched over 225K times on Instagram alone, and many have weighed in with their own thoughts and comments. To say that the public is outraged is an understatement. Many people have called for Griffin to be jailed.
"I'm merely mocking the Mocker in Chief," she had originally tweeted in her own defense. It was later deleted.
Admitting the images were "too disturbing," Griffin said she asked photographer Shields to take down the photo.
According to CNN, "Shields, who is known for his envelope-pushing images, released the photos on Tuesday morning and swiftly came under fire by people on social media. In a behind-the-scenes video posted by Shields that has since been removed, Griffin can be heard joking with Shields about moving to Mexico after the images were released."
TMZ first published the disturbing image of Griffin holding the bloodied mask of Trump late on Tuesday afternoon.
"Social media erupted over the bloody photo, and the president said the image particularly upset his youngest son. "Kathy Griffin should be ashamed of herself. My children, especially my 11-year-old son, Barron, are having a hard time with this. Sick!" Trump tweeted.
"As a mother, a wife, and a human being, that photo is very disturbing. When you consider some of the atrocities happening in the world today, a photo opportunity like this is simply wrong and makes you wonder about the mental health of the person who did it," read a statement by First Lady Melania Trump.
Chelsea Clinton, daughter of Trump's campaign rival Hillary Clinton, called the photo "vile and wrong." She wrote on Twitter, "It is never funny to joke about killing a president."
I think most of America agrees. It's not funny.
In light of the photos, Route 66 Casino Hotel in New Mexico announced on Facebook that it has canceled a performance by Griffin scheduled for July at the resort. Also, a new ad campaign for a company called Squatty Potty, which she had recently starred in, has now reportedly been pulled from air.
Read more by Debbie McDaniel at www.debbiemcdaniel.com, https://www.facebook.com/DebbieWebbMcDaniel/, or https://twitter.com/debbmcdaniel .
Photo courtesy: Wikimedia Commons

Publication date: May 31, 2017