Scott Slayton
| ChristianHeadlines.com Contributor
| Monday, July 1, 2019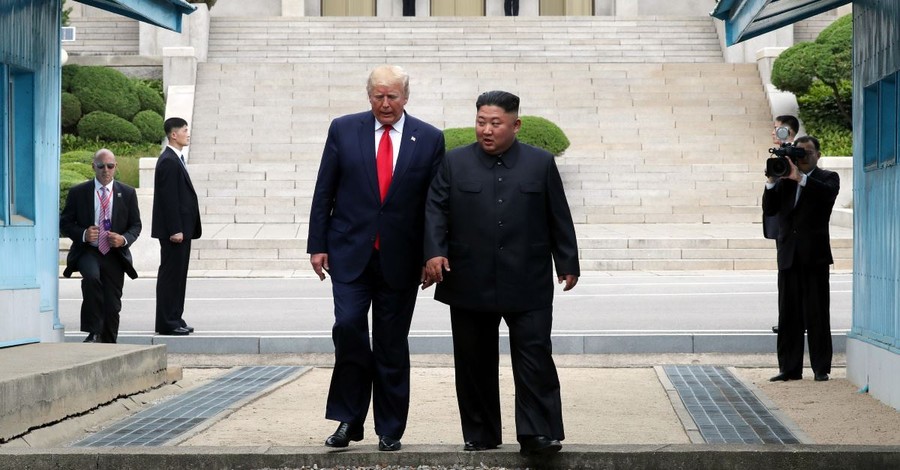 President Trump became the nation's first sitting chief executive to step foot on North Korean soil. The historic steps took place on Sunday, after President Trump initiated a meeting with North Korean leader Kim Young Un via Twitter. The two shook hands at the demarcation line before Trump crossed the border at Kim's invitation.
After crossing the border at 3:46 PM local time, President Trump and Mr. Kim walked to the base of a building for a photo-op and a brief word about restarting negotiations between the two countries after talks failed this Spring.
The leaders only spent a little over a minute in North Korean territory before Mr. Kim walked into South Korean territory with President Trump. They addressed assembled journalists then stepped into the Freedom House for a conversation with South Korean President Moon Jae-in.
The hastily-arranged meeting took place after President Trump issued an invitation to Mr. Kim via Twitter. The President, who is in East Asia for a meeting of the G20, tweeted Friday afternoon, "After some very important meetings, including my meeting with President Xi of China, I will be leaving Japan for South Korea (with President Moon). While there, if Chairman Kim of North Korea sees this, I would meet him at the Border/DMZ just to shake his hand and say Hello(?)!"
The two leaders seemed to be ecstatic about the meeting. President Trump called stepping across the border "a great honor" and proclaimed the meeting to be "a very legendary, very historic day." Kim said Trump's willingness to come meet him "a courageous and determined act.
The meeting marked an important step towards reopening failed talks over North Korea's nuclear program. The two nations failed to reach an agreement in their most recent talks in Vietnam in February. Tensions rose again when North Korea performed a short-range weapons test in May.
President Trump believes he has made significant progress with North Korea and seems poised to make more inroads in the future. Since Trump's inauguration, North Korea suspended nuclear tests, released detained American citizens, and returned the remains of some American soldiers killed in the Korean War.
Trump and Kim agreed that talks would resume between the two nations, with U.S. special representative for North Korea Steve Biegun leading the U.S. delegation.
Scott Slayton writes at "One Degree to Another."
Photo courtesy: Getty Images/Handout
---
---