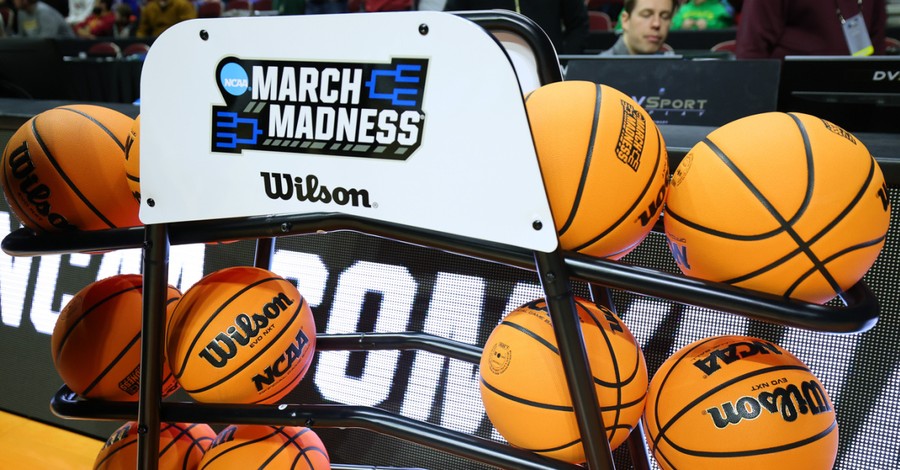 March Madness begins in earnest today, and if you have not yet added your bracket to the more than 80 million that are filled out each year, there may still be time to join the fun. If you don't like to gamble, no need to worry. Though it's estimated that more than half the adult population will place a wager over the internet—to the tune of roughly $10 billion in total bets—many people just play for fun and for office bragging rights.
That said, don't be surprised if the office seems a bit more sparsely populated today. More than a third of Americans "are willing to call in sick or skip work to watch March Madness." I suppose that's still better than watching from the office, though, which the average worker will spend six hours doing over the course of the Tournament.
But while it's estimated that the lost production will cost businesses around $163 billion this year, there is some benefit to be derived as well.
Of employees, 78 percent "say celebrating March Madness at work boosts morale," and 39 percent report that "they became closer with a coworker after participating in an office pool."
And if you still need a bit of guidance before officially joining the fun, there are a dizzying number of resources out there for your perusal—this list of facts from ESPN and this one from The Athletic are good places to start. Just be prepared for your picks to go wrong no matter how much work you put into them.
The odds of a perfect bracket
The odds of filling out a perfect bracket are 1 in 9.2 quintillion—that would be seventeen zeroes, lest you think I just invented a number. You're twice as likely to win back-to-back lotteries as you are to fill out a perfect bracket.
Those long odds are why Warren Buffett felt comfortable offering $1 billion in 2014 for anyone at his company or its subsidiaries who could accomplish the feat.
He's made the chance to win life-changing money a bit more attainable in the years since, though. While $1 billion is now off the table, a perfect first round will result in $1 million while any of his employees who can extend the streak through the second round will get $1 million each year for life.
However, considering that the longest anyone has stayed perfect is forty-nine games—it would take forty-eight to clear the second round—Buffett's money is probably safe.
But if perfection is out of the question and many of those who participate in the Madness don't even follow college basketball—as the vast number of (often winning) selections that are made based on school colors and mascots attest—how did the tournament become such a large cultural phenomenon?
Why do millions love March Madness?
One reason relates to the sense of chaos that infuses the games with an air of unpredictability.
Upsets are common and, unless they happen to your school, we get to embrace the seeming randomness of each game's outcomes without being personally invested in the results. We can root for the underdogs without any sense of disappointment when they lose. There aren't many other areas of our lives where we can emotionally invest in something without any real risk if it doesn't go our way.
However, the second reason is, perhaps, more relevant to our larger calling as Christians.
March Madness—and, more specifically, the brackets, competitions, and good-natured fun that frequently accompany it—creates a sense of community for those who take part. It gives people a common interest to unite around and experience together. Even people who don't care all that much about the sport can be included alongside those who live and breathe basketball.
There are not many parts of our culture where that's the case, and the way people gravitate toward that sense of community shows just how much it's needed.
If done right, the church should be able to help meet that need as well.
Shooting for community
In yesterday's Daily Article, I made the point that asking if the church still matters is asking the wrong question. The basic idea was that it doesn't matter if the church is relevant if it ceases to be the church in the process.
I still believe that is the case, but a point I could have made more clearly is that when our communities are built on the foundation of meeting spiritual needs, we become better at meeting other needs as well.
As the individuals in our communities of faith worship God and proclaim God's truth, a funny thing happens along the way: we become more like Jesus. We start to love as he loved. We forgive as he forgave. And we serve as he served.
When that happens, we don't have to bother with proving our worth or our relevance because it will be apparent to anyone who walks through our doors (even if those who remain outside continue to be perplexed).
As March Madness shows, people are starved for that kind of community. And if the church can be the church, we can help them find it in the body of Christ.
Creating that sense of community cannot be our focus and, paradoxically, the harder we try the more it will slip through our fingers. But when our eyes remain fixed on Christ and worshiping him, it will often happen naturally.
Throughout his ministry, the lost were drawn to Jesus because he exuded the presence of God in every facet of his life, and the same was true for his disciples (Acts 2:42-47).
Will it be true for us?
NOTE: In God's word, we can seek answers to today's toughest questions, even ones that weren't explicitly addressed within the Bible. In our newest book, Biblical Insight to Tough Questions Vol. 11, we bring the Bible to bear upon ten challenging questions of our day, from attending a same-sex wedding to owning guns to using social media. Please request your copy of our latest Biblical Insight book, and I pray that the words within drive you deeper into God's word.
Publication date: March 16, 2023
Photo courtesy: ©Getty Images/Michael Reaves/Staff
The views expressed in this commentary do not necessarily reflect those of Christian Headlines.
For more from the Denison Forum, please visit www.denisonforum.org.
The Daily Article Podcast is Here!
---
---